We focus on your benefits and are happy to offer competitive quotes and CNC Milling Service solutions.With unique equipment formats and 3, 4 and 5 Axis milling capabilities Elimold is an easy choice for CNC Milling.
Professional team at your service
Quality service from 10 to 1000+ parts
50+ materials and 10+ surface finishes
Quality products – Shipping worldwide
Our 40,000 sq. ft. facility located in China is equipped with multi-axis CNC machining centers and Wire EDM equipment, offering efficient precision custom machining, drilling, milling, boring, contouring, and surfacing of simple and complex shapes. They offer excellent repeatability and are able to work to fine tolerances, ensuring that your finished product will meet your required specifications. Our automated CNC machining and Wire EDM equipment are integrated with our laser cutting, punching, forming, rolling, welding, hardware installation, and finishing equipment to provide complete machining and fabricating services. We offer CNC milling for a range of materials, specializing in stainless steel milling, carbon steel, aluminum, nickel alloys, and titanium alloys. We are also able to perform precision CNC machining for plastics including Nylon, Acetal, and Delrin.
Why Choose Elimold's CNC Milling Services
Elimold offers one-stop milling solutions whether you need a single part, a Low volume of prototypes, or mass-production parts.
With CNC milling services, the CNC parts can be produced within a few hours. Once you contact us, we will get you a quote within 24 hours and kick off the project within your timeline.
Comprehensive Milling Capabilities
We are equipped with high-quality milling tools to produce custom machined parts. With our 3-axis, 4-axis, and 5-axis milling machines, we offer CNC milling parts for different industries.
Our experienced team of engineers has accumulated years of experience in creating custom parts with CNC milling.
High Dimensional Tolerances
We can create parts using CNC milling with high tolerances. You can trust us with parts made from different materials.
Different Types of CNC Mills
CNC Milling Specifications
| | |
| --- | --- |
| Milling Processes | Boring Broaching Counterboring Countersinking Drilling Pocketing Profiling Reaming Tapping Thread Milling |
| Tolerances | Min: ± 0.002 in Max: ± 0.0005 in |
| Length | Max: 60 in (1524 mm) |
| Width | Max: 30 in (762 mm) |
| Height | Max: 15 in (381 mm) |
| Production Volume | Prototype to Mid Volume |
| Lead Times Available | Minimum: 2 Weeks Maximum: 6 Weeks Quoted on job by job basis Rush Services Available |
Available materials for CNC Milling
| | | | |
| --- | --- | --- | --- |
| Aluminum | Stainless steel | Mild, Alloy & Tool steel | Other metal |
| 6061-T6 | 303 | Mild steel 1018 | Brass C360 |
| 6082 | 304L | | Copper C101 |
| 7075-T6 | 316L | Mild steel 1045 | Copper C110 |
| 5083 | 2205 Duplex | Alloy steel 1215 | Titanium Grade 1 |
| 5052 | 17-4 | Mild steel A36 | Titanium Grade 2 |
| | 15-5 | Alloy steel 4130 | Invar |
| 2014 | 416 | Alloy steel 4140 | Inconel 718 |
| 2017 | 420 | Alloy steel 4340 | Magnesium AZ31B |
| 2024 | 430 | Tool Steel A2 | |
| 6063 | 440C | Tool Steel A3 | |
| 7050 | 301 | Tool Steel D2 | |
| A380 | | Tool Steel S7 | |
| MIC 6 | | Tool Steel H13 | |
| | | Tool Steel O1 | |
| | |
| --- | --- |
| Plastics | Reinforced Plastic |
| ABS | Garolite G-10 |
| Polypropylene | Polypropylene (PP) 30%GF |
| Nylon 6 | Nylon 30%GF |
| Delrin (POM-H) | FR-4 |
| Acetal (POM-C) | PMMA (Acrylic) |
| PVC | PEEK |
| HDPE | |
| UHMWPE | |
| Polycarbonate | |
| PET | |
| PTFE (Teflon) | |
CNC Milling Service for Your Custom Parts
With a wide range of materials available, it is very flexible to create various end-used parts through prototypes to high-volume by fast CNC machining. Our experts can make the complex cut and CNC milled parts fast to reduce costs and improve the quality of your products. We successfully delivered millions of high-quality custom CNC milling aluminum parts to our customers worldwide. Our 3d milling service helps many customers from different industries make their parts successfully. Here are some parts we made: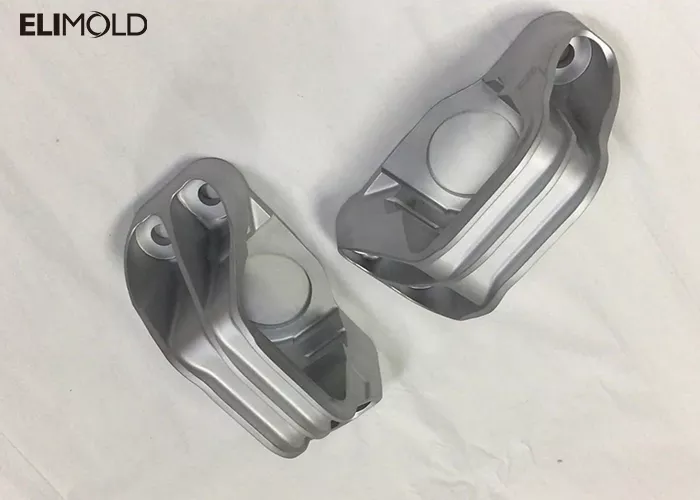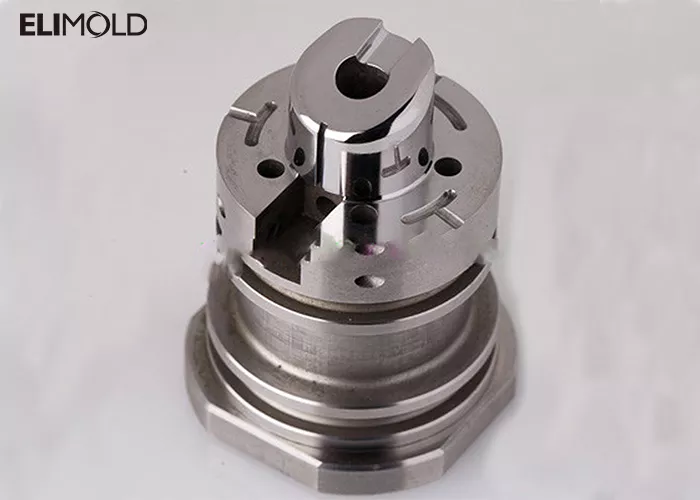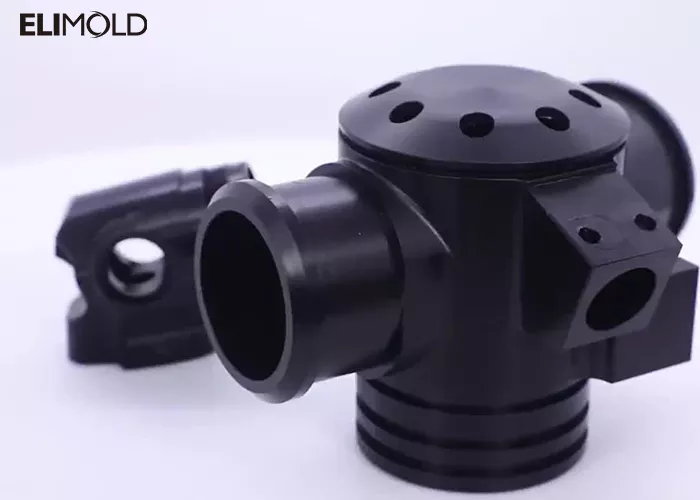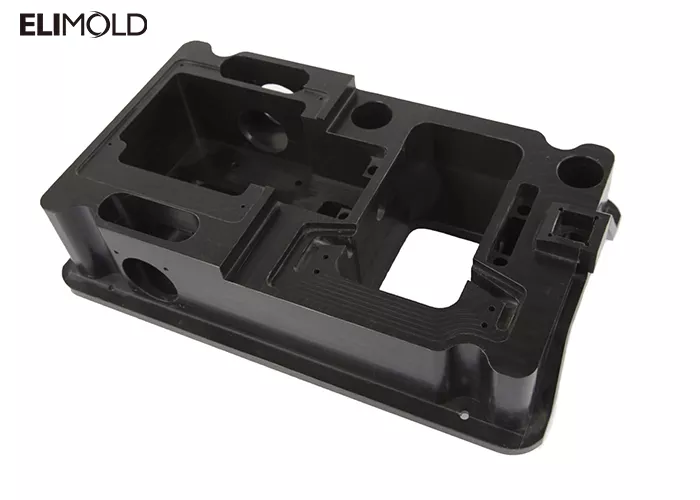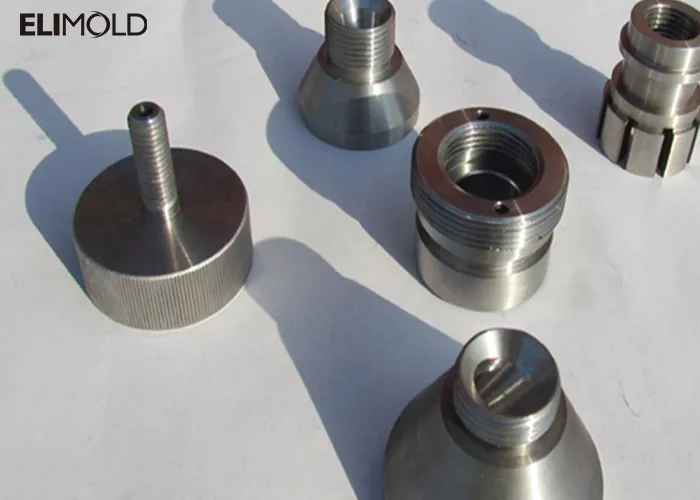 Elimold CNC General Tolerances
Tolerances for Linear Dimensions(GB/T 1804-2000, class f)
Dimension (mm)
0.5~3
>3~6
>6~30
>30~120
>120~400
>400~1000
>1000~2000
>2000~4000
Tolerances
±0.05
±0.05
±0.10
±0.15
±0.20
±0.30
±0.50
—-
Tolerances for Angle Dimensions(GB/T 1804-2000, class f)
Dimension (°)
≤10
>10~50
>50~120
>120~400
>400
Tolerances
±1°
±30°
±20°
±10°
±5°
Cut Down on Production Time with Milling from Elimold
Some of our milling machines use advancing cutting tools that operate in various directions across several axes. We can also adjust cutter speed, pressure, and rotation as needed to ensure every part is milled exactly to customer specification.
The CNC software in our milling machines ensures we can meet very low tolerance thresholds. Automatic tool changers, tool carousels, tool magazine, and various other fixtures enhance our milling processes and allow us to meet all deadlines with complete accuracy and the highest possible milling quality.
Elimold has the experience and tools necessary to fulfill orders of all sizes for all kinds of parts. Thanks to the versatility of our CNC milling machines and the cutting-edge software they use, we can cut down on your production times and provide high volume parts orders in less time than you likely expect.
Available Surface Finishes of Our CNC Milling Services
Surface finishes are applied after milling and can change the appearance, surface roughness, hardness and chemical resistance of the produced parts. Below are the mainstream surface finish types from Elimold
| | |
| --- | --- |
| Bead Blasting | Bead blasting adds a satin or matte finish to a CNC part. The matte finish is accomplished by using a pressurized air gun to shoot glass beads at a part. |
| Powder Coating | Following powder coating, the part has a thin protective layer that adds strength and wear-resistance. During the powder coating process, the part is first primed using a chromating or phosphating coat. Next, the part receives a dry powder coating from an electrostatic spray gun. Lastly, the part is cured in an oven. |
| Anodizing | Once a CNC part has been anodized, it has an oxide layer that increases its density, thickness, and durability. Anodization also makes a part electrically non-conductive. During the anodizing process, the part is placed into an acid electrolyte bath which serves as an anode. A cathode is added to the part, and an electrical current is passed through the acid. Oxygen ions from the electrolyte and atoms from the alloy are combined along the surface of the part. |
| As-Milled | As-milled or as-machined products do not require a secondary process. They will still have visible blemishes and may have a rough surface. |
| Surface Grinding | Surface grinding produces a smooth finish. Surface grinding removes material by using a high-speed abrasive wheel as a cutting tool. The surface grinding process is used when a specific size or precision finish is required. |
| Polishing | Polishing improves the dimensions and accuracy of a part while producing a mirror gloss finish. Polishing tools and abrasive materials are used to achieve a smooth surface. |
| Passivate | After a CNC machined part has completed the passivation process, its corrosion resistance is improved. Passivation may include spray application, circulation in a chemical solution, gel application, or tank immersion. |
| Chemfilm | Chemfilm finishing is a chemical conversion coat that adds corrosion resistance to aluminum substrates, acting as a base for organic coatings. The part is dipped, brushed, or sprayed with the chemfilm layer. |
| Vacuum Metallization | The vacuum metallization process adds a mirror-like or decorative uniform finish while also improving thermal, air, light, or water barrier properties. In the vacuum metallization process, the part is placed inside a closed chamber where a metal vapor adheres and coats the part. |
| Silkscreen | Screen printing is used to transfer a design or logo to a part. When a part is silk-screened, a mesh is used to apply ink onto the surface, but only to permeable areas that are not covered by a blocking stencil. |
| Plating | Plating results in corrosion and abrasion resistance, conductivity, and reflectivity to parts. While electroplating, the part is submerged into an electrolyte bath with the material that will be used for the metal coating. An electrical charge causes the material to transfer to the part, resulting in a uniform metal coating. |
| Tumbled | Tumbling or ultrasonic polishing removes any sharp points or edges from a machined part. During the tumbling process, the part is placed inside a barrel along with media, water, and detergent. The barrel tumbles at different speeds depending on the desired finish. |
| Painting | Painting a part adds color, varnish, or ink. The painting process may include powder coating, liquid coating, or e-coating. Powder coating uses an electrostatically charged powder which produces a scratch-resistant and uniform coat on the metal part. When a part is liquid coated, wet paint is applied. The e-coating process involves dipping the part into a bath of paint where both the part and paint are electrified, causing the paint to adhere to the part. |
From single, speciality parts to full production runs, CNC milling can be used to create a variety of industrial parts with applications that include:
Applications Of CNC Milled Parts
CNC milling can be used to create a wide variety of parts and products. Some of the more common applications include:
Need your parts quick?part production services at our cnc machine shop are fast and accurate
We have the capacity to produce quantities from prototype through high-volume production runs. Elimold is ITAR compliant and our manufacturing processes are AS9100D and ISO 9001:2015 certified so you can be assured that your parts will meet or exceed the quality and workmanship you require. Our engineering staff can work with you to achieve the most cost-effective design for manufacturing and our experienced production staff will manufacture your parts to meet your specific requirements.
Elimold understands that the quality of your finished product is dependent on the quality of the components you use, and we are committed to providing you with parts that meet your exact requirements, delivered on time and on budget. Call today to see how our full suite of precision metal fabricating and machining services can help solve your manufacturing challenges.