Elimold is an ISO 9001:2015-, 13485:2016-, 14001:2015-certified manufacturer of insert-molded parts and assemblies for demanding applications. Regardless of design complexity, we can turn around products that fit, form, and function as intended on time and within budget.
High Precision and Consistency Insert Molding
Our cutting-edge insert molding solutions use a unique combination of process optimization and robotic automation to produce parts with an extremely high level of consistency. Whereas the competition races to embrace insert-molding solutions, Elimold leads the industry, having replaced the operator handloading and removing of an insert with the loading and removing of those inserts by precision robotics. The introduction of and expertise in the use of this automation minimizes the variables that affect final part quality by ensuring a consistent, reliable, and repeatable process.
Elimold's capacity demonstrates our core expertise in injection molding. From the simplest geometries and lightest-weight components to the most complex shapes and 20-pound parts, we have the experience to manufacture the parts you need. With a clamping force capacity of 40 to 2,200 tons, we will meet the force requirements of your project.
Insert Molding Solutions - High Production Efficiency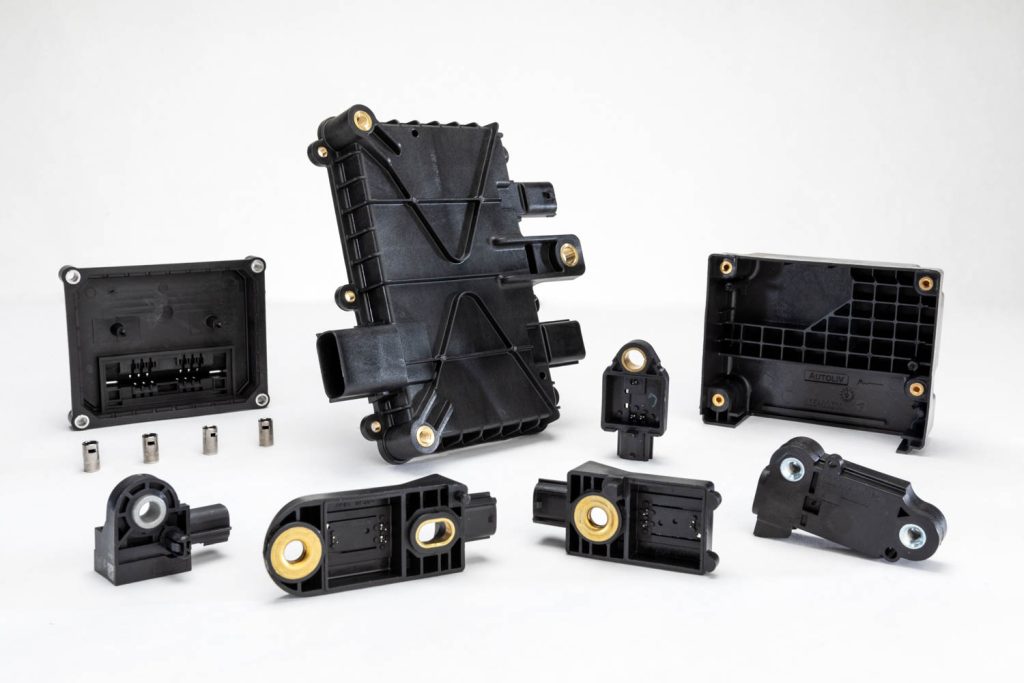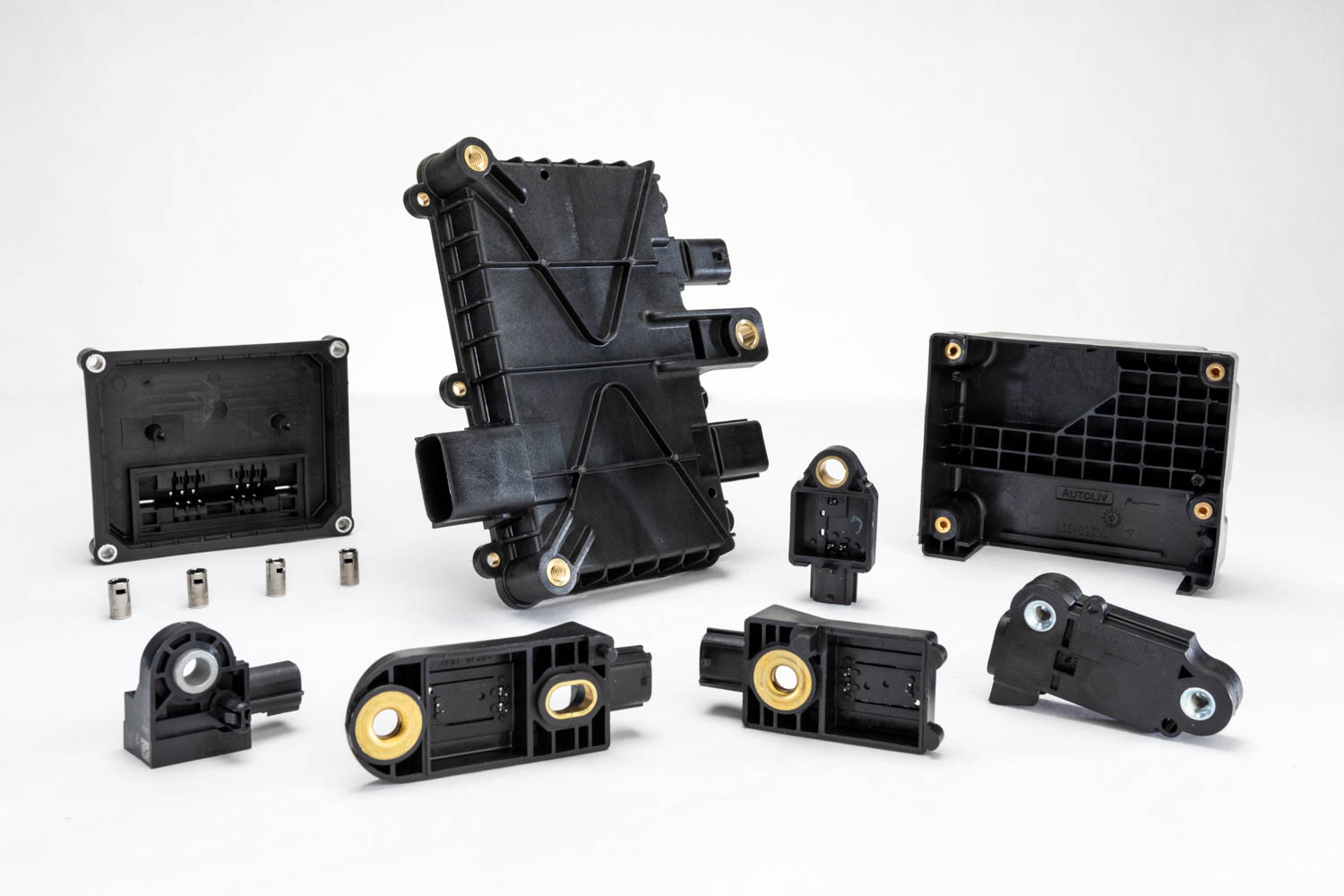 Insert molding is typically characterized by molding these components, referred to as "inserts" directly into a part.Insert molding is an injection molding process used to insert metal parts into plastic to create a final plastic component. There are 2 basic steps of this process: Firstly, getting ready the molding insert and loading it onto the mold before molding. Secondly, injecting the molten plastic into the cavity, cooling down, and taking out the final plastic component. Applications for insert molding are wide. Due to the inserts can be just about anything, from alloy threads to electrical contacts, the application possibilities are seemingly endless. It is important to understand the insert molding process, then design the part correctly to optimize the production process. Benefits include lower costs by eliminating handling the part a second time in the secondary department and a part that has greater function that plastic alone. Products that are candidates for metal replacement can still have performance strength utilizing insert molding at critical design features.
Our Insert Molding Capabilities
Mold Process Type
Equipment Configuration

Horizontal Clamp – Horizontal Injection
Vertical Clamp – Horizontal Injection

Vertical Clamp – Vertical Injection
Horizontal Clamp – Vertical Injection

Inserts

Threaded Inserts – Brass and Stainless Steel
High Tolerance Bushings
Insulated Copper Wire
Electrical Connectors
Die Stamped Shapes
.025 Steel Wires

Shafts and Bars
Copper Coils
Chain Links
Fiber Belts
Blades
Keys

Material

ABS
Acetal
Acrylic
Copolymer
Polypropylene
HDPE/LDPE
Nylon
Polyaryletheretherketone (PEEK)
Polycarbonate

Polyester
Polypropylene
Polystyrene
Polyurethane
Thermoplastic
PEI
All thermoplastic materials except PVC, Silicone, & PTFE

Clamping Force
28 to 90 tons
Shot Size
1 to 3 oz.
Number of Cavities
1 to 32
Thickness
Up to .5 in.
Inspection

Mold Sampling
Conformance to Dimensions
First Article

Testing

Material (Test Bars)
Samples

Quality

MRP System
Critical Process Monitoring

Reports
Cost Analysis
Additional Services

Part Design Assistance
Model Fabrication
Prototype Injection Molds
Production Injection Molds

Plastic Parts Machining
Warehousing
Distributing

Secondary Operations

Sonic Welding
Inserting Ultrasonic Inserts
Tipping
Hot Stamp Decoration
Assembly

Regrinding
Packaging
Labeling (High Speed Thermal Printer)
Bar Coding
Product Pack Out

Outside Services

Shielding
Plating
Silk Screen Printing

Pad Printing
Quick Prototype

Production Volume
1 to 1,000,000 parts
Industries Served

Advertising Displays
Aerospace
Agriculture
Aircraft
Automotive Heavy Vehicle
Automotive After Market
Computer
Communication
Construction
Consumer Products
Electrical

Electronic
Industrial Products
Machinery
Material Handling
Medical
Military
Personal Heath Care
Sewage Water Treatment
Sporting Goods
Toy

Intended Applications

Caps
Spouts
Air Terminal Block
Electronic Key Pad Backing Plate
Impeller Pumps
Motor Brush Block
Medical Housing Base
Packing Line Pusher Block with Chain Link Insert
Phone Holder Adapter Assembly
Medical Handle

Hose Connector
Body Multiple Threaded Connectors
Nut
Knob Kit Assembly
Insert Molded Thread and Machined Under Cut
Worm Gear
Gear
Coil
Syringe Body Adapter
Tail Light Lens

Industry Standards Met

ISO 9001:2015
SPE (Society of Plastics Engineers)
E2 (Manufacturing Resource Planning)
BBB (Better Business Bureau)

Efficiency
Lean Manufacturing
File Formats Accepted
Insert Molding Services From Elimold
Insert molding is a key fabrication process across many industries and offers a wealth of benefits. Elimold is a full-service, custom injection molding provider that works with a variety of high-performance engineered thermoplastics. We operate the latest automation and molding equipment, which allows us to compete on an international scale.
Contact us today to learn more about our insert molding services, or request a quote to get started on your solution.
Insert Molding Design Guidelines
Our basic guidelines for insert molding include important design considerations to help improve part manufacturability, enhance cosmetic appearance, and reduce overall production time. View our design guidelines page for more in-depth details.
 
US
Metric
 
Maximum Part Size
18.9 in. x 29.6 in. x 8 in.
480mm x 751.8,, x 203.2mm
 
Volume
59 cu. in.
966,837 cu. mm
 
Depth
4 in. form parting line
101mm from parting line
 
up to 8 in. if the parting line can pass through middle of part
Up to 203.2mm if the parting line can pass through middle of part
 
Projected Mold Area
175 sq in. (plastic)
112,903 sq. mm (plastic)
 
48 sq. in. (silicone rubber)
30,958 sq. mm (silicone rubber)
Interior, non-cosmetic finish according to the geometry of the mold.
We can install the most commonly used and popular standard inserts in UNF and metric sizes.
Engrave part numbers, designs, logos, or any other specified printing onto your parts.
Application of an ink-based design to the surface.
Creating textures on the molds so that it shows on the final product. This finishing option includes matte, swirls, patterns, and lines.
As the name suggests, the mold will remain 'as it is' – without any secondary texturing or polishing.
Painting the surface with standard colors or Pantone matching, including Primer and topcoat. Masking available; EMI (copper) paint.
Range of SPI finishes from Grade 3 diamond / high polish to 320 stone low polish. These Finishing options include SPI A-1, SPI A-2, SPI A-3, SPI B-1, SPI B-2, SPI B-3, SPI C-1, SPI C-2, SPI C-3, SPI D-1, SPI D-2, and SPI D-3.
Recently, insert molding has changed certain industrial practices. Many industries are replacing metal parts with plastic ones because plastic is less expensive, resistant to corrosion, durable, and lightweight compared to most metals. Here are the benefits of insert molding:
Durability: Insert molding offers high precision and enhanced product designs compared to other molding processes. Plastic parts with integrated components are more reliable and robust.
Efficiency: Insert molding does not require separate assembly, reducing the risk of manufacturing errors. Because the insert is integrated into the molding step, it saves time and labor costs, increasing the efficiency of your entire operation.
Cost-Efficiency: Insert molding is a cost-saving process since it allows the use of less expensive thermoplastic resins, which are more affordable than metals. It also minimizes labor costs and requirements for specialized assembly equipment.
Lightweight: Plastic parts are generally 50% lighter than metal but are comparable in terms of strength. This has made many industries opt for plastics to replace metals. The lighter weight contributes to better fuel efficiency in automotive components and easier handling for surgical equipment.
Size: Insert molding allows the production of smaller and thinner parts without sacrificing performance and durability.
Material Variety: Insert molding uses a variety of common engineering thermoplastics including Nylon, PBT, PEI, PC etc. Many of these plastics are recyclable throughout their life cycle. They are also durable, versatile, and ideal for various consumer and industrial products.
Design Variety: The process also allows different types of designs and shapes, expanding possibilities for engineering and design across many fields.
Elimold for your Insert Injection Molded Project!
Insert plastic injection molding is just one aspect of our overall injection molding expertise. Our full suite of services delivers the highest quality and integrity our customers expect and deserve. Whether you need injection molding services from design to production or are seeking assistance in a single area of your development cycle, we are here to help. Our services include:
Design for Manufacturability (DFM)— We can work with your concept or design to evaluate for not only the plastic molding process but for complete custom manufacturing of your project through the entire life of the program.
Mold Fabrication — Our quality promise extends to mold design and fabrication, ensuring that you won't need to work with a separate provider for this key step of your production process.
Post Injection Molding Services – We perform parts decorating, kitting, assembly, packaging, and other custom operations.