Elimold is an FDA registered plastic molding company with ISO 13485 certification and IQ, OQ, and PQ validation. We specialize in low to mid volume production of simple to complex plastic parts for our customers in the medical, automotive, military industries, and more. Request a quote to begin discussing your overmolding project today.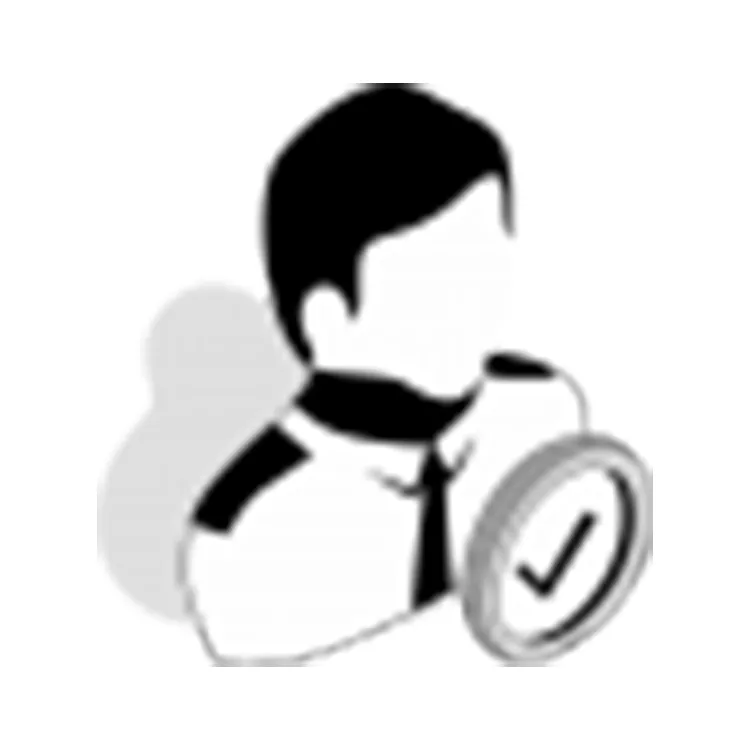 Finished Overmolding projects
1000+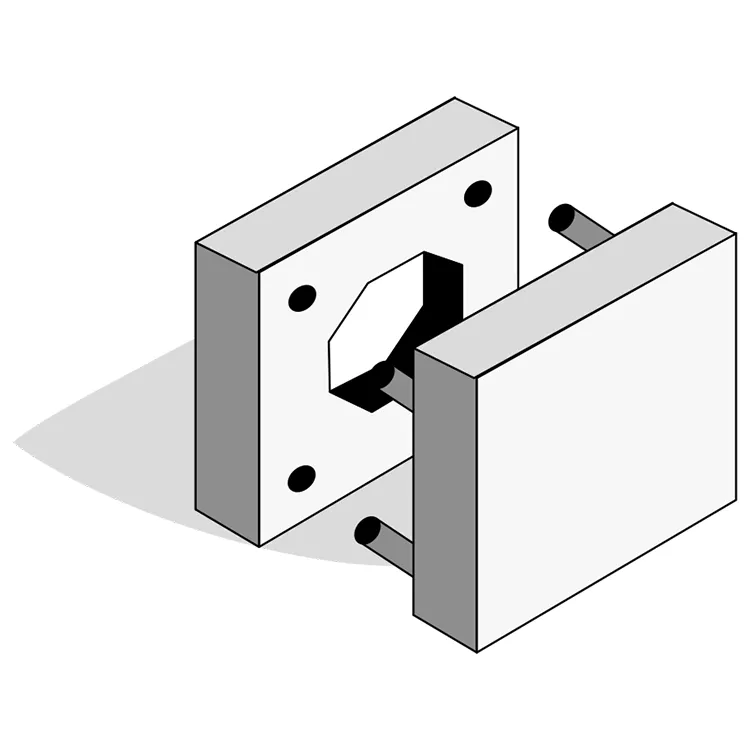 Overmolding Design
Free to modify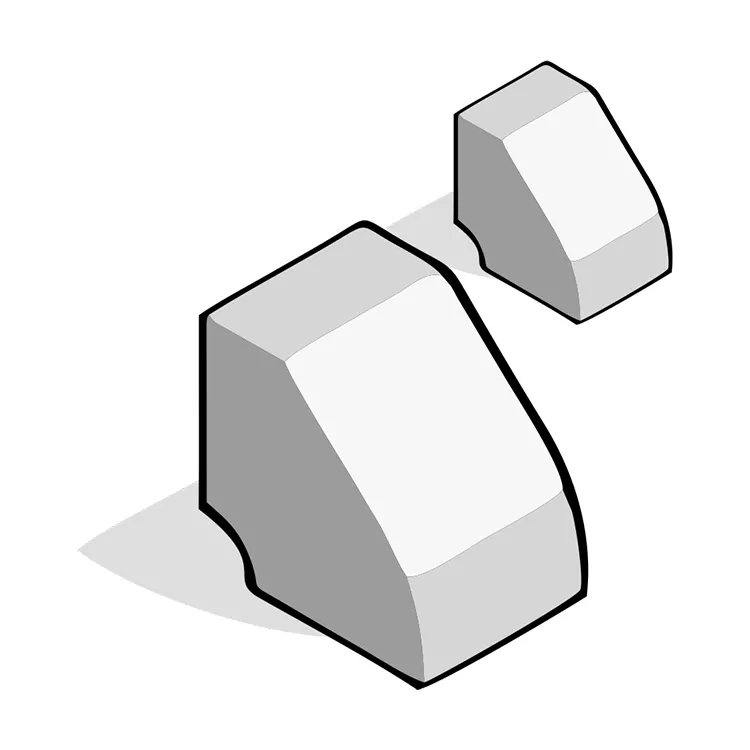 Experience in overmolding
10 years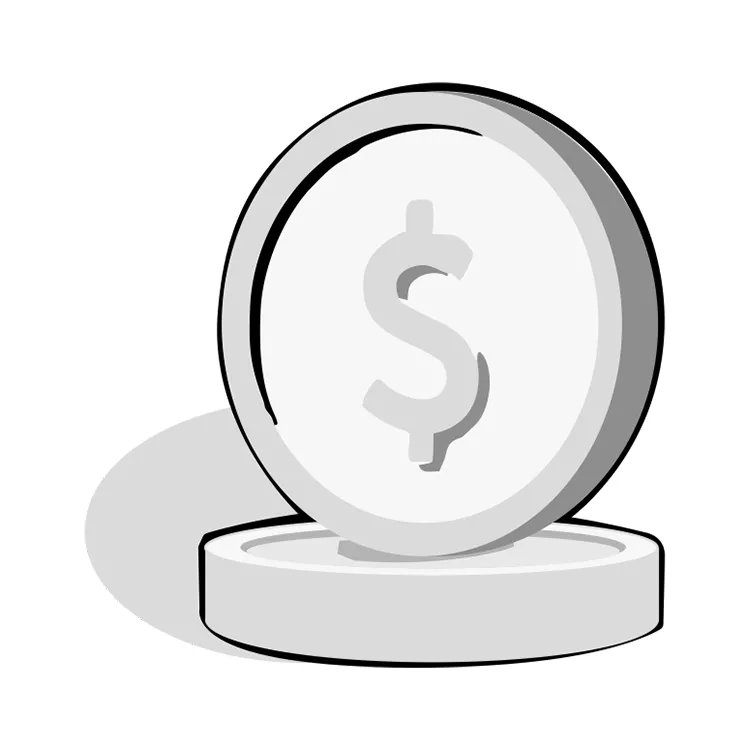 Overmolding Cost
Made In China
Plastic Injection Overmolding Services
It's hard to deliver finished items to market efficiently and affordably when you manually add layers of elastomeric materials to plastic parts on the shop floor. Optimize your process with overmolding services from Elimold.
Elimold is a fully integrated plastic injection molding company that specializes in bonding softer layers of materials to structural components for critical applications. From one-off prototypes to large scale production runs, our plastic injection overmolding solutions can improve a part or end product while reducing labor and materials.
Our team will partner with you to develop proper mold design and select the best materials for the job. We have 60 plastic injection molding presses with sizes ranging from 25-165 tons and utilize a pioneering hot runner system that meets the tightest tolerances, offers design flexibility, and produces items with reduced cycle times.
Contact us for more information about our plastic injection overmolding services.
Types of Overmolding Process
Overmolding can be used to improve the strength, durability, and aesthetics of a plastic part. It can also be used to add functionality to a part, such as adding a grippy surface or creating a water-tight seal.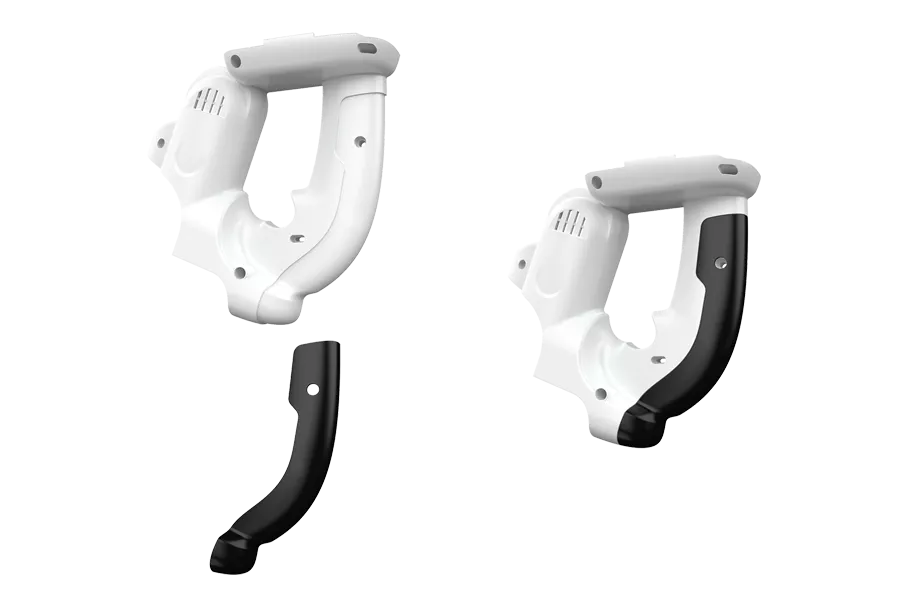 Plastic Over Plastic
A second layer of plastic is added to the core part. This can be used to improve the strength or aesthetics of the part.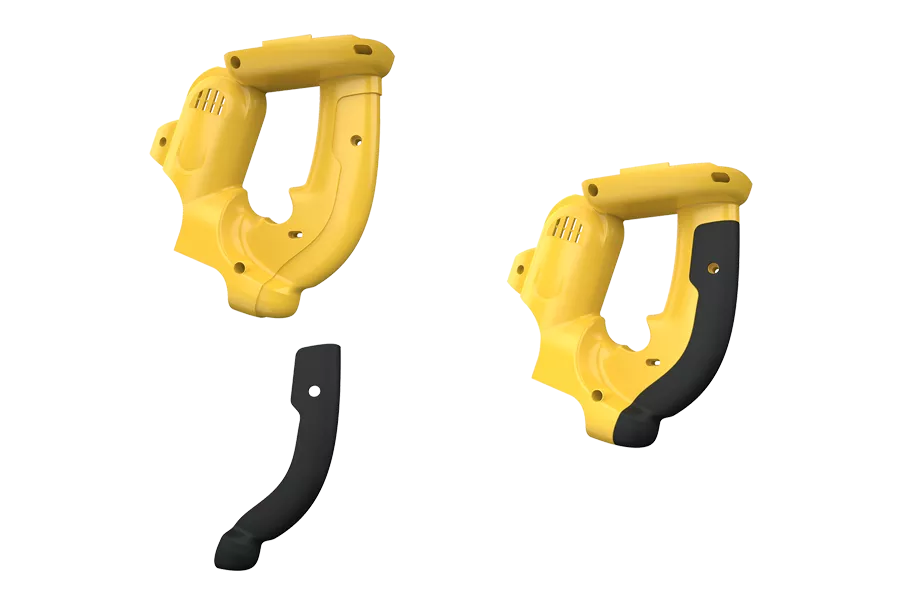 Rubber Over Plastic
A layer of rubber is added to the core part. This can be used to improve the grip of the part or create a water-tight seal.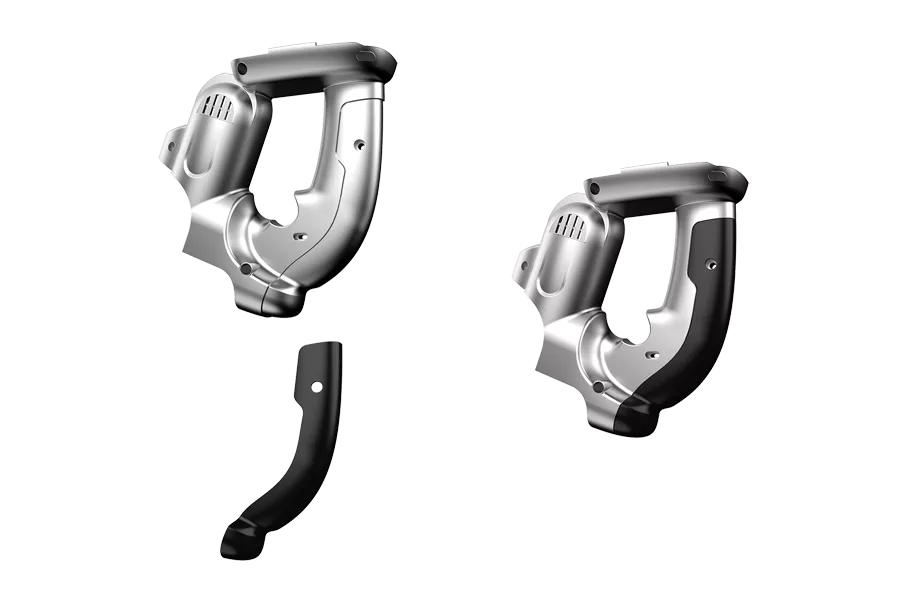 Plastic Over Metal
A layer of plastic is added to a metal core. This can be used to improve the durability or aesthetics of the part.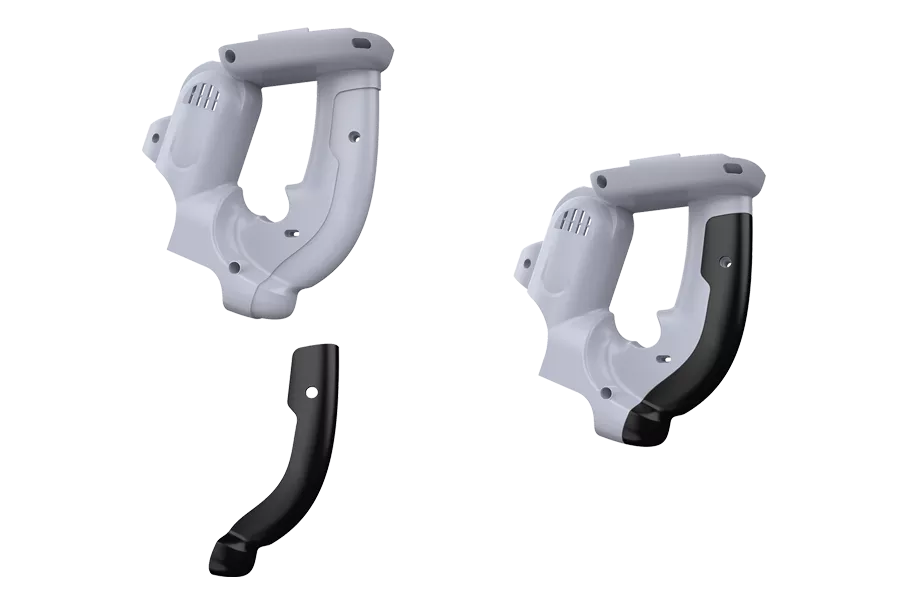 Rubber Over Metal
A layer of rubber is added to a metal core. This can be used to improve the durability or grip of the part.
Elimold's overmolding ability
When it comes to overmolding, with our in-house mold design and construction capabilities and injection molding expertise, we can overcome nearly any overmolding challenge.
Overmolding is the injection or molding of thermoplastic materials around existing plastic, metal, or other parts. When done correctly, physical and chemical bonds can be created between overmolded plastic parts. Our expertise in overmolding allows us to work with engineers and designers to ensure the quality, integrity, and mold reliability of the parts you produce.
With our experience and technical background, we have been able to help our customers cut hours of labor from the cost of assembling a product while significantly improving quality, integrity, and reliability. On existing and new products, well-designed overmolded parts can eliminate the need for various secondary operations, such as sonic welding, gluing, and sealing.
| | | |
| --- | --- | --- |
| Size | Metric | Inch |
| Length | 2500 | 98.4 |
| Width | 2000 | 78.7 |
| Height | 1500 | 59 |
Twin-Shot and Multi-shot Injection Technology
We are over-molding and multi-shot injection molding experts
We have a wide variety of over-molding technologies and sealing solutions. Our professional technical team can solve the technical needs and engineering problems of various types of customers.
● Plastic over-molding with plastic
● Soft plastic over-molding or multi-shot injection molding
● Silicon rubber over-molding or multi-shot injection molding
● Silicone rubber and plastic over-molding or multi-shot injection molding
● Soft and hard plastic over-molding with metal parts
● Soft plastic or silicone rubber over-molding with electronic components
● Plastic over-molding with silicone rubber seals
We can design and manufacture various types of molds requiring over-molding or multi-shot injection molding processes
With of experience in the design and manufacture of molds, we can design and manufacture various plastic over-molding injection molds, silicone rubber over-molding molds and liquid silicone LSR over-molding injection molds.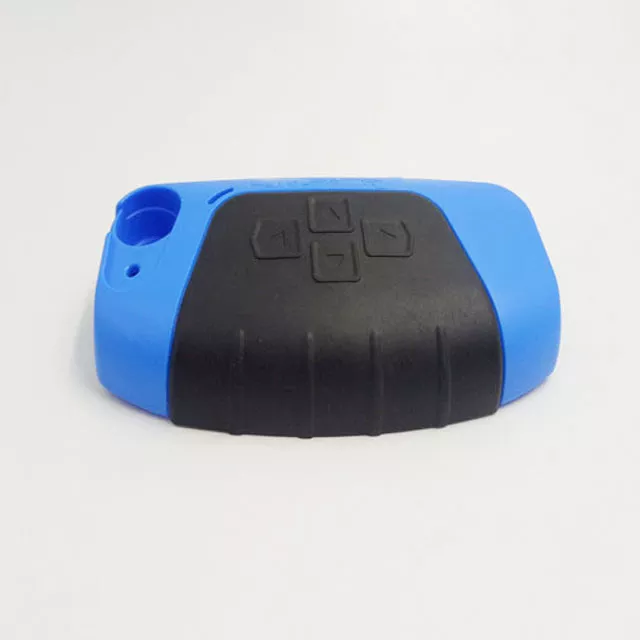 Benefits of Elimold's Overmolding Process
High part precision achieved by leading edge molding equipment, capable tooling, and robust validation procedures
Shot-to-shot consistency guaranteed by instrumented molds
Improved part functionality (i.e. creating a water-resistant seal)
Cost-effective high volume production achieved through robotics and automation
Ultra-precise positioning of overmolding tool inserts enabled by in-line camera systems
Avoidance of foreign materials such as glues and adhesives into the final medical device
Significant reduction or elimination of costly and cumbersome assembly operations that can lead to failure modes and high fall-out rates
Contact Elimold for Custom Plastic Overmolding Services Today
Elimold provides the end-to-end overmolding molding services you need to stay ahead of the game. Our stable of state-of-the-art tooling and design capabilities combined with over 300,000 square feet of on-site production space allows us to create high quality molded parts designed to your project's exact specifications . Read about our other plastic molding capabilities here. Request a quote today to begin discussing your overmolding requirements. Contact us with any questions.
Materials Used For Overmolding
We offer a wide range of materials for overmolding projects, depending upon the geometry, complexity, and requirements of your project. In addition to our stock material options, Elimold can source desired materials and provide molding with customized raw materials that will match your part's desired application.
Rigid Plastic

Polyphenylene sulfide (PPS)
Polypropylene (PP)
Acetal polyoxymethylene (POM)
Acrylonitrile butadiene styrene (ABS)
Glass-filled polycarbonate (PC-GF)
High-density polyethylene (HDPE)
Low-density polyethylene (LDPE)
Polybutylene terephthalate (PBT)
Thermoplastic vulcanizates (TPV)
Polycarbonate (PC)
Polyolefin Elastomer (POE)
Polymethyl methacrylate (acrylic) (PMMA)
Nylon 66 (PA66)
Glass-filled, polyamide (PA-GF)
Polystyrene + polyphenyl ethers (PS-PPE)
Thermoplastic elastomer (TPE)
Thermoplastic polyurethane (TPU)
Custom-sourced Resins
Customer-supplied materials

Flexible Plastic

Low-density polyethylene (LDPE)
ABS polycarbonate (PC-ABS)
Polyethylene terephthalate (PET)
Polystyrene (PS)
Polyethylene (PE)
Flexible polyurethane (FPU)
PC-ABS

Synthetic Rubber

Thermoplastic vulcanizates (TPV)
Thermoplastic elastomer (TPE)

Silicone Rubber
The above materials are the most common stock material options. If your desired material is not listed above, please contact our team here. You may learn more about our other options and custom material applications by clicking here to go to our materials page.
Surface Finishing of Overmolding
For product designers and engineers, the surface finish on molded parts is an important design consideration. Most polish and texture are applied directly to the mold and transferred to the parts during the injection molding process. Following are several surface finish options for molded parts.
| | |
| --- | --- |
| Name | Description |
| Glossy | The mold is smoothed and then polished with a diamond buff, resulting in parts with a mirror-like finish. |
| Semi-gloss | The mold is smoothed with fine grit sandpaper, resulting in parts with a fine surface finish. |
| Matte | The mold is smoothed using fine stone powder, removing all machining marks. |
| Textured finish | The mold is first smoothed with fine stone powder and then sandblasted, resulting in a textured surface. |
| As-machined finish | The mold is finished to the machinist's discretion. Tool marks may be visible. |
Wall thicknesses between 0.060″ to 0.120″ (1.5 mm-3 mm) generally provide the best bonding.

Keeping radii between 0.020″ or 0.5mm minimum in corners reduces localized stresses.

If the part requires thick TPE sections, they should be cored out to minimize shrinkage problems, reduce the part weight, and lower cycle time.

Avoid deep or un-veritable blind pockets or ribs in your design.

Use gradual transitions between wall thicknesses to reduce or avoid problems with the flow (backfills, gas traps, etc.)

The TPE/TPV should be less thick than the substrate to prevent warpage, especially if the part is flat, long, or both.

Overmolding needs mechanical or chemical bonding to the substrate, so your material choices should enable this.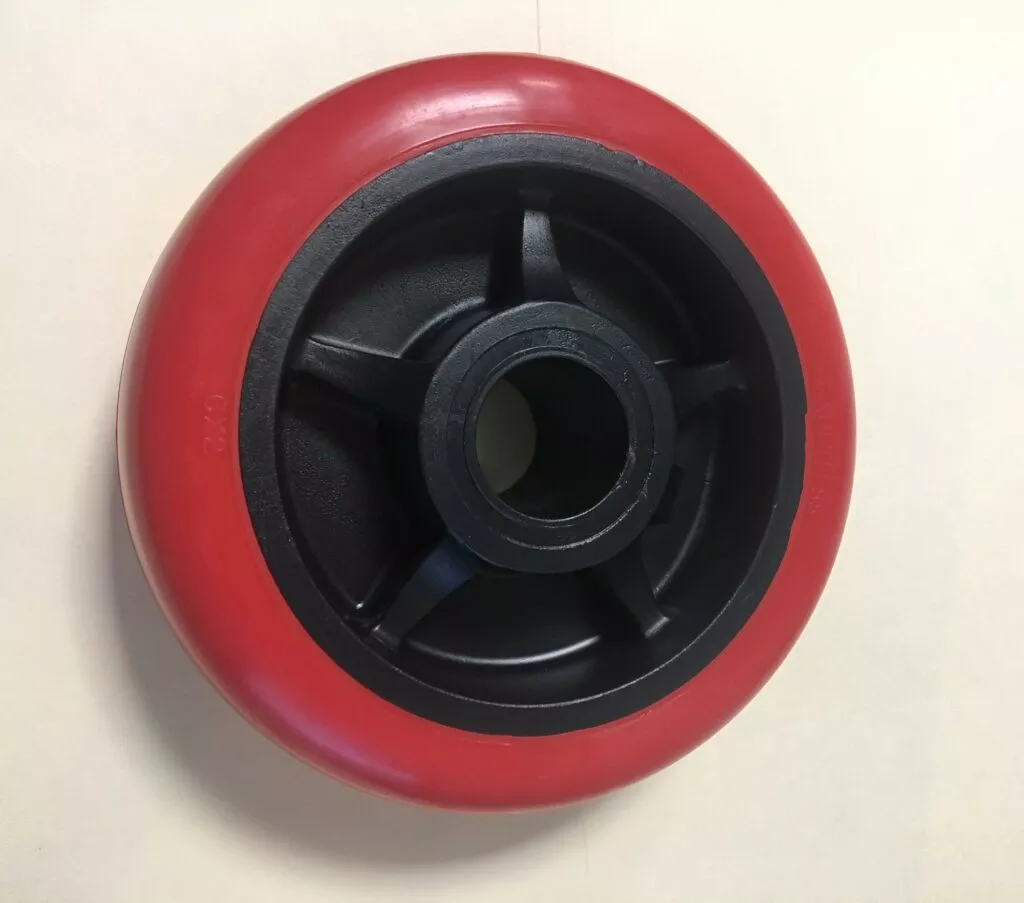 Notes On Material Selection
| | |
| --- | --- |
| Adhesion | Some materials stick together when they are overmolded, while others do not. Perfect combination is the ideal situation. |
| Tensile property | Since it is overmolded on plastic, the substrate must not deform under the heat and pressure of the molding process. |
| Compression Properties | It may be important for your overmoling project to know how much parts can be compressed without permanent damage. |
| Friction Coefficient | Friction is the force required to cross one surface over another, The surface texture of the mold is a factor too. |
| Hardness | Hardness property is the ability of the material to resist indentation, hardness of different materials vary greatly. |
| Flexural properties | The bending resistance of a material is the bending modulus. This attribute is the second factor in the "feel" of materials. |
| Thickness | From a design point of view, the thickness of the material will change the effectiveness of the material properties. |
Have a project you'd like us to quote?
No matter what phase your project is in, we can partner with you to aid design, and manufacture complex assemblies with custom overmolding. Simply submit a project and one of our experts will be in touch with you within 24 hours as we review your project.
Need an NDA before sending files? Submit an NDA and we will get it signed so that we can get the conversation started.
Does Your Part Require Overmolding or Inserts?
Overmolding and insert molding are both subsets of injection molding. While both processes involve the same injection of plastic into a mold cavity, there are some key differences to understand while deciding if overmolding or insert molding is best for your application. While overmolding takes a part and then layers plastic in an exterior layer, insert molding embeds small parts during the injection molding process.
Choose overmolding when:
The completed object is made of thermoplastics or rubber
The design calls for multiple layers, materials, or colors
You are manufacturing both the substrate and secondary layer
The finished object does not need to be disassembled
Consider insert molding when:
Your substrate is prefabricated
Your substrate is made of metal, wires, or computerized parts
The finished part is one solid and complete piece
Of course, exceptions apply to every rule. If you have more questions, the experts at Elimold can help you find the injection molding process, design, and product to meet your specifications.
The overmolding process is used in many industries, including medical, aerospace, military/tactical, electronics, and automotive. Depending on end-use requirements, overmolding can be used for aesthetic or functional purposes. Many thermoplastic materials can be overmolded, including soft plastics like polyurethane and TPE and hard plastics like nylon and polycarbonate. Overmolding is widely used to strengthen, protect and improve products in critical defense injection molding and high-end electrical connector molding applications. At the same time, it reduces costs by reducing labor and materials.
Proper tool construction enables this complex process to work. For the overmolding process to work effectively, molds must be manufactured to tight tolerances. This two-shot process also requires selecting and using compatible materials for superior mechanical and chemical bonding.
Various thermoplastic materials can be overmolded, from soft plastics such as urethanes and thermoplastic elastomers to hard plastics like nylon and polycarbonate. This provides enhanced design flexibility, which benefits an array of industries.
The process is commonly called plastic overmolding or elastomeric overmolding, which produces many items. Here are a few examples:
In many circumstances, overmolding lowers the time and cost necessary to manufacture a part. Molding directly to a component's surface reduces assembly steps and labor hours.
Get Started With Our Overmolding & Injection Molding Services
At Elimold, we take pride in providing our customers with the injection molding services they need to create high-quality products. If you'd like to learn more about two shot molding or injection molding, please contact us right away.
We would be happy to discuss your project, go over the design, and discuss pricing and production details. Get in touch online now, and get started right away!