Plastic Injection Molding Service
We excel at managing large, complex projects; however, we also serve small to mid-sized companies with growth prospects. Our 90 machines range in clamping force from 55 to 1,650 tons with maximum shot sizes up to 470 oz. Finished part weights can range from 4 grams to 24 lbs.
Elimold Is Your Plastic Injection Moulding Partner
Elimold provides custom plastic injection molding services for OEM manufacturing and consumer products. Located in China, Elimold provides product design assistance and engineering services for the development of plastic injection molded products and bring solutions to complex plastic engineering applications. We strive to be known in the markets we serve as the best partner for custom plastic injection molding manufacturing services that operates to the highest ethical standards.We strive to be known in the markets we serve as the best partner for custom plastic injection molding manufacturing services that operates to the highest ethical standards.
Our business strategy and operating plan is built upon People, Process Control, and Technology. We believe that by combining the best talent with proper technology to control the injection molding process we will manufacture consistent high quality parts for our customers. We also believe that culture is a strategic advantage and when we can foster an environment where people care for each other they will take care of the equipment, resin, customers and company.
Elimold offers in-house tooling design and engineering support for new injection molds and has both in-house and outside plastic mold building resources to provide cost effective solutions to new tooling. Our in-house tooling group provides routine preventative tooling maintenance and tooling repairs to keep customer production running on-time.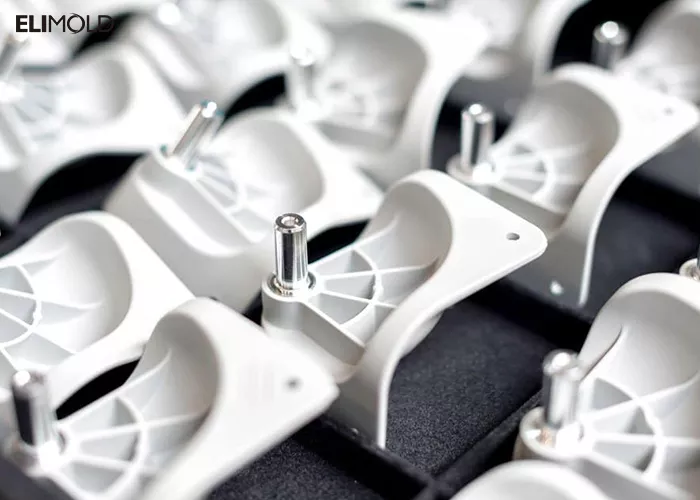 Our plastic molding company specializes in production quantities from 100 to 100,000 units per order. Our free services to you on every project will include free part design advice, help with selecting a plastic material, and target cost planning for your tooling and production.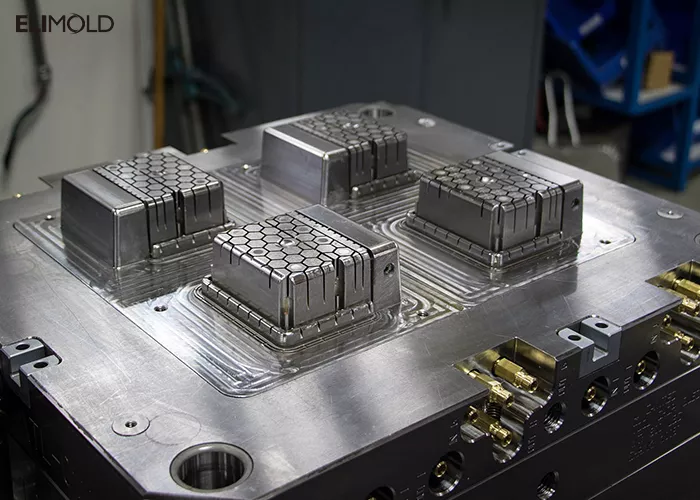 As a plastic molded parts manufacturer all of our molds are made in-house and maintained by our mold making staff. Lead times to build your mold and send samples range from 5 days to 5 weeks. Our unlimited tooling life warranty means you will never see another tooling charge for the life of your project.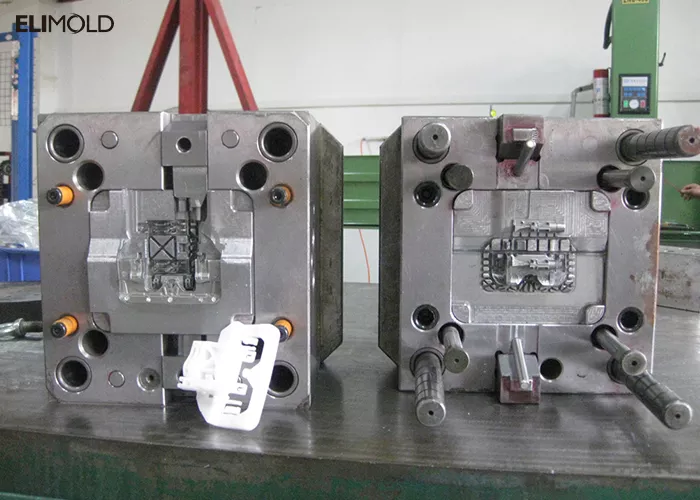 Prototype Injection Molding
Our prototype molds offer fast delivery of production quality plastic prototypes. Prototypes can help you reduce design risks before building multi-cavity molds and they can bridge low volume production quantities for low overall costs.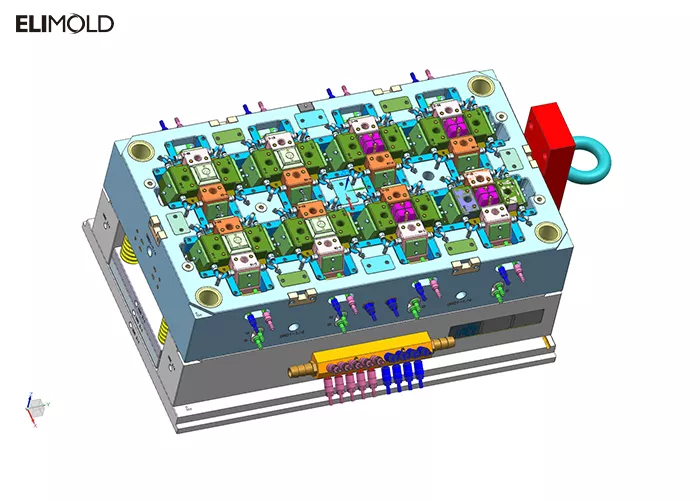 With our knowledge of plastic part design we offer CAD services to make 3D files from your 2D drawings or sketches. These support services are usually free to all of our purchasing customers.
Your partner at every every step with start-to-finish project management
From product design, tooling, and assembly to packaging and logistics, we can support any stage in the product lifecycle.
Our expertise in complex injection molding and mold fabrication for consumer goods and plastic packaging solutions includes developmental tooling for high-tolerance and rapid
pre-production tooling, ultra-high-precision, high-cavitation tooling, high-volume plastic injection molding, automation, and assembly.
Plastic Injection Molding Capabilities
General Capabilities

Injection Molding
Custom Fabrication
Prototyping
Testing
Inspection
Mold Making
24/7 Lights Out
Operation
Global Clientele

Material Requirement
Planning
Inventory Control
3 Shifts
Insert Molding
Assembly
Engineering Changes
In-House Mold
Maintenance

Work Space Capacity
55,000 square feet
Product Capabilities

Small to Medium Parts
Low Volume

High Volume/Low Mix Capabilities
Insert Molding

Mold Process Type
Custom Injection Molding
Materials

ABS
Acetal
Acrylic
Copolymer
Polypropylene
HDPE/LDPE
Nylon
Polyaryletheretherketone (PEEK)
Polycarbonate

Polyester
Polypropylene
Polystyrene
Polyurethane
Thermoplastic
PEI
All thermoplastic materials except PVC, Silicone, & PTFE

Engineering and Commodity Thermoplastics grades including but not limited to;
Temperature Range
Melt temperatures up to 900°F
Machine Maximum Velocity
Up to 12 in/sec
Clamp Tonnage
Min: 35 tons
Max: 385 tons
Shot Size
Up to 676 grams of PS
Learn more about Shot Size in our glossary
Number of Cavities
Min: 1 cavities
Max: 16 cavities
Learn more about Cavities in our glossary
Part Thickness
.020 and up
Tolerance (+/-)
±.002
Secondary Services

Part Assembly
Hot Stamping
Machining
Heat Staking
Sonic Welding
Flushing/Cleaning
Hardness Testing

Leak Testing
Moisture Testing
Force/Break Testing
Destruct Testing
Continuity Testing
Part Decorating

Surface Finish
 
Additional Services

APQP – Advance Product Quality Plan
Engineering
Process Validation
Dew Point Controlled Facility
Mold Acquiring Capabilities
Mold Evaluation
Mold Maintenance
Domestic Tooling

Overseas Tooling
Tool Design
Product Development Assistance
Mold Flow
Tooling
Inspection
CMM Inspection
Optical Measuring Machine
Fixturing
MRP

Production Volume

Prototype
Low Volume
Small Run
High Volume
Large Run
Long Run

1 to 1,000,000 parts
Lead Time
Quoted on job-by-job basis
Rush Services Available
Just-In-Time / Ship To Stock
Kanban
Industry Focus

Aerospace
Automotive
Construction
Communication
Consumer Goods
Defense
Electrical
Electronic

Fire Safety
Firearms
Maritime
Medical
Military
Printing
Optical
Telecommunications

Industry Standards

ISO 9001:2015
TS (quality standard developed by the automotive industry)
RoHS Compliant
WEEE Compliance
Material Composition Declaration IPC 1752

ITAR
REACH
SVHC
Proposition 65

Efficiency

Lights Out Manufacturing
3 Shifts
24/7

File Formats
Preferred format is SolidWorks, but we can also accept;

AutoCAD (DWG,DWZ)
DXF – Drawing Interchange Format, or Drawing Exchange Format
IGES – Initial Graphics Exchange Specification, ANSI file format.
Inventor (IDW, IPT)
IronCAD (ICD,ICS)
JPG or JEPG – Joint Photographic Experts Group

PDF – Portable Document Format
Pro-E or Pro/Engineer (DRW,PRT,XPR)
SolidEdge (DFT)
SolidWorks (SLDPRT, SLDDRW, SLDDRT)
STEP – Standard for the Exchange of Product Model Data
Industry Focus

| | |
| --- | --- |
| OEM Housewares Toys | Automotive Consumer Products |

Intended Application

| | |
| --- | --- |
| Components Consumer Products Decorative Firearm Components Furniture | Hardware Pet Products Medical Toys Window Components |

Industry Standards
ISO Certified
File Formats
SolidWorks Pro-Engineer
For Professional Custom Plastic Molding Services, Call Us Today
From medical to consumer products, Elimold has the ability and the knowledge to transform your ideas into a high-quality working part. Whether you require small to large custom parts, we have the necessary experience guaranteed to satisfy your injection molding requirements. We offer both high- and low-volume production of custom injection molded parts with on-time delivery.
Want to hear more about our custom plastic injection molding company and how we can assist your business? To learn more, don't hesitate to contact us today and visit our FAQ page for answers to your questions.
Benefits of Custom Plastic Injection Molding Services
There are numerous reasons to consider choosing injection molding for your project. Some of the most notable advantages include the following:
Customizability. Your tooling/mold will be custom-built for injection molding. Additionally, parts created this way can be easily colored using additives, creating aesthetically pleasing products.
Cost-effectiveness. The automation utilized in the injection molding process significantly reduces overhead costs, allowing a sole operator to oversee the molding process.
Accuracy. With a properly designed mold, the injection molding process can ensure tight tolerance accuracy molding to meet customer demand to print specifications.
Efficient use of materials. The injection molding process reduces unnecessary plastic waste, as the material is injected directly into the mold during production.
Easy reclamation and recycling. Any unused material can easily be melted down for reuse.
Enhanced strength. Plastics have an incredibly high resistance to wear and can be injected with fillers during the molding process to create additional strength.
Contact Elimold for Custom Plastic Molding Services Today
We are the experts in precision plastic molding! We provide turnkey service throughout your entire product development process, from design engineering to prototyping to mass production. With our comprehensive injection molding capabilities, we have what it takes to turn your designs into the high quality, high precision parts and products you need.
Request a quote on your injection molding project, or contact Elimold for more information.