Stereolithography(SLA) 3D Printing Service
With large-format and high-resolution SLA equipment, we can build parts as fine as .002″ layer thickness on our high-resolution Viper equipment – virtually overnight from your CAD data. We also offer various resins to suit your rapid prototyping needs.
Elimold offers cost-effective SLA 3D printing service to engineering, medical, and jewelry industries. We can save your precious time with our outsourcing service. When you are on tight budget and schedule, our team can handle your requirement and deadline. Upload your MRI and CAD files for strong, durable, and functional models. We have advanced SLA printers to print detailed parts with high accuracy and faster.
With our bespoke SLA 3D printing service, you can get your parts ready for production in less time. Let us help you take your product design and development to the next level. Whether you need rapid prototyping or Low volume production, we have got you covered with our on-demand printing and Stereolithography materials. In addition, if you need special SLA materials, let us know, and we will arrange them for you without any MOQ.
Whether automotive, consumer products, or industrial manufacturing, Elimold is an ISO 9001-2015 certified digital manufacturing company offering you on-demand services within your budget. Get in touch with us to get a quote today.
Our SLA manufacturing standards
We manufacture your parts according to strict manufacturing standards. Verification of these requirements is included in our inspection report shipped with every order.
Desktop SLA: A dimensional accuracy of ± 0.5% with a lower limit of ± 0.15 mm (± 0.006″)

Industrial SLA: A dimensional accuracy ± 0.2% with a lower limit of ± 0.127 mm (±0.005″)

Parts are fully cured to material manufacturer specifications before shipping.

Hollow sections must be drained of excess resin.

All support material is removed, and support nibs must are sanded smooth.
Requirement
Desktop SLA
Industrial SLA
Maximum build size
145 × 145 × 175 mm (5.7″ x 5.7″ x 6.8″)
500 x 500 x 500 mm (19.68″ x 19.68″ x 19.68″)
Standard lead time

2

 business days
4 business days
Dimensional accuracy
± 0.5% with a lower limit of ± 0.15 mm (± 0.006″)
± 0.2% with a lower limit of ± 0.127 mm (±0.005″)
Layer height
50-100 um
50-100 um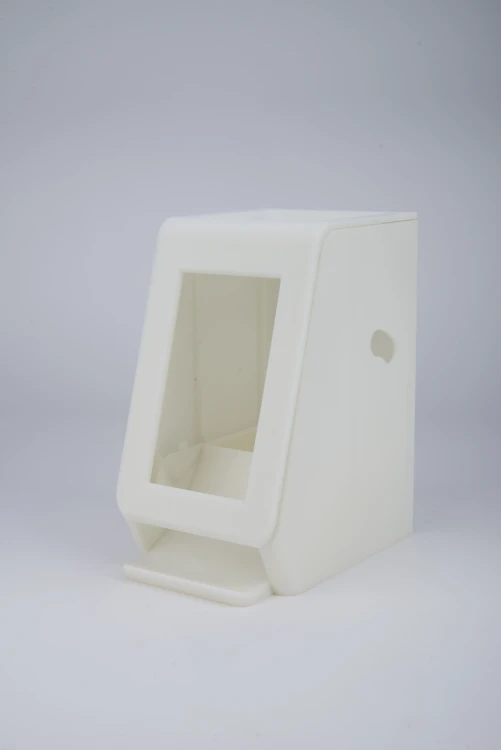 The pros of SLA 3D printing
There are many reasons to consider stereolithography, including these:
Detail

: Stereolithography technology produces crisp, highly detailed results with a professional appearance due to the advanced performance of galvanometers

Speed

: Products go from drawing board to manufacture in a day rather than much longer using traditional prototyping and production methods

Strength

: The photopolymer resins bond chemically to produce stronger models, objects, and prototypes

Water-resistance

: The objects produced are waterproof and can be used to produce water-tight pieces

Material options

: A variety of resins can be used to manufacture to create objects with the physical properties of hardness, density, and flexibility that are desired for each project
High Speed SLA Design Guidelines
Please note that these are are guidelines, not hard-and-fast rules. Follow these, and you should be in pretty good shape. We'll let you know if we see any problems with your design.
| | | |
| --- | --- | --- |
| Parameter | Inches | Milimeters |
| Minimum Supported Wall Thickness | 0.030 | 0.75 |
| Minimum Unsupported Wall Thickness | 0.040 | 1.00 |
| Minimum Supported Bosses | 0.030 | 0.75 |
| Minimum Unsupported Bosses | 0.040 | 1.00 |
| Minimum Embossed Detail (Height and Width) | 0.010 | 0.25 |
| Minimum Engraved Detail (Height and Width) | 0.010 | 0.25 |
| Clearance | 0.010 | 0.25 |
On-demand SLA 3D Printing Service
Are you looking for the perfect manufacturer? Elimold provides you the best online 3D Printing Services for your resin parts. Thanks to our expertise in Stereolithography technology, you can choose between several options, instantly receive a quote, and let us handle the manufacturing in our ISO 9001 certified factory.
Start using Stereolithography today by uploading a 3D file.
SLA 3D Printing Materials
| Material | Color | Hardness (post-cure) | Description |
| --- | --- | --- | --- |
| Surgical guide | Clear orange | 67D | Biocompatible Sterilizable and solvent safe Good material properties |
| Clear | Clear | 82D | Able to make clear parts with intricate features Not optically clear but perfect to let light pass through and achieve some |
| Rigid | White | 89D | Strong, stiff, and resistant to bending Soft matte white finish |
| Tough 2000 | Gray | 81D | Strong and sturdy Good for prototypes Resistant to bending |
| Tough 1500 | Medium Gray | 76D | Resilient rigid resin Good for stiff but pliable parts that spring back into shape |
| Elastic | Clear | 50A | Springy, bendable and stretchable Will return quickly to original shape |
| Flexible | Black | 80-85A | Dampening properties Good for cushioning and soft touch areas Stronger mechanical properties than Elastic |
| Durable | Translucent, Clear | | Pliable, impact resistant, lubricious Ideal for high wear areas or rigid parts that need to be pliable |
| White | White | | Matte white Able to achieve precise details Good for general prototypes or aesthetic parts |
| Black | Black | | Matte black Able to achieve precise details. Good for general prototypes or aesthetic parts. |
| Color | Select colors available | | Color resin Able to achieve precise details Good for general prototypes or aesthetic parts Only available for production qty orders |
| High temp | Translucent Orange | | Detailed precise prototypes Able to withstand temperatures up to 238 °C |
Available Finishes for SLA Parts
| | |
| --- | --- |
| Matte (Standard) | Supported surfaces will be lightly sanded with 220 or 320 grit sandpaper, then media blasted for a uniform matte finish. |
| Natural | Supported surfaces will be lightly sanded with 220 or 320 grit sandpaper for improved surface quality. Sanding scratches will be visible on supported surfaces. |
| Strip and Ship | Supported areas may show small grid-like dots or surface blemishes as a result of support removal. |
| Quick Clear | Available for Accura ClearVue. Only supported surfaces are sanded. Parts will still have visible layering. High gloss clear coat is applied to enhance natural clarity. |
| Custom | Elimold provides additional SLA finishing options, including but not limited to sanding, polishing, painting, post thermal processing, and plating to meet your needs. |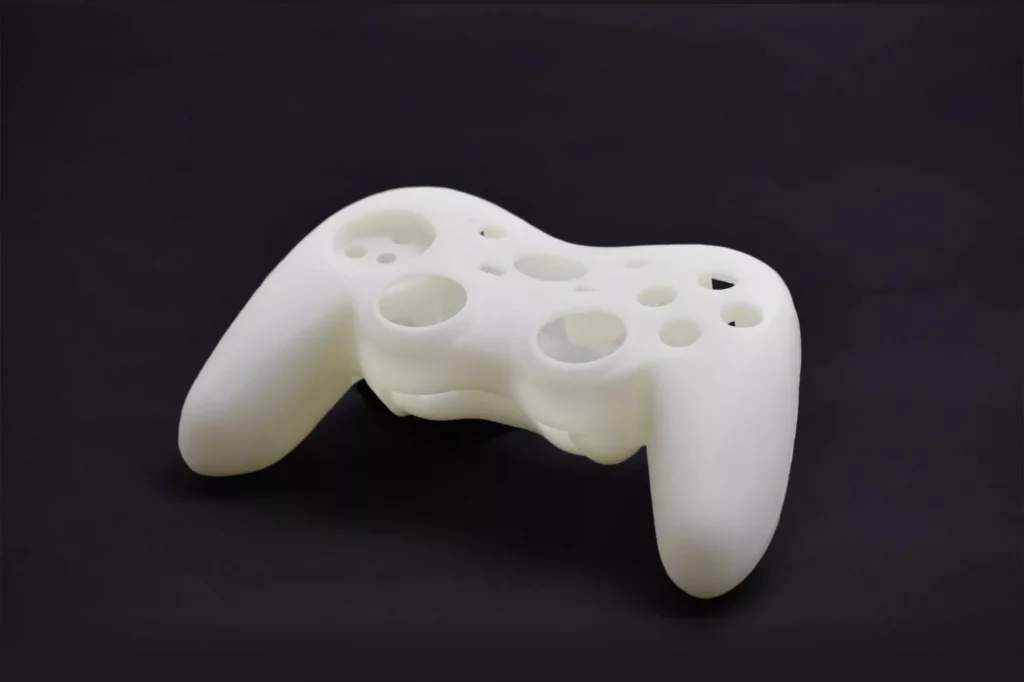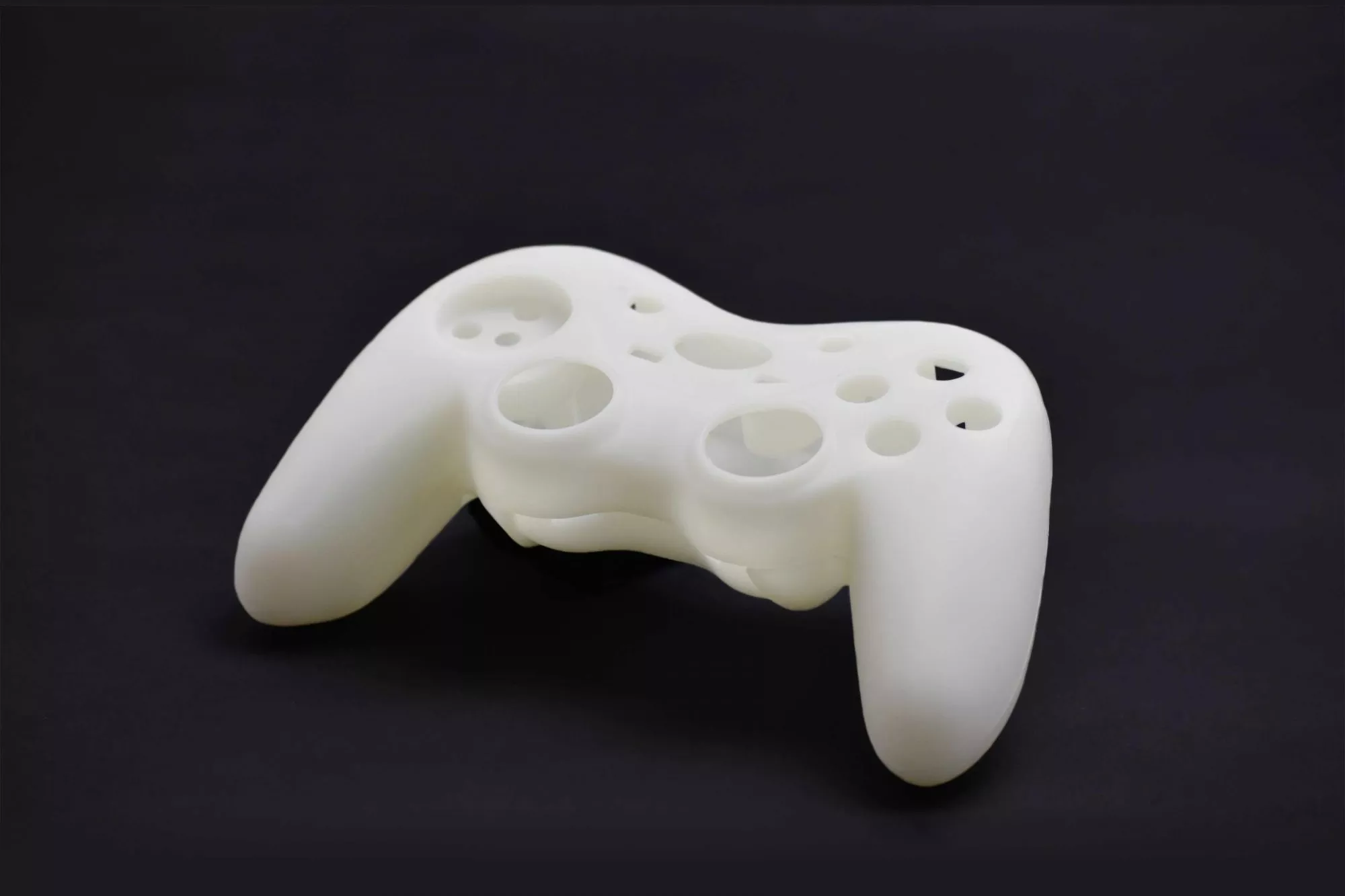 Benefits Of SLA With Elimold
Our SLA services allow you to make 3D printed parts and prototypes in a wide range of plastics. Prototypes made using this service can be used for engineering testing or as master patterns for urethane casting molds. SLA allows the product designer to quickly create complex shapes that cannot be made with conventional subtractive methods. You can also have metal 3D printed parts made using our DMLS 3D printing service.
SLA 3D Printing Technology Overview
Stereolithography (SLA) technology was the world's first 3D printing technology, allowing engineers and designers to produce highly detailed prototypes that require tight tolerances and smooth surfaces. Today, SLA remains a great option for printing parts that will ultimately be painted or coated.
Designers usually use SLA-printed models when a quick built time is crucial to the product development cycle as time and resources can be invested into post-processing and finishing techniques. Great applications for SLA-printed parts include concept models, master patterns, large prototypes and investment casting patterns.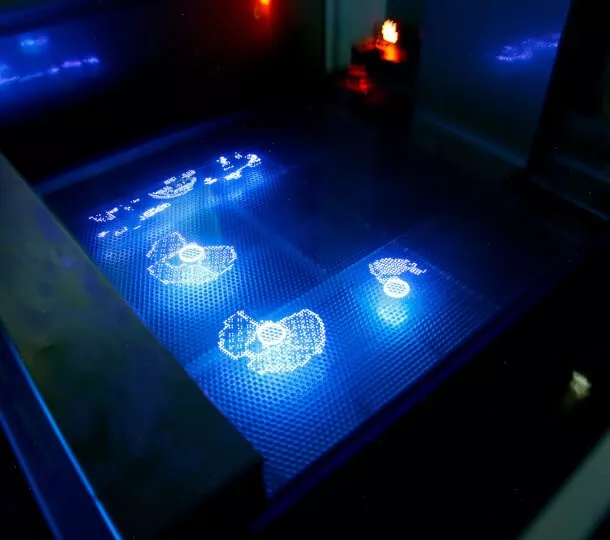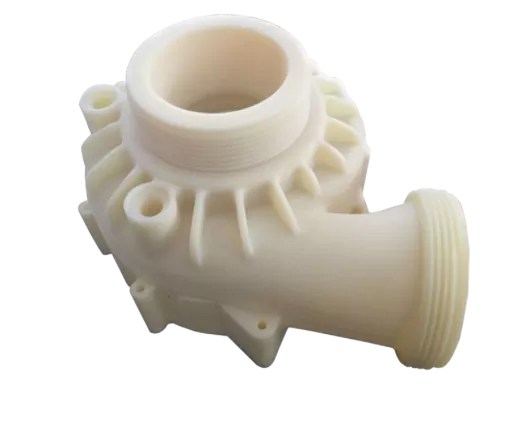 How it works - An overview of the SLA 3D printing process
Stereolithography (SLA) is an epoxy-based photopolymer system that utilizes lasers to cure the resin on the cross-sectional area of the part. It begins with a recoating bar that applies a thin layer of resin, then an ultraviolet laser creates an image of the part on that resin. After one layer, this process is repeated until the build is complete.
Once the build is complete, the parts are removed and put into a solvent to remove excess resin. The SLA process uses supports of the same material as the part itself, which have to be manually removed. From there, the parts go through a curing cycle in a UV curing machine.
As pricing comes down for the machines, the cost of each object printed falls as well. Here is how stereolithography is being used.


Prototyping: Also known as rapid prototyping, creating prototypes was the original purpose of this process. Manufacturing prototypes of parts in a wide range of fields continues to be a popular use for stereolithography. The advantage of this process is that the prototype can be made at far less expense than by using more traditional means. The prototypes are accurate and detailed, even when non-conventional shaping is required. They can be machined and used in the design of master patterns for injection molding, metal casting and thermoforming, among other production methods. The prototypes can then be used to assess the performance of the design, and they are often used in marketing campaigns for the object once production has begun.
Medical and dental modeling and prosthetic production: Accurate 3D models of anatomical parts such as bone structures and organs are created with this technology. The models are used in training. They can also be customized for individual patients using the data gained from testing such as an MRI or three-dimensional CT scan. Medical and dental models aid in planning for operative procedures and in the manufacturing of implants and prosthetics.
Manufacturing: While SLA 3D printing is not a cost-effective means of mass production, it is an inexpensive way to create one or a few customized products that are unique. For example, designs are used in branding, logo creation, publicity and custom gift making.
Stereolithography Services – Get The Best Result At An Affordable Price
Do you need to create accurate and high-resolution parts with 3D technology? We have the best professionals to create these parts with stereolithography. Our team is efficient at dealing with this powerful technology for rapid prototyping and low-volume production. So, rely on us for SLA (stereolithography) printing services.
SLA is a 3D printing process, which involves using ultraviolet laser beams to cure photopolymer cross-sections precisely. Based on the CAD data, we build parts and prototypes. Moreover, we have invested in the best tools and casting patterns to provide quality services.