Metal Injection Molding (MIM) Service
Elimold' state-of-the-art MIM molding produces simple to complex metal parts fast and eliminates extensive machining. MIM molded parts are great candidates for use in firearms, defense, medical, dental, orthodontics, computers, aerospace, automotive, appliance, and recreation. MIM Molding and TiMIM Molding is ideal for producing critical parts that are typically less than 100 grams and lengths up to 3″ by 0.25″ inches thick. Elimold now supports customer's R&D efforts with quick-turn 3D printed prototype MIM-like parts.
Metal Injection Molding Company
We have 10,000 square meters of metal injection molding factory, our MIM company can satisfy low, medium and high volume MIM parts operation, it integrates each MIM process like: MIM design, mold design, tool making, debinding, sintering, and surface finishing into final MIM parts inspection and assemble operations.
The Elimold operation houses our capability for medium volume components to high volume products. It includes tooling, debinding, batch vacuum and continuous sintering capability. Elimold also includes precision machining, heat-treating, assembly and plating operations.
A core competency of Elimold is our ability to design and manufacture our tooling in house. We believe that this is a critical asset to deliver high quality, high precision MIM products in an efficient and low cost manner. It gives us a tremendous advantage to respond to the urgent requirements of our customers and their markets. Our facilities and skilled craftsmen allow us to fully maintain our tooling, as well as to produce molds for up to thirty new products per month.
Standard tolerances & dimensions
Typical
Possible
Tolerance
± 0.005" (0.13 mm)
± 0.0015" (0.04 mm)
Max wall thickness
0.25" (6.35 mm)
1.2" (30.48 mm)
Surface finish
25–35 μin
16–80 μin
Advantages of production in MIM technology
cost-effective production of complex parts in large numbers,
exceptional mechanical properties compared to forged products, ensure fine particle size and high sintering density,
the need for post-processing is generally eliminated,
an excellent choice for small metal parts, as it enables the production of products that require a precise dimensioning tolerance,
eliminates the limitations of traditional methods of metalworking and allows for more complex shapes and combining many elements in one component,
allows for the implementation of individual projects using unique materials.
The Elimold's Metal Injection Molding Capabilities
Dimensions
400x700mm tool opening area
Parts weight
≤ 75g
Weight limit
<200 gm
Ideal is 0.1 – 50 gm
Length limit
7.8 in
Ideal is < 2.5 in
Wall thicknes
0.02 – 0.2 in
Materials Different
low-alloyed steels, e.g. 100Cr6, non-corrosive and heat-resistant steels, e.g. 316LA other materials on request
Machine type
Arburg 270-MIM 50T closing force
Tolerances per
ISO 2768 (m)
Rule of thumb is +/- 0.5% of nominal dimension
ISO
9001-2008, ISO/TS 16949:2009, ISO/13485:2003, AS 9100 Rev. C
Lot sizes
Depending on part geometry, e.g. 5,000 – 20,000 pcs.
Advantages
• MIM Metal injection moulding has a broad application area, e.g. medicine, automotive, handheld/electrical tools, aviation and aerospace, defence industry, sensors, closing technology
• Complex geometries with cross-bores, thread, lamellas
• Cost-efficient production of high-volume parts
• Many feedstock options
• Production takes place with little material waste, little post-/end processing
• High sintering density, outstanding mechanic, magnetic, corrosive properties can be achieved by coatings, heat treatment
Elimold´s Advantages
• Own tool design/mould and tool construction with many years of experience
• State-of-the-art CNC processing centres for complete/end processing
• Surface treatment such as galv./chemical surface, etc., through reliable partners
Special Knowhow
The focus is on small/technical parts
However, there are some situations where other processes will be a better fit
Short Lead Times for New Parts: Each new part requires one or more new molds, which take time to create. 3D printing 

has faster lead times for new parts that you need quickly.

Prototypes or Small Production Runs: The price per part will be higher for smaller runs. These processes may work better here, including 3D printing or sheet metal production

.

Large Parts: Parts weighing more than 100 grams or a few inches across are more difficult to produce, so those will be more expensive.
Learn More From Our Team of Metal Manufacturing Experts
Metal injection molding is an excellent way to produce complex shapes and components with maximum efficiency and scalability. If you're interested in utilizing metal injection molding to produce a new product or component, we'd be happy to help you navigate the process.
The Elimold can help you design your mold, select the appropriate materials, and guide you through each step of the MIM process. We've helped clients in a wide array of industries ranging from automotive to construction. No matter your project's requirements, our staff are here to turn your concepts into reality.
If you'd like to request a free, no-obligation quote or speak with one of our experienced sales team members, send us an email.
Typical Attributes Produced by the MIM Process
| ATTRIBUTE | MINIMUM | TYPICAL | MAXIMUM |
| --- | --- | --- | --- |
| Component Mass (g) | 0.030 | 10-15 | 300 |
| Dimension (mm) | 2.0 (0.08 in) | 25 (1 in) | 150 (6 in) |
| Wall Thickness (mm) | 0.025 (0.001 in)* | 5 (0.2 in) | 15 (0.6 in) |
| Tolerance (%) | 0.2% | 0.5% | 1% |
| Density | 93% | 98% | 100% |
| Production Quantity | 1000 | 100,000 | 100,000,000 |
*Features this small could have distortion
Metal Injection molding for medical device manufacturing
Elimold's commitment to vertical integration means that our customers can rely on us to be a full-service contract manufacturer for all their medical device needs. Our injection molding capabilities are a perfect example of this commitment.
Adding plastic injection molding and metal injection molding (MIM) to our list of capabilities demonstrates Elimold's commitment to vertical integration. We have the knowledge and expertise to design, engineer and produce medical devices that require thermoplastics, liquid silicone, or MIM. The end result for our customers is lower production costs, tighter control over the production process, and ultimately, the highest level quality for the patient on whom the device is used.
With more than ten decades of experience in medical device manufacturing, Elimold has the experience and medical industry knowledge to make design and production recommendations that reduce production costs and increase quality. Our process engineers are dedicated to ensuring that our technological capabilities result in shorter production times and products that are manufactured at the tightest possible tolerances.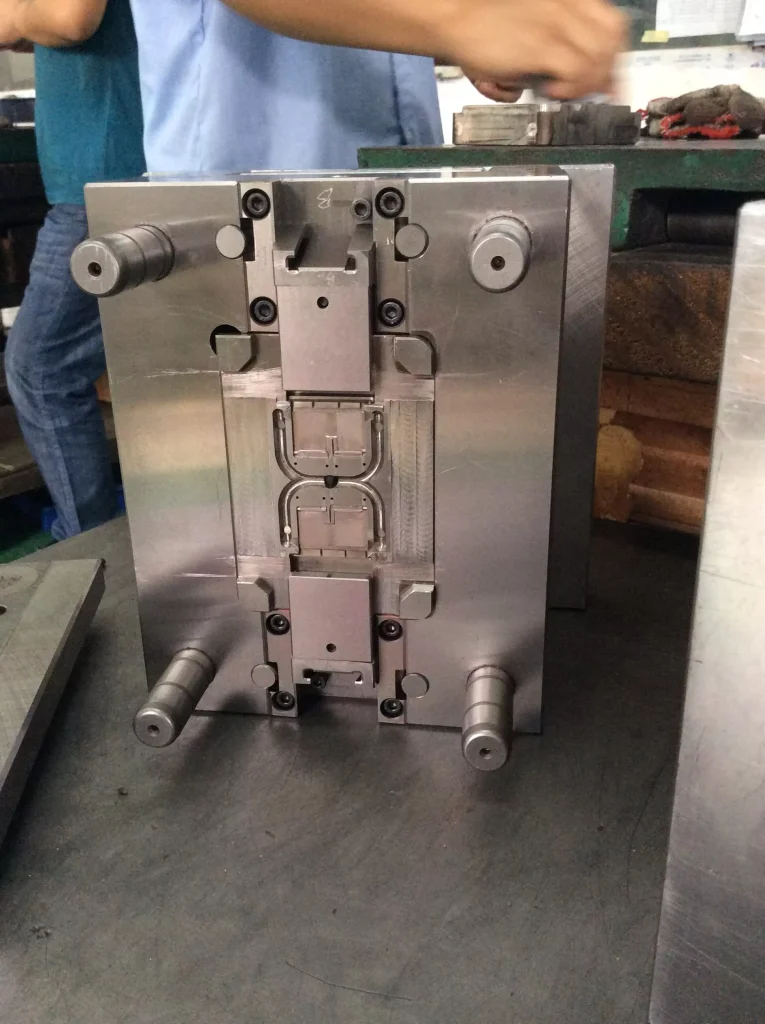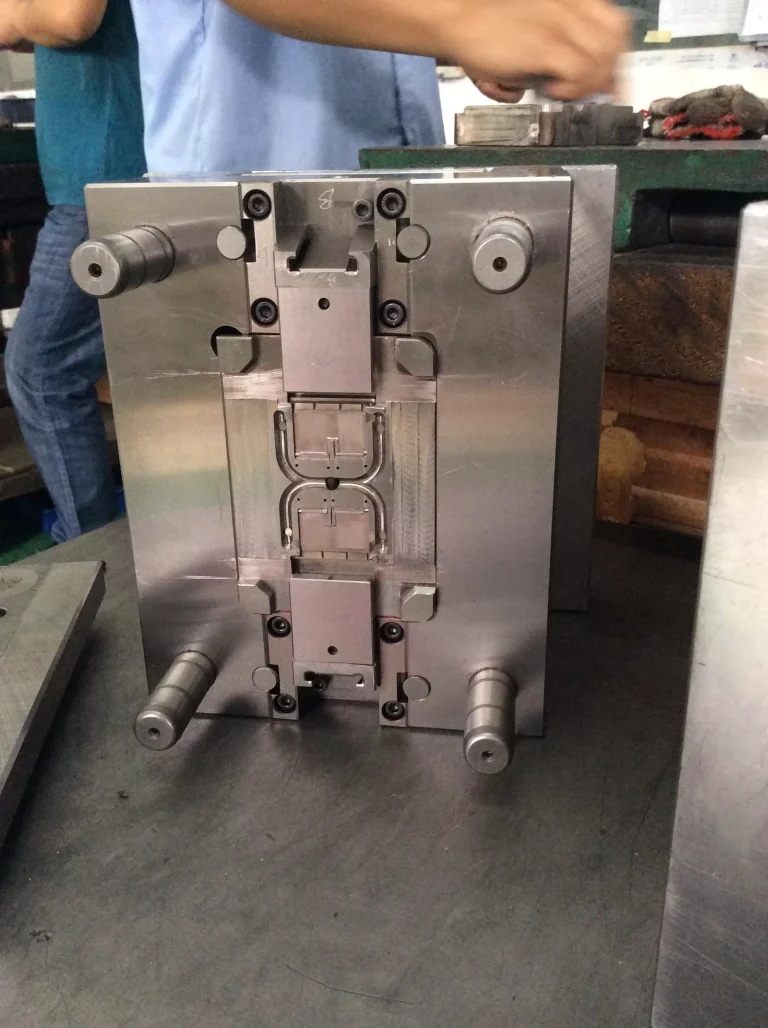 Due to the flexibility of MIM technology, it is possible to customize material compositions according to the specific attributes required by the customers. Some of the compositions are stainless steels, low alloy steels, carbon steels, Ni-alloys, tool steels and tungsten alloys.
Elimold From design and tooling to production and quality engineering with in-depth technical and engineering expertise.
 
Chemistry
Grade
Density
Size
Hardness
Application Data
PIM / MIM Powder
 
 
 
HR304(L)
Stainless Steel
Powder
Atomized
Cr:18-20
Ni:8-12
C:0.08(0.03)
Si:1max
Mn:2max
Fe:bal.
304(L)
app.4.1-4.5
tap.>4.9
g/cm3
150um
75um
45um
15um
34.5HRC
MIM part weight:0.03-200g
Apparent relative density>95%
Sinter density>7.6g/cm3
sinter temperature:1360-1380c
Shrinkage rate:1.18
HR316(L)
Stainless steel
powder
Atomized
Cr:16-18
Ni:10-14
Mo:2-3
C:0.08(0.03)
Si:1max
Mn:2max
Fe:bal.
316(L)
app.4.1-4.5
tap.>4.8
g/cm3
150um
75um
45um
15um
36HRC
MIM part weight:0.03-200g
Apparent relative density>95%
Sinter density>7.8g/cm3
sinter temperature:1360-1380c
Shrinkage rate:1.18
HR174PH
Stainless steel
powder
Atomized
Cr:15.5-17.5
Ni:3-5
Nb:0.15-0.45
Cu:3-5
C:0.07
Si:1max
Mn:1max
Fe:bal.
17-4PH
app.4.1-4.5
tap.>4.8
g/cm3
150um
75um
45um
15um
35HRC
MIM part weight:0.03-200g
Apparent relative density>95%
Sinter density>7.8g/cm3
sinter temperature:1360-1380c
Shrinkage rate:1.18
HR420
Stainless steel
powder
Atomized
Cr:12-14
C:0.25max
Si:1max
Mn:1max
Fe:bal.
420
app.4.1-4.5
tap.>4.8
g/cm3
150um
75um
45um
15um
HRC50
MIM part weight:0.03-200g
Apparent relative density>95%
Sinter density>7.8g/cm3
sinter temperature:1360-1380c
Shrinkage rate:1.18
HR430
Stainless steel
powder
Atomized
Cr:16-18
C:0.12max
Si:1max
Mn:1max
Fe:bal.
430
app.4.1-4.5
top.>4.8
g/cm3
150um
75um
45um
15um
HRC51
MIM part weight:0.03-200g
Apparent relative density>95%
Sinter density>7.8g/cm3
sinter temperature:1360-1380c
Shrinkage rate:1.18
HR70Cr
Cr:65-70
C:0.06(0.03)
Si:1.0max
S:0.03max
P:0.03max
70Cr
/
-75um
-45um
/
As additive for special part require anti-wear and anti-corrosion, like auto valve shaft guide pipe, seat etc.
HR60Mo
Mo:60-65
C:0.04max
S:0.15max
P:0.06max
Si:1.5max
60Mo
/
75um
45um
37um
25um
/
As additive for special part require anti-wear and anti-corrosion, like auto valve shaft guide pipe, seat etc.
HRCr12Mo
Cr:10
Mo:1.5
C:0.06
Mn:0.1
S:0.022
P:0.022
Si:1.0
Fe:bal.
12CrMo
/
75micron
53micron
45micron
/
this alloy powder contain Cr and Mo content, can provide good anti-wear, anti-corrosion performance, it is usually to produce special part which need above performance.
HRMnS
Mn:62-65
S:33-36
O:0.5
Other: 1max
MnS
/
300mesh
D95:10-12micron
/
As additive, function is lubricaiton.
HRFeC1#
Carbonyl Iron powder
Fe:98%min
C:0.8%max
N:0.6%max
O:0.4%max
CF1-1
App.:2.2min
Tap:4.0min
D10:0.5-1.0um
D50:2.0ummax
D90:3.0-5.0um
/
/
HRFeC1#
Carbonyl Iron powder
Fe:98%min
C:0.8%max
N:0.6%max
O:0.4%max
CF1-2
App.:2.5min
Tap:3.9min
D10:0.6-1.5um
D50:2.0-3.0um
D90:4.5-8.0um
/
/
HRFeC1#
Carbonyl Iron powder
Fe:98%min
C:0.8%max
N:0.6%max
O:0.4%max
CF1-3
App.:2.5min
Tap:3.8min
D10:1.0-3.0um
D50:3.0-5.0um
D90:5.0-12.0um
/
/
HRFeC1#
Carbonyl Iron powder
Fe:98%min
C:0.9%max
N:0.7%max
O:0.4%max
CF1-4
App.:2.2min
Tap:3.5min
D10:1.5-3.5um
D50:5.0-6.0um
D90:11.5-16.5um
/
/
HRFeC2#
Carbonyl Iron powder
Fe:99.5%min
C:0.05%max
N:0.01%max
O:0.2%max
CF2-2
App.:2.5min
Tap:3.8min
D10:0.9-3.0um
D50:3.0-5.0um
D90:5.5-12.0um
/
/
HRFeC2#
Carbonyl Iron powder
Fe:99.5%min
C:0.05%max
N:0.01%max
O:0.2%max
CF2-3
App.:2.5min
Tap:3.6min
D10:1.5-3.0um
D50:5.0-8.0um
D90:10-18um
/
/
Other Carbonyl Iron powder
 
 
 
 
 
we have more than 20grades, please contact our sales to get more details
Our Common Finishes for MIM Parts
As-Sintered
With no secondary processing, parts will typically appear matte and maintain an average surface roughness between 16µin – 32µin Ra. Gate marks, parting lines, or ejector pin marks may be visible.
Electropolishing
An electrochemical process is used to remove material from the surface, improving the surface finish. Commonly used to polish, passivate and deburr parts. Will not remove parting lines or ejector pin marks.
Passivation
Parts are given a chemical treatment, typically in nitric or citric acid, which removes free iron from the surface. This process creates a protective oxide layer on the surface which helps prevent corrosion.
Metal Plating
All metallic platings applicable to wrought material counterparts are available. Elimold's plating options include electroless nickle, zinc, tin, silver, gold, and more.
Anodizing (Type II or Type III)

* Available for nonferrous metals such as aluminum and titanium.

Type II anodizing creates a corrosion-resistant oxide finish. Parts can be anodized in different colors—clear, black, red, and gold are the most common. Type III (Hardcoat) is a thicker finish and creates a wear-resistant layer in addition to the corrosion resistance seen with Type II. Anodized coatings are not electrically conductive.

Chemical Film
A chromate conversion coat can be applied to protect aluminum and magnesium from corrosion and improve the adhesion of paints and primers. Chemical film conversion coatings are electrically conductive.
Media Tumbling
Parts are subjected to vibratory media tumbling to smooth surfaces. Parting lines or ejector pin marks may still be visible.
Heat Treatment
Parts will be in an annealed condition after sintering. Our heat treatment options include carburization, induction hardening, nitriding, etc.
Custom
Don't see the finish you need? Let us know and will look into accommodating other finishing processes to meet your requirements!
About Metal Injection Molding
Metal injection molding (MIM) is a metalworking process in which finely-powdered metal is mixed with a binder material to create a "feedstock" that is then shaped and solidified using injection molding. The molding process allows high-volume, complex parts to be shaped in a single step. After molding, the part undergoes conditioning operations to remove the binder (debinding) and densify the powders. Finished products are small components used in many industries and applications.
The behavior of MIM feedstock is governed by rheology, the study of sludges, suspensions, and other non-Newtonian fluids.
Due to current equipment limitations, products must be molded using quantities of 100 grams or less per "shot" into the mold. This shot can be distributed into multiple cavities, making MIM cost-effective for small, intricate, high-volume products that would otherwise be expensive. MIM feedstock can be composed of many metals, but the most common are stainless steels, widely used in powder metallurgy. After the initial molding, the feedstock binder is removed, and the metal particles are diffusion bonded and densified to achieve the desired strength properties. The latter operation typically shrinks the product by 15% in each dimension.
| | |
| --- | --- |
| Include most features | Part features like surface texture, threads, text, and logos can all be incorporated into the mold instead of being added after the molding process. |
| Forget draft | Unlike plastic injection molding, metal injection molding often does not require any draft at all. This is because the polymer binding material is less rigid than a solidified molding polymer, and the metal part is often not fully solidified when removed from the mold. |
| Thin walls | Thin walls are recommended with all injection molding forms due to their positive effect on injection and cooling times. With metal injection molding, however, thin walls have the added benefit of reducing the time taken for debinding and sintering. |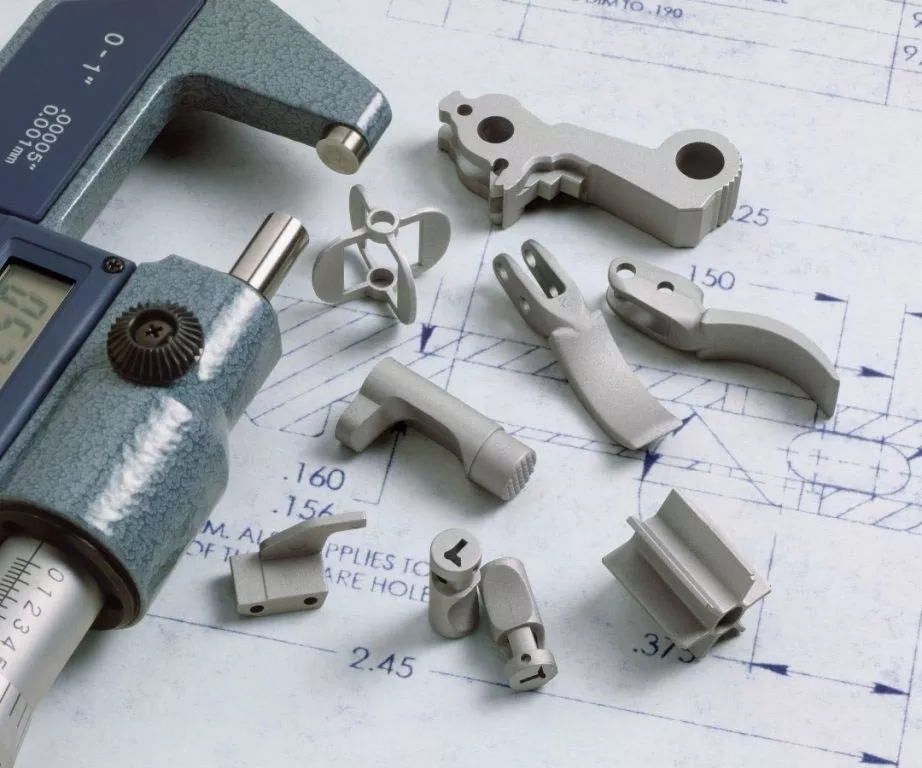 MIM Comparisons & Design For Manufacturability
MIM can produce geometries that eliminate secondary operations.
MIM offers superior density, corrosion performance, strength, ductility.
MIM can combine two or more PM components into one, reducing part count.
MIM parts offer superior magnetic performance.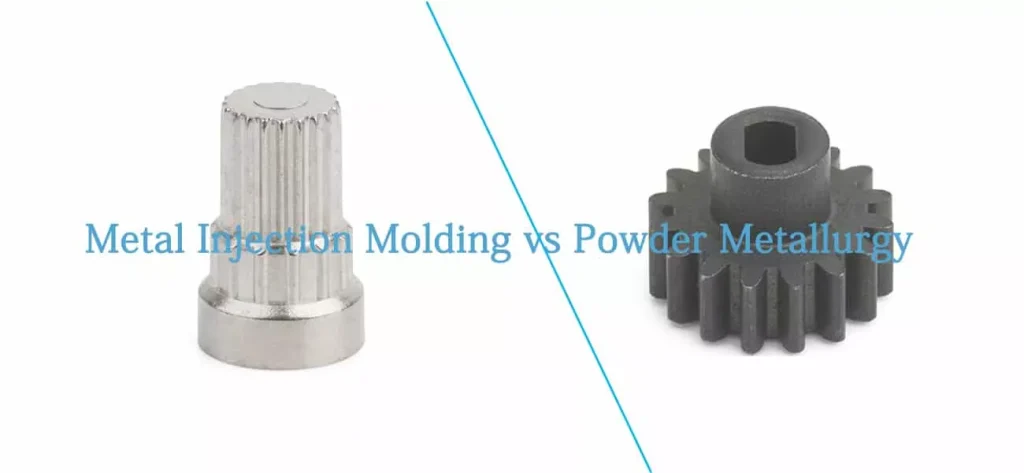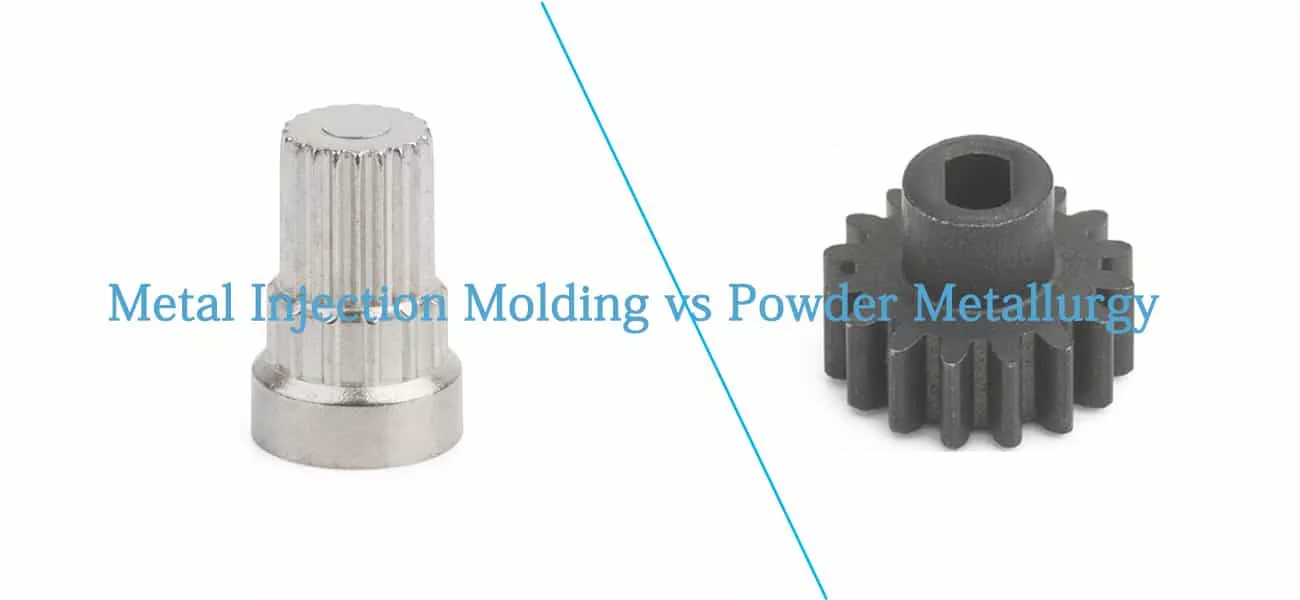 MIM designs save material and weight.
Molding from a single tool eliminates multiple set-up operations.
Difficult-to-machine materials can be molded into a net shape.
MIM provides cost savings through better material utilization.
Sprues and runners can be reground and reused as feedstock with no compromise to final properties.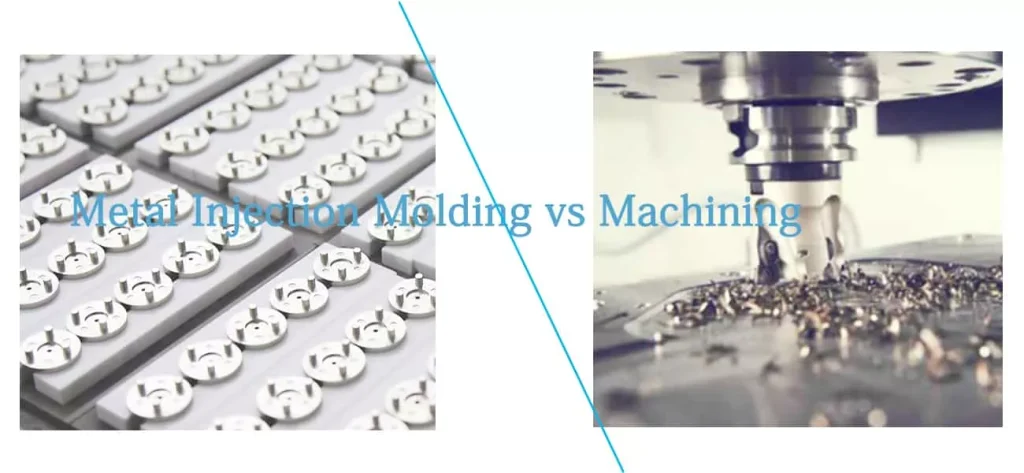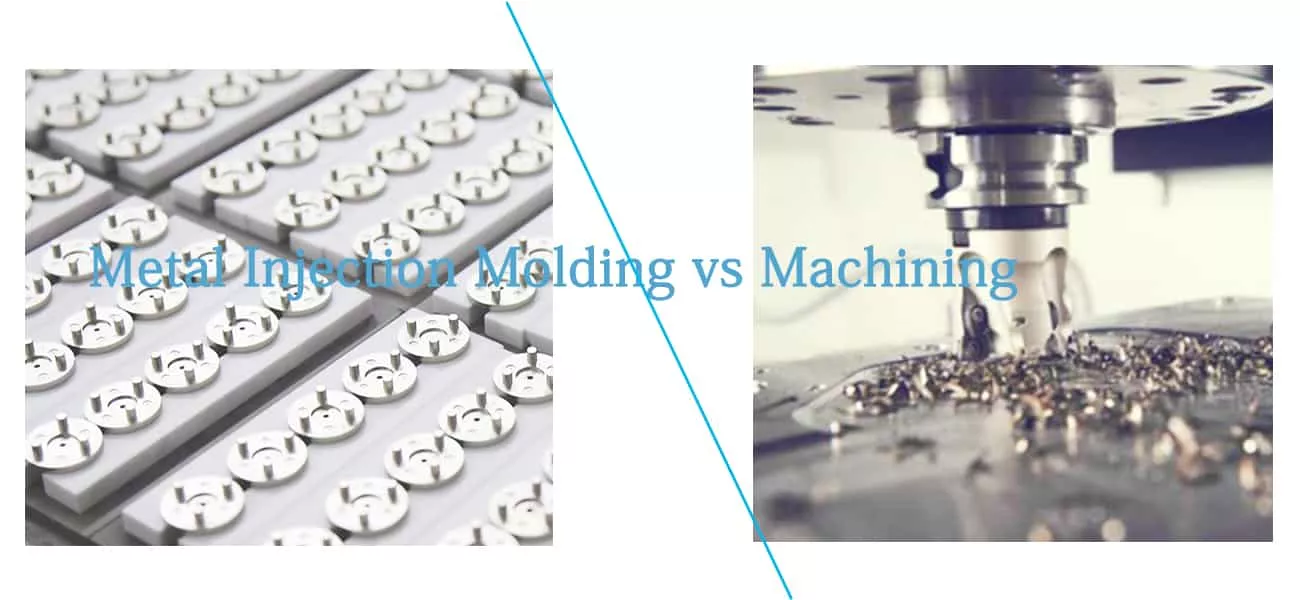 MIM vs. Investment Casting
MIM can produce thinner wall sections, sharper cutting points.
MIM produces better surface finish.
MIM is better for small-diameter blind and through holes.
MIM greatly reduces requirements for finish machining.
MIM produces high volumes of small components at a lower cost, with faster lead times.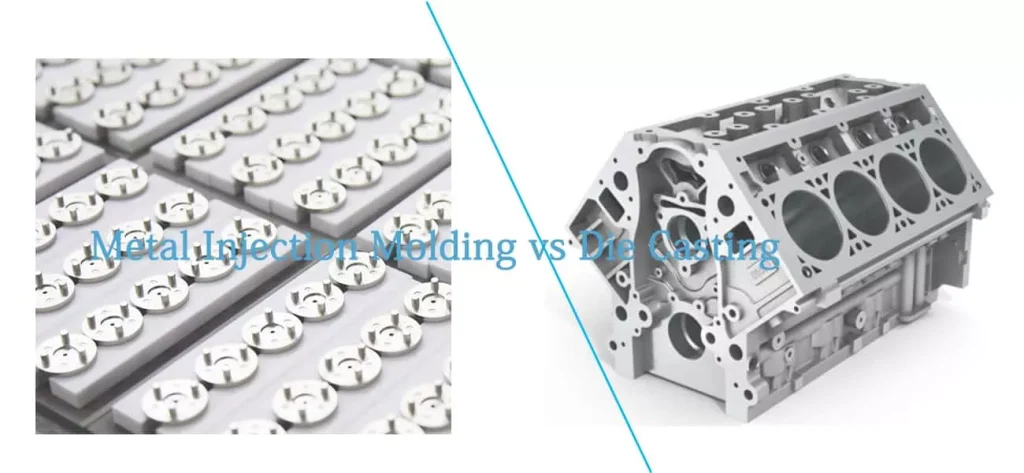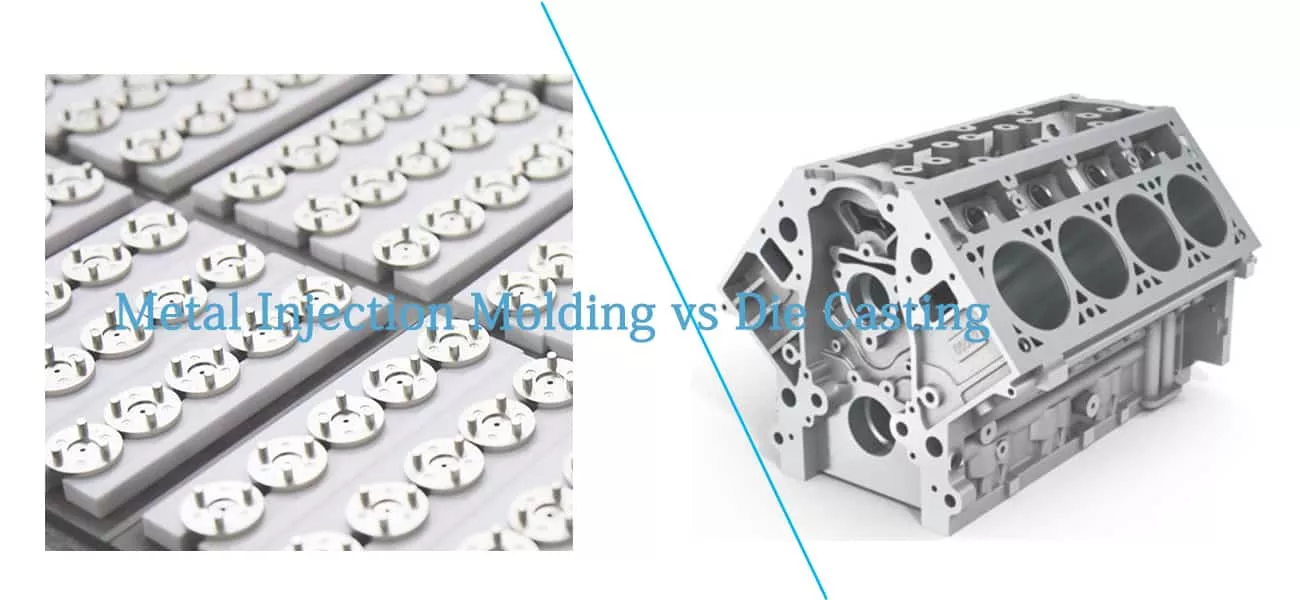 Designing for Manufacturability
The simplest MIM shape is produced in a mold made of two sections with plane surfaces that meet to seal off the cavity. One section consists of a core which fits into an impression in the other section with uniform clearances that produce shapes with uniform wall thicknesses. The core produces the internal features while the impression produces the external features. All features are designed to permit the cavity to release the solidified form, which is pushed off the core with ejector or knock-out pins.
Increased complexity in MIM components can be achieved with the addition of slides, cores, and other tools commonly used in plastic injection molding. While added features, along with their increased complexity, can have economic benefits by eliminating secondary processes or assembly operations, they typically entail additional costs associated with tooling and start-up engineering. These benefits and costs must be carefully weighed against each other at every stage of the design.
There are many critical aspects that must be considered when designing a MIM component in order to take full advantage of all the benefits of the process.
Metal Injection Molding Solutions
Elimold was designed from the ground-up to be a comprehensive metal injection molding (MIM) solutions provider. We are uniquely structured unlike any other MIM company in the world to offer customer-focused services from early feasibility analysis through design for manufacturability, prototyping, and product validation. We can typically have molded and sintered MIM parts in less than four weeks!