Custom connector plastic and metal parts manufacturing companies offer various products for every industry. From data and signal connections to high-power connectors and more, custom manufacturing companies can customize plastic and metal parts connector parts for virtually every connector on the market. Few details can have such a significant impact on the success of a product as those of custom electrical parts manufacturing. Customers often need to meet the performance requirements of the part design while also meeting cost-effectiveness requirements. Sometimes, because of price, our engineers are faced with redesigning tooling or using new material combinations to produce parts that meet the customer's needs. Even with such a wide range of capabilities, there will always be times when we can't find the perfect choice, and that's when engineers get incredibly frustrated. Custom connectors can be costly upfront but more cost-effective by significantly increasing service life, reliability, and availability. If the solution we offer does not meet the cost/performance requirements, this is the time to test the performance of the sample in detail.
This article will help you understand the plastic and metal parts processing involved in custom connectors. Understanding all the factors associated with developing, scaling, and manufacturing custom parts can help product teams optimize their products and fast-track their projects.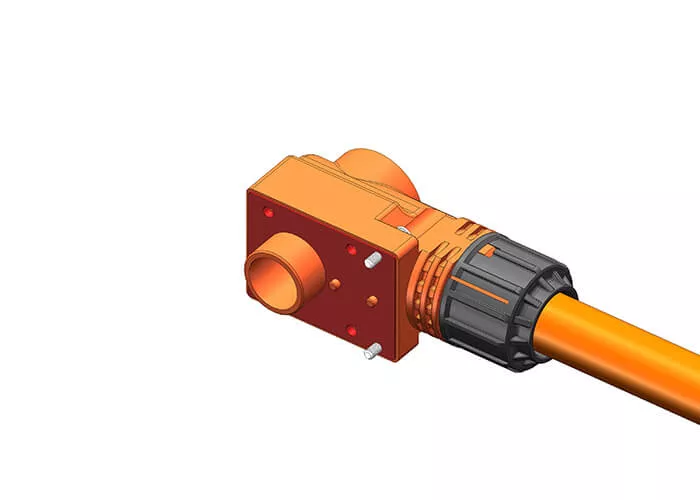 CNC Production of Connector Metal Parts
Machining connector metal parts is typically performed by a CNC lathe (tolerance ±0.005). Post-processing many connector metal parts will require drilling and tapping, surface oxidation, etc. CNC machining accuracy is high, and roundness, cylindricity, and coaxially can meet the requirements of various types of mechanical transmission use and surface treatment after the appearance of beauty.
In modern industry, any equipment, machines, consumer goods, etc., are inseparable from connector parts, so connectors of different materials (brass, steel, aluminum, alloys, plastics, and other metals) are produced in large quantities to meet the needs of different industries. The use of CNC machining services for the production of connector metal parts is to meet high quality, robustness, and precision production standards.
CNC parts machining plays an important role in manufacturing these connector metal parts. It excels in cutting small metal parts to very tight tolerances. Technically guaranteed tolerances are very important in custom manufacturing. If the circumference of a connector's metal pins or sockets does not meet the required tolerances, the connection between devices may fail.
Such machined parts include sockets, contacts, sleeves, shrouds, and pins, which are suitable for machining copper alloys.
CNC machining is a popular machining process for a wide range of materials. CNC can machine different materials, which is why CNC machining technology is used as a rapid prototyping process for connector metal parts. It is also because it has superb machining accuracy. Therefore, it is suitable for machining various small and complex metal connector parts that can form part of a connector. In addition, the tight tolerances offered by machining centers mean that machined parts are often suitable for end use after minimal post-processing.
In addition, the high reliability of CNC machining means that custom connector manufacturers can use the technology for both small and high-volume production of connector metal parts. For all these reasons, CNC machining is ideally suited for prototyping and producing connector metal parts.
Connector component injection molding process
The characteristics of conventional injection molding, a high-volume, high-speed production process that produces ideally designed plastic parts in an automated environment, are not part of the injection molding process associated with custom connector assemblies. In this world, the conventional injection molding process is limited by variability within the component, uneven wall thicknesses required for product specifications, tooling considerations often not conducive to optimal design, and severely limited automation capabilities. Custom connector plastic parts are typically produced using metal insert injection molding process techniques for product production.
Unlike the long, high-speed, low-variable parameters of conventional molding, insert molding presents a challenging process environment. Smaller batches mean multiple setups. It is not uncommon for operators to break down and set up multiple times during a day of production. Downtime is associated with each setup, and setup scrap can also occur when each new production run achieves the conditions required for a specific product. As a result, cost-effectiveness and production time can be somewhat different than traditional injection molding processes.
Many connector component engineers are consumers (not manufacturers) of molded components and are somewhat familiar with traditional molding. In this environment, the goal is to maximize processing speed, which translates directly into actual cost-effectiveness. Batch-manufactured parts are typically characterized by long-term production, where the same part is produced continuously over a considerable period. Molding machines are typical of horizontal construction, employ a closed-cavity approach, automatically eject finished parts, and operate at much higher injection pressures and speeds than the insert molding process. In addition, the usual uniformity of parts relative to wall thickness, balanced flow path systems, and adequate mold pulling of the molded parts produced help maintain consistent quality at maximum manufacturing speeds. The ability to optimize tool cooling, standardize the installation and implement automated processes are also key differences between the traditional horizontal molding and vertical insert molding methods. All things being equal, the result is a much higher productivity of the finished part in the traditional molding process.
What materials do connector injection molded part manufacturers use to produce their products?
Innovation in the connector industry continues to spur growth in the engineering plastics and custom fabrication industries. As suppliers strive to develop the right materials and match manufacturing processes to meet the changing needs of the connector industry, different material combinations can sometimes be incredible. Generally, custom manufacturers of connector parts choose a material that allows them to provide a part that meets the end-use specifications of the part and has the lowest production cost. Some connectors used in harsher applications or with high specification requirements have different part performance requirements. Custom manufacturers often blend different materials to enhance performance or regrind the material to provide performance to meet the part design requirements. This practice is common but should only be used for custom connector parts with high specification requirements. The following are the various metal and plastic materials commonly used by custom connector part manufacturers.
Plastic Housing Materials
Connector plastic housing commonly used raw materials are PBT, 66, 6T, 9T, LCP, etc. These materials vary in quality, temperature resistance, and price. Of course
1. PBT plastic material
2.Nylon 66
3.6T plastic material
4.9T plastic material
5.LCP plastic material
Contact pin material
Contact pins are responsible for performing the electrical connection function. The quality of the connector's electrical power or data transfer depends on the type of metal used to coat or construct the contact pins. Metals have varying degrees of electrical conductivity (i.e., the degree of heat or current transfer). Pure metals have the highest conductivity, while alloys have a lower conductivity.
Electrical conductivity of metals – from highest to lowest
Silver
copper
gold
aluminum
zinc
Nickel
brass
bronze
iron
platinum
Overcoming the challenges of custom solutions
All companies currently require the ability to deliver quickly when mass-producing custom parts. The idea of custom design seems at odds with mass production. Most people assume that custom products will be expensive and time-consuming, also because trying to use standard products can create design problems in the product itself for the project.
Redesigning the connector? Redesigning a product because of a special part is not an easy task, nor is it a decision that a qualified manager would make. Redesigning a product means changing the connector design and the product housing to accommodate a different connector, changing the electronic circuitry, or even creating an entirely new printed circuit board layout. These changes can result in delayed project time to market and engineering costs.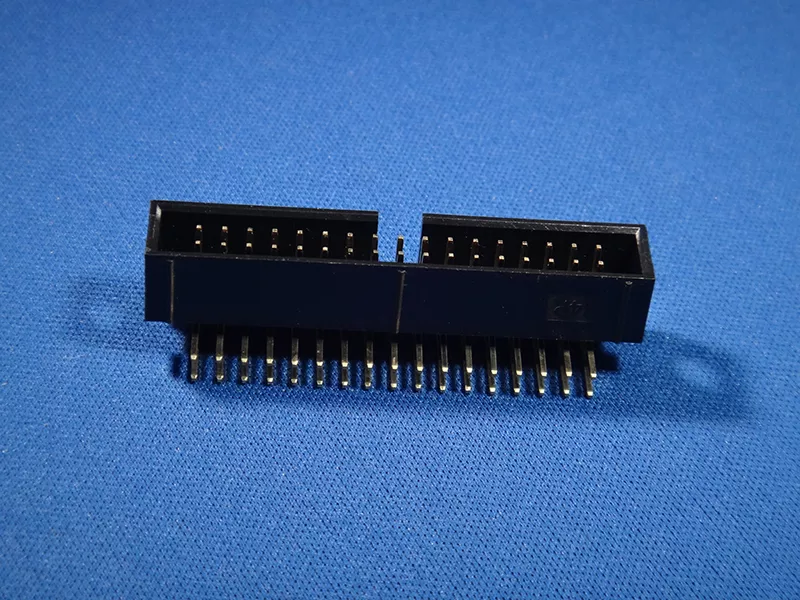 Simple changes can create the ideal connector
The ideal choice is to optimize the connector design for different product designs. Creating the right connector may be as simple as changing the pin length, changing the plating activity, or even changing the color to aid identification. Using a common connector design as a base and optimizing the design in small areas can take into account the benefits of mass production and can also save time. Using an otherwise extensive product line to create the desired product and connector customization solution is also possible. Simply work with a dedicated team of engineers who can communicate in depth with your engineers and advise on options and optimizations to help select the most appropriate custom connector plastic or metal parts solution without compromising the product's overall design.
Your Trusted Partner for Custom Connector Parts
Whether you have previously used injection molded or CNC machined connector metal or plastic components, Elimold is an excellent manufacturing partner. Our extensive experience in metal injection molding and CNC machining allows us to produce high-quality connector parts quickly – sometimes in just a few weeks.
We manufacture our molds in-house and provide maintenance throughout the mold's life cycle. Our systems comply with ISO 9001, ISO 14001, ITAF, and ITAR. We can provide tight tolerances down to plus or minus 0.002 inches without secondary operations and offer complete engineering services to help throughout the process: design, project engineering, material selection, manufacturing, quality control, and metallurgical testing to ensure material requirement compliance. Explore Elimold's full range of high-precision metal and plastic fabrication capabilities, and contact us today. Please email us at info@elimold.com or contact us in the form below.
New Technology Makes Customization More Feasible
As new manufacturing processes and capabilities come onto the market, the investment required to implement new custom connector solutions will surely fall. The main question in the past was: How can the cost of a custom-manufactured connector part for this project be justified? The answer to that question today differs from what it used to be. Today, it is easier to manufacture new or modify the overall design of a connector, the risks involved are lower than before, and in many cases, the costs have dropped because the custom production and verification process is faster and easier.
Many companies now use 3D printing molding technology in the tooling process and the product part verification phase, reducing the time and investment required to produce and test custom connector parts. It's just that 3D printing technology has not yet reached the capability to produce designs that meet the performance of most applications.
New technologies are helping custom connectors become more accurate, economical, and faster to produce. The widespread use of CNC machining techniques, automated assembly processes, and rapid prototyping technologies are making customization more feasible. 3D printing technology is now playing a role in the development process. It is possible to check prototyping by providing multiple versions of multiple parts, and while it is not perfect, it is getting better all the time.
Go to the full page to view and submit the form.