Injection molding is a manufacturing process that can produce identical plastic parts in large quantities economically and efficiently. It is a highly competitive market that offers a wide range of options for businesses needing plastic parts. It is used to manufacture commercial products, including appliance boxes, everyday plastic items, automotive plastic parts, equipment housings, tackle boxes, toilet seats, airplane plastic parts, and more.
If a product manufacturing company needs many plastic parts, it usually chooses an outside injection molding service provider instead of building its plastic manufacturing into a production plant. There are several benefits of doing so, such as: saving on machinery and equipment investment costs, labor costs, space costs, and training costs. This is also because many experienced and well-equipped injection molding service providers are on the market today, and Elimold is one of them. Elimold is one of them; you can contact them if you need to. Let's talk about what injection molding services are.
How does injection molding work?
Before discussing injection molding services, let's briefly understand how injection molding works. Injection molding begins with the creation of a mold, which is made of metal (usually aluminum or steel). Then the part is created by injecting molten material into the mold.
The overall process is that the mold maker creates the desired production mold; the part material is first fed into a heated barrel and mixed by a helical screw, and a heat band is added to melt the material in the barrel. Then the molten plastic material is injected into the mold cavity; as the material cools and impacts, it takes on the shape of the mold cavity, the plastic cools and solidifies, and the part is popped out of the mold, ultimately yielding the desired The part is then ejected from the mold, resulting in the desired part.
Molds can be made from single or multiple cavities. Multi-cavity molds allow the same part to be formed in each cavity, which increases the efficiency of mass production. Parts with different geometries can also be made individually. Combining parts into a single part by injection molding with a secondary injection mold (over-molding) is also possible. This technique is mainly used to add a soft touch to plastic products and to add different colors and features to products.
The injection molding process requires careful design, including the shape and characteristics of the part, the materials used for the part and mold, and the performance of the molding machine. Therefore, various factors need to be considered when injection molding. With injection molding, you can create parts of various shapes and sizes. In addition, you can design molds to create complex internal features. The ability to create complex designs makes injection molding ideal for applications in various industries.
What are plastic injection molding services?
Plastic injection molding services are a third-party foundry service. The main purpose is to help product manufacturers custom-machine the plastic parts they need on their behalf. Plastic injection molding OEM service providers set up production plants and lines by investing in space, equipment, personnel, and training. They then manufacture plastic parts that manufacturers need to outsource or new product parts that startups customize. This is an important supporting industry for the manufacturing industry.
Plastic injection molding services have become increasingly popular with the explosive growth in the development and production of plastic products. In addition to being extremely cost-effective, environmentally friendly, and efficient, they also help to reduce investment costs for product development and manufacturing companies. This is why companies in many industries recognize them.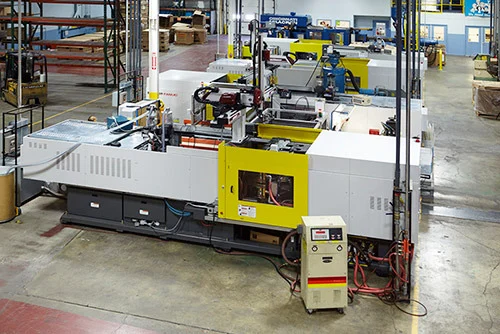 Key Benefits of Plastic Injection Molding Services
Plastic injection molding services are extremely cheap, widely available, and easy to procure. It is a fast, efficient, and reliable process. It allows for a high degree of customization, giving you powerful results no matter what type of part you need. With the help of this technology, any product manufacturer that needs customized plastic parts can easily design and produce the plastic parts in question.
In every way, plastic injection molding services are truly unique in producing the parts you need. It is one of the easiest and most rewarding investments for every industrialist who needs plastic parts. In addition to not having to spend a lot of money on equipment and materials to design the products you need, you can easily get the plastic products you need through the services of a third party.
How to Choose a Molding Service Provider
Although many plastic injection molding service providers are on the market today, not just any business will be able to meet your needs. Therefore, you must choose a reputable and experienced service provider to ensure you can turn your designs into reality. So how should you make your judgment?
First of all, the company you choose to work with should have experience handling injection molding projects with a certain level of difficulty. This can be judged by speaking with their engineers to help you overcome obstacles.
Additionally, they need to have experienced operators and state-of-the-art injection molding equipment. This is a must for determining the part's accuracy, the production speed, and the project's cycle time shortening.
Finally, the injection molding service provider you choose to work with needs to have the ability to handle large projects. When it's time to scale up, you won't have to spend time searching for a new supplier because your current partner can't do large-scale manufacturing.
With our in-house facilities and network of trusted manufacturing partners, whether you need automotive parts, medical device parts, toys or tools, and more. We can provide comprehensive plastic injection molding services for small and large quantities. You can communicate with our engineers using the form below or by sending us an email at info@elimold.com.
Go to the full page to view and submit the form.