Injection molding of lighting fixture Endcap Cover
Steel mold
Main Equipment for mold manufacturing: Sodick & GF EDM, Makino CNC
Main equipment for injection molding: Sumitomo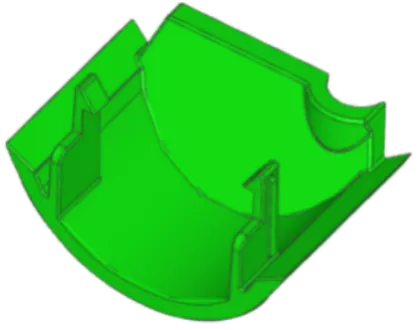 Product size: 1.901*1.140*1.280 (inches)

Production run: 125,000 units per month for the last 5 years
A leading light manufacturer needed a custom endcap cover. The client's engineering team provided its own design and needed Elimold to produce a million pieces a month. During CAE analysis, we noticed that the proposed design presented some deformation risks, specifically near the clip feature of the part.
We suggested a design improvement by adding ribs on the clip that would resolve the deformation risk. In addition, this change allowed the number of cavities built on the mold to be increased from 8 to 24.
The customer experienced substantial cost savings, greater production efficiency, shorter lead time, and improved quality. Elimold has produced over 10 million parts, and the customer has not experienced any quality issues or concerns throughout the life of the product.
Let's Start A New Project Today