Consumer Products Industry Prototype to Production Metal & Plastic Parts
Willing To Offer The Most Secure Precision custom parts processing Services For Consumer Products
Manufacturing on Demand for Consumer Products Companies
The consumer products industry covers the vast majority of products that are used in our everyday lives. In a market where customers want to stand out from peers, Elimold can help you create unique and bespoke products tailored to the need of several classes of consumers. Our 3D printing and CNC machining services allow for mass customization and individual personalization, helping businesses diversify their product lines and SKUs and meet seasonal demand and inventory management targets.
From quality inspections in the raw material stage to ensuring that your final parts are made to specifications quickly and affordably, our promise of quality is delivered from start to end.
Explore CNC machining, vacuum casting, pressure die casting, 3D printing, and plastic injection molding to make any part in flexible production volumes. Our low-volume manufacturing is adept for making one, ten, or a hundred units of your part. At the same time, our injection molding and die casting operations can mass-produce thousands of your part at cost-effective rates. Choose from over 30 engineering-grade plastic, metals, elastomers, composite parts as raw materials, and an array of finishing services to compliment your part's cosmetics.
Stay ahead and get to the market quicker by contacting us here, and see how our technology-enabled and digital manufacturing solutions can help you make your parts quickly and affordably.
Elimold trusted by consumer product engineers and designers
Fast injection molding service for leading homeware manufacturers. We optimize production components at all stages of the product life cycle, compressing timelines and reducing costs.
We mold any commercially available polymer from leading manufacturers of materials commonly used in household items.
Office Automation prototyping
elimold is suitable for the technical competence of office automation systems. All prototypes we deliver are manufactured to exact specifications and are the true attributes of the product. We thoroughly apply the dimensional accuracy of mating parts to ensure that the system fits correctly for structural stability. After making them on the assembly line, all the office automation equipment parts are put together and scrutinized to make sure they fit.
Digital & Appliance prototyping
Fast and inexpensive prototyping of digital and electrical products. Prototypes developed by us are used by an elite team of professional industrial designers, mechanical engineers and marketers. Their functional and aesthetic appeal among potential product end customers can be better understood.
Consumer Products Manufacturing Services
Development speed and well-designed, user-centric end products are critical to the success of companies that introduce consumer and computer electronics and devices to different markets. Technology-enabled manufacturing processes can speed up design cycles, reduce development costs, and help support more SKUs and product customizations that consumers demand now. From airplanes to cars to hospitals, electronics are found almost everywhere, delivering value through advanced functionality and improved user experience.
Post Processing Used in Consumer Products Industry
Anodizing
Hard Anodizing
Passivation
Electroplating
Powder Coating
Painting
Pad Printing
Polishing
Vapor Polishing
Insert Installation
Heat Treatment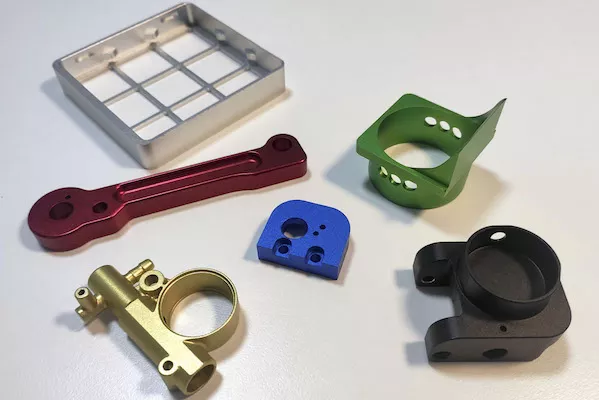 We work with a wide range of metals and non-metals for Consumer Products parts production. The materials we work with are listed below.
Ultem®
PEEK
Polyethylene
PTEF (Teflon)
Derlin/Acetal
ABS
Nylon
G-10 Garolite
Polycarbonate
Aluminum
Bronze Alloys
Stainless Steel and Copper
Brass
Alloy Steels
Zinc and Zinc Alloy
Titanium Grade 2 and 6Al-4V
Why use a contract manufacturer for consumer products?
Why do you need consumer goods contract manufacturing? In many cases, it is far more cost-effective and efficient to allow experienced consumer goods manufacturers to make many of your metal fabricated parts, for a number of reasons.
At Elimold, we take our consumer products contract manufacturing very seriously. We are equipped to do a very high volume of parts production, and once we have taken the design and made a reliable prototype, we can deliver those high-volume orders very quickly. We have a large facility and do all of our work in-house in that same facility, so we have no need to wait for any phase to be completed by an outside agency.
For you to make all of these parts yourself, especially if you need high-volume, you would have to dedicate a large portion of your own facility, as well as many employees you could be utilizing in other ways — and you might still have to contract out part of the work for finishing or other phases of fabrication. We have all we need right here. We have AWS-certified welding professionals and run an ISO 9001:2008-certified facility, so you'll never have to worry about getting quality parts or products to work with.
Choosing the right metal fabrication contractor over doing your own commercial goods manufacturing metal work is almost certainly the correct strategic approach for your projects that require quality metal fabrication.
You've Found the RIGHT Consumer Products Manufacturing Partner
Elimold is the best in quality and service, providing industry-leading solutions for your ideas. Service, quality, and on-time delivery are just some of the reasons we've developed full-fledged, long-term relationships with our clients.
Years of experience have taught us practical and effective ways to reduce costs. We're fully qualified to meet all your requirements. Partner with Elimold to experience the superior scope and quality of our work. There's a reason why repeat business and referrals are a significant part of our client base; we're the best there is in this field.
Trust the industry leader in high-quality consumer products manufacturing. Contact us to get a free quote today!