Elimold utilizes HP's Multi Jet Fusion (MJF) technology to produce quality, functional parts at a production speed that is up to 10 times faster than competing processes. Unlike the slower point processes of some other current technologies, MJF 3D printing technology processes parts in two fast area-wide passes to achieve top-speed part production.
HP Multi Jet Fusion 3D Printing
Produces the least expensive, most durable and fastest 3D printed nylon and rubber-like TPU parts on the market.
Elimold uses the HP Multi Jet Fusion 3D Printer to provide our customers with better products, faster and at less cost. Set your production free from the design limitations of traditional manufacturing—render intricate shapes with precision and durability every time.
When complexity, performance and cost are all essential, there's no need to compromise. Simply put, the HP Multi Jet Fusion is the best industrial 3D printer for most additive manufacturing applications, bar none.
Robust, high quality prints perfect for an iterative design process that requires detailed functional components prior to mass manufacture via 3D printing or other technologies.
Using industrial grade PA12 nylon and finished in natural grey or deep dye black, MJF printed parts are suited to a vast range of both indoor and outdoor applications.
Volume production is a core strength of Multi Jet Fusion, used at scale by OEM manufacturers around the world and SME organisations alike.  Scaling from a single part to volume manufacturing is seamless.
STANDARD LEAD TIME
3-5 days. We can expedite jobs in as little as 1 day.
STANDARD ACCURACY
+/-.012 up to 3.937 inches and +/-.003 for every inch above that.
+/-0.3mm ≤ 100mm, +/-0.4% >100mm (+/-0.016" ≤ 3.900", +/-0.4% > 3.900")
STANDARD BUILD LAYER THICKNESS
80 Microns
MINIMUM WALL THICKNESS
 .020″ / .5 mm (XY plane is .012" [.3mm] and for the Z plane .020" [.5mm])
MAXIMUM BUILD ENVELOPE
380 x 284 x 380 mm
FINISHES
MJF parts are a light gray directly off the machine after post processing, and typically dye parts black as our default finish.
HP MJF manufacturing builds parts using thermoplastic materials: Nylon PA11, Nylon PA12, Glass Filled Nylon, PP and TPU. The most popular material is Nylon PA12 which works great for all different parts that require tough, durable and flexible for prototype and production. All materials are sustainable as the processes refreshes the powder with recycled powder to reduce production costs while keeping part properties. Learn more about the available MJF materials.
All parts can be custom finished to match your prototype or production needs using HP's color printing, dyeing, vapor smoothing, painting or plating.
Materials
Description
Key Characteristics
PA 12 (MJF)
With higher density and lower porosity than laser-sintered polyamide, this strong, general-purpose material is ideal for precision forms and works equally well for functional prototypes or end-use parts.
1.Strong, general-purpose material printed without a support structure
2.High density and low porosity, with crisp textures and detailed surfaces
3.Near-isotropic mechanical properties
4.Max part dimensions: 370 x 274 x 375 mm
Ultrasint TPU 90A-01
Ultrasint TPU 90A-01 combines durable elasticity with good wear and abrasion resistance, making it ideal for prototypes and end-use applications that require good shock absorption.
1.Rubber-like material printed without a support structure
2.Durable elasticity with high elongation at break
3.Good wear and abrasion resistance, and good shock absorption
4.Max part dimensions: 370 x 274 x 375 mm
On-demand Multi Jet Fusion 3D Printing Service
Elimold offers the best online 3D printing service for your plastic parts. Thanks to our expertise in Multi Jet Fusion technology, you can choose between multiple options, receive a quote immediately, and let us handle manufacturing at our ISO 9001-certified facility.
Contact us today to get started with Multi Jet Fusion.
Don't let its size fool you: the HP Multi Jet Fusion is the fastest 3D printer on the block, with industry-leading production speeds up to 50 times faster with printing materials than other 3D printing technologies land cost reductions of up to 50% in comparison to SLS and FDM.
In addition to being cheaper and faster, HP Multi Jet Fusion 3D printing offers superior surface finish, detail resolution, and strength when compared to ColorJet, selective laser sintering (SLS), fused deposition modeling (FDM), and stereolithography (SLA).
Whether you are in product development, Low volume manufacturing, or product maintenance Elimold and HP Multi Jet Fusion printing with fusion technology will provide measurable benefits to your production on the first run.
| | | | |
| --- | --- | --- | --- |
| Process | Other 3D Printing¹ | Injection Molding² | Machining³ |
| Cost Reduction | 30 – 50% | 30 – 300% | 10 – 75% |
| Production Speed | 6 – 50x | 9 – 18x | 5 – 12x |
1.Compared to typical costs and print times for Colorjet, FDM, SLS, SLA and other standard 3D print technology.
2. Compared to typical tooling/part cost and lead time of 4 – 8 weeks, order sizes of 100 – 1000 units.
3. Compared to typical cost and lead time of 3 – 6 weeks for plastic parts, 1 – 1000 units.
Our MJF printing service reinvents how we prototype and produce functional parts, delivering quality output, up to 10 times faster and at reduced cost.
The process begins by applying a layer of material in a work area. In the opposite direction, in one continuous pass, we print fusing and detailing agents across the full working area. This pass combines the printing with diffusing energy and the process is then completed. HP's proprietary architecture is capable of printing 30 million drops/second along every single inch of bed width, enabling extreme precision and dimensional accuracy.
To produce truly functional parts, it's important to ensure that the material has been properly fused and that part edges are smooth and well-defined. To achieve part quality at speed, HP invented a multi-agent print process. In the time it takes slower point processes, like material extrusion and laser sintering, to build 1,000 parts – MJF 3D printing technology would have created several thousands of parts. Using HP's proprietary multi-agent printing, the MJF technology achieves new levels of part quality at breakthrough speeds.
In 3D design and printing, a voxel represents a value on a regular grid in a three-dimensional space. By controlling the processes of each individual voxel through agents, MJF can produce parts that can't be made by other methods.
Though this print style has been compared to selective laser sintering, it works in a completely different way, fusing layers of powder in one pass, while SLS works by sintering each individual part. This means that MJF technology can produce more parts faster, resulting in increased throughput and higher production quantities.
Which applications are best suited to Jet Fusion 3D Printing?
The multi Jet Fusion manufacturing technique is particularly useful for creating unique plastic parts with a good surface finish. With such technology, you can create very complex shapes in a very short amount of time.
Thanks to this technology, you can reduce costs and improve performance. The Multi Jet Fusion 3D printing technology can be used for mechanical (e.g., prototypes, articulated objects, geared systems), electrical, medical, ornamental, automotive, to even educational purposes.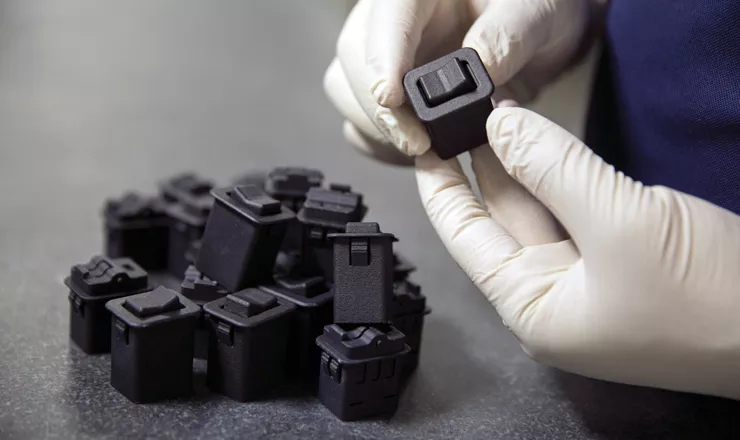 Increased Competitive Advantage Throughout Product Life Cycles
The high speed and low cost of Multi Jet Fusion 3D printing makes it possible to add value at every stage of your product life cycles. Beginning with product development, MJF can quickly print functional prototypes and proofs of concept, allowing you to take your product through more iterations in less time and get to market even faster. This developmental advantage also translates to other manufacturing technologies: MJF can create durable tooling for thermoformed or cast urethane parts in a fraction of the time and cost of traditional methods.
It's not just prototypes—MJF is an excellent choice for initial production runs or other low-volume manufacturing. Because of their unique design possibilities, 3D printed parts allow manufacturers a variety of opportunities to decrease cost and improve functionality, whether by combining multi-piece assemblies into single parts, reducing part weight with internal lattice structures, or using just-in-time manufacturing to reduce inventory and overhead.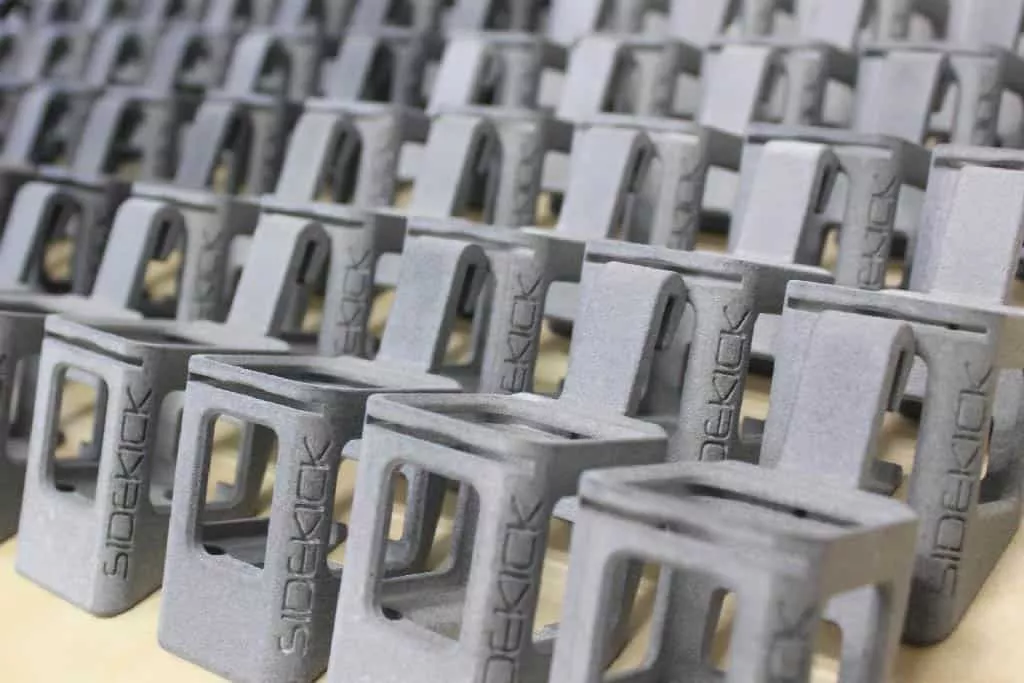 Get Started with Multi Jet Fusion 3D Printing Today!
Whether you are developing a new project or are ready to start production, Elimold can help you get it done better, faster and at less cost. Our contract engineering services and custom manufacturing solutions are available for every stage of your product life cycle.
learn more about our 3D Printing Services or get started now with a free quote!