Elimold is an ISO 9001:2015-, 13485:2016-, 14001:2015-certified manufacturer of precision stamped metal components and assemblies. With engineering support, tooling design, and advanced equipment in-house, our team can overcome just about any metal stamping obstacle.
We take pride in producing stamped metal components with complex geometries. Our lines can produce precision stamped metal parts from materials as thin as .003" (or less) and maintain tolerances as tight as ± .0005".
Custom Metal Stamping Services
Elimold is a leader in producing stamped metal parts for OEMs (original equipment manufacturers). Specializing in short to medium run precision metal stampings, we build our tooling in-house for maximum quality and reliability.Short-run metal stamping service is a cost-effective manufacturing process that fits the needs of customers with short lead times, repetitive low to medium volumes, and for customers who may require part modifications. We are committed to investing in the latest technology, to enable our experienced engineers and technicians to shorten lead times and get your part into production for quick turnaround and delivery.
Elimold provides short-run metal stamping supplies of almost any shape or size. Our pressroom equipment includes both traditional and non-traditional capabilities. In addition to our traditional metal stamping capabilities, our team will combine conventional punching methods with laser cutting, to get the best possible fabrication results at the lowest possible price.
As a leading provider of metal stamping services, Elimold manufactures complex, high-quality stampings and components for customers both domestically and internationally. Our dedication to quality paired with our extensive fabrication capabilities have earned us repeat customers across the medical component, manufacturing, renewable energy, automotive, and home improvement fields.
Elimold provides metal stamping services to a variety of industries. We run stampings up to .250" thick, but our specialty is high-volume, tight tolerance, precision stampings in a variety of materials from .003"-.060" thick. Our presses have full feed lines and are die sensor protection ready. We run nearly 60 million metal stampings per year at a 98% on time delivery rate.
Take your production needs to the next level without sacrificing quality. With CNC Machining, Fabrication, CNC Grinding, Wire EDM and support operations, WMPI can be a single source for your assembly and sub-assembly projects.
Elimold is ISO 9001:2015 certified. To learn more about our metal stamping services Contact us today.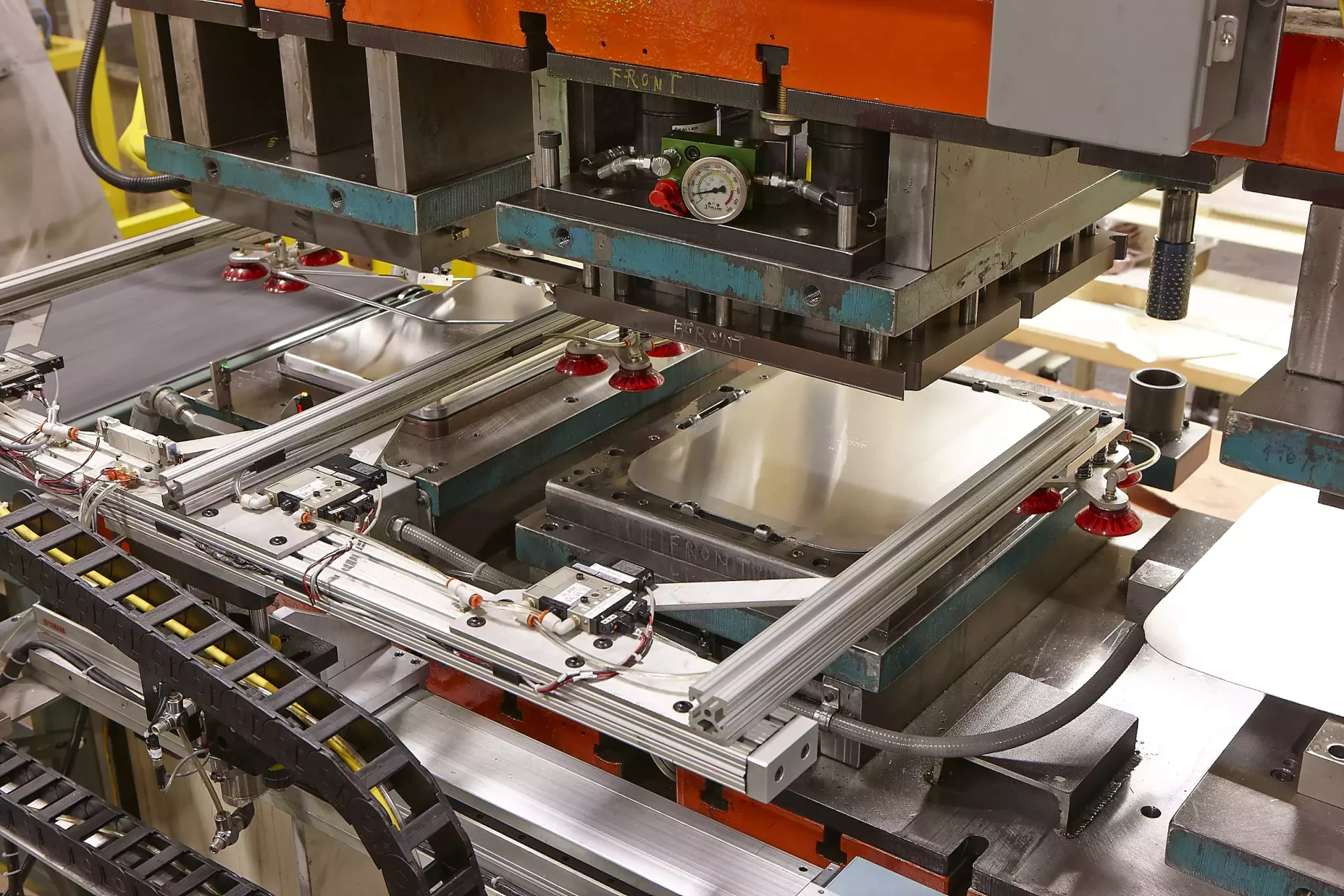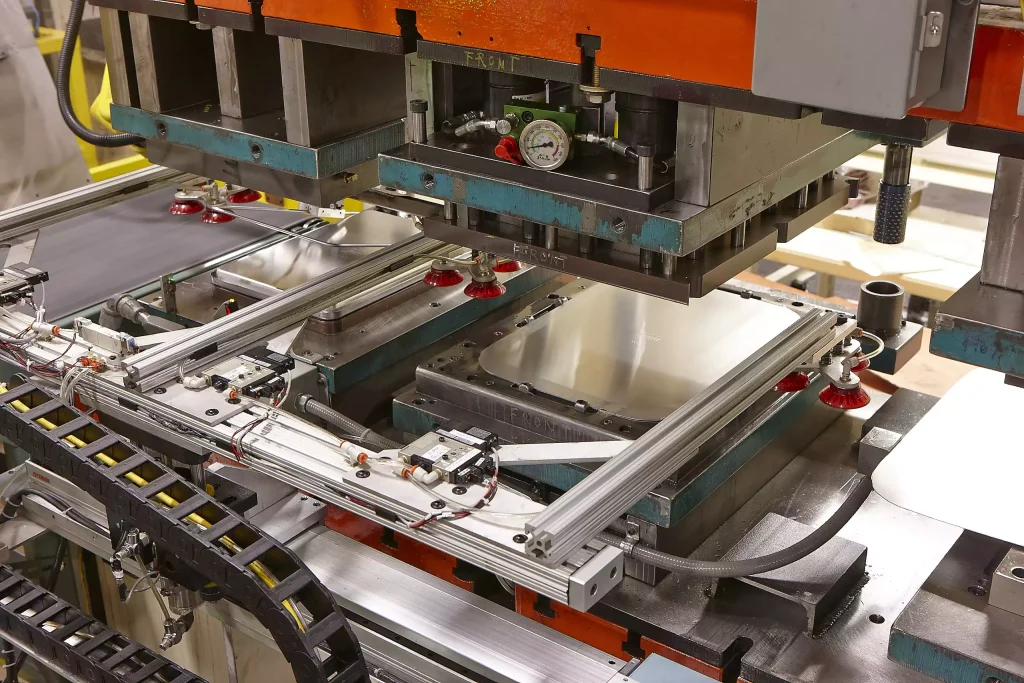 Metal Stamping at Elimold
We pride ourselves on producing quality parts at affordable prices. We go above and beyond simple metal stamping to offer a range of services including engineering, design, welding, tapping, drilling, laser cutting and etching, and welding to take our client's designs through the entire fabrication process from sketch to final design.
To learn more about our metal stamping, or any of our other services, contact us or request a quote today.
Elimold's Precision Metal Stamping Capabilities
General Capabilities

Custom
Contract Manufacturing
Imported
Intricate
Complex
Small to Medium Size
Prototype

Production Method

Punch Press
Turret Press
Press Brake
Drawing
Flat Blanking
Medium Run Stampings
Metal Forming
Short Run Stampings

Equipment Capability
CNC
Manual
Maximum Press Bed Length
36"
Part Thickness
Up to 1/4"
Press Rating/Tonnage
18 Ton to 215 tons
Maximum Press Stroke
8"
Maximum Press Bed Width
36"
Tolerance (+/-)
±.003 in
To Customer Specification
Testing
Hardness Testing
Material Testing
Additional Services Provided

Deburring
Tapping
Drilling
Reaming
Spot Welding
TIG Welding
Machining
Countersinking
Plating
Riveting
Sanding
Painting
Silk Screening
Heat Treating
Standoffs
Pem Nuts
Polishing
Marking
Passivating
Powder Coating
Assembly
In-House Tooling

Production Volume

50,000 Max
Specialty Production Shop
Prototype
Test Runs
Low Volume
Medium Runs
Short Runs

4 – 5 Weeks
2 – 3 Weeks for Less Intricate Parts
Emergency Services Available
Rush Services Available
Industry Focus

Aerospace / Aircraft
Architectural
Building & Construction
Business Machine
Cutlery
Firearms
Fluid Power Devices
Food Service
Furniture
Gaming
Home Appliance
Industrial Valve
Lighting
Medical
Sport & Recreational Goods
Telecommunications
Toys & Hobby
Vending

Stamping Product

Strips
Parts
Terminals
Contacts
Connectors
Lead Frames
Commutators
Buss Bars
Brackets
Cans
Cups
Covers
Heat Sinks

Industry Standards

ISO 9001:2008 Certified
TS 16949 Compliant
ASM
ASQ
SME
TMA

File Formats

AutoCAD (DWG, DXF)
Bit Mapped Graphics (BMP)
Catia (CATDrawing, CATPart)
Graphics Interchange Format (GIF)
Initial Graphics Exchange Specification (ANSI)
Inventor (IDW, IPT)
Joint Photographic Experts Group (JPG or JPEG)
Portable Document Format (PDF)
Pro-E or Pro/Engineer (DRW, PRT, XPR)
SolidWorks (SLDPRT, SLDDRW, SLDDRT)
Standard for the Exchange of Product Model Data (STEP)
Tagged Image File Format (TIFF)
Unigraphics (PRT)
Are you ready to Tool Up, and Reduce Cost?
At Elimold. we can guide you through the process of creating one hundred pieces per year, to one million. Elimoldhas the ability to produce parts without any of these tooling options for lower quantities, and when you're ready we are here to help you decide which option best fits cost reduction requirements, and total investment.
Form/Stage Tooling is utilized to decrease the production time for bending metal. This is perhaps the cheapest form of metal stamping in which we utilize a Punch Press instead of a Press Brake to bend tabs, flanges, or Offsets. This tooling is a great option for customers looking to achieve part cost reductions without large tooling cost. This is achieved by blanking a part by laser or turret cutting and then forming with hard tooling. Estimated cost for this tooling can be as little as $250-500 and it can have substantial savings for customers looking to reduce part cost with limited tooling expenditures.
If blanking your part out by utilizing Laser and or Turret Cutting is too expensive the next step up would be a Compound Tool. With a compound tool we will Stamp the entire flat layout of your part with every rotation of our punch press. This is the fastest way to produce a flat layout, and it can be combined with Form Tooling as a secondary option if Progressive Tooling options don't make financial sense. This tooling can vary in cost depending on thickness and size, but could be as little as $500 to $5,000 depending on complexity.
Progressive Tooling combines forming and blanking into one process. Generally a Coil or Sheet Stock will be loaded into one side of the punch press. When the part comes out it is complete including forms, coining, offsets, and other features as required. This option is best for higher volumes. This production tooling will yield the cheapest part cost mostly due to reduced handling and labor, and higher efficiencies. Tooling can vary in cost depending on the complexity and features of the part. A general range for a simple part could be as low as $2,500, whereas an extremely complex part could vary from $25,000 to $100,000 or more.
You can trust our proven process
Receive our quote for tooling, piece price and lead time within 48 hours.
Save money as we provide low cost quality tooling.
Receive free storage and maintenance of all tooling.
Place Purchase Order
Tooling built and sample parts manufactured to your specifications.
Customer service notifies you with a date for your no cost samples.
Sample delivered on time or your tooling is free.
 Approve the samples.
Production parts delivered
Pack parts per your specifications.
Ability to ship to one or more locations.
Receive in tolerance, correctly dimensioned parts on time.
Enhancing customer loyalty and satisfaction with each order.
Provide effortless execution.
Receive proactive, polite, and thoughtful customer service.
Form strong relationships through collaboration.
Furnish best in class stocking programs.
Low Carbon Steel
(All Grades and Tempers)
High Carbon Spring Steel
(All Grades)
Hardened & Tempered Spring Steel
 
HSLA Steel
(All Grades)
Alloy Steel
(All Grades)
Coated Steel
(Galvanized, Galvalume, Galvannealed, Aluminized)
Stainless Steel
(300 & 400 Series, Alloys)
(Variety of Finishes and Tempers)
Aluminum
(Common Alloys: 1100, 3003, 5005, 5052, 5182, 5754)
(Heat Treat Alloys: 6061-0, 6061-t6)
(All Tempers)
Copper
(Standard and Specialty Alloys)
Brass
(Standard and Specialty Alloys)
Phosphor Bronze Alloys
Inconel
Monel
Nickel, Zinc, and Special Alloys
 
Nylon
 
Teflon
 
Benefits of Precision Metal Stamping
Cost Efficiency: Metal stamping produces precision metal parts quickly, making it perfect for high volume production. As the production levels increase, labor costs decrease, making it cost-effective.
Less Scrap Material: In addition to its efficiency, precision metal stamping also produces less scrap material than other metal forming processes, making it more cost-effective.
High Quality and Accuracy: As the name suggests, precision metal stamping produces highly detailed, complex products at the precise tolerances that your application requires. Despite multiple pieces being cut together, each product is of high quality and accurate every time.
Highly Automated Process: Metal stamping can be easily automated and can incorporate value-added secondary services into the die or press. These services can include in-die tapping, in-die welding, or automatic nut insertion, which increases the overall value of the part.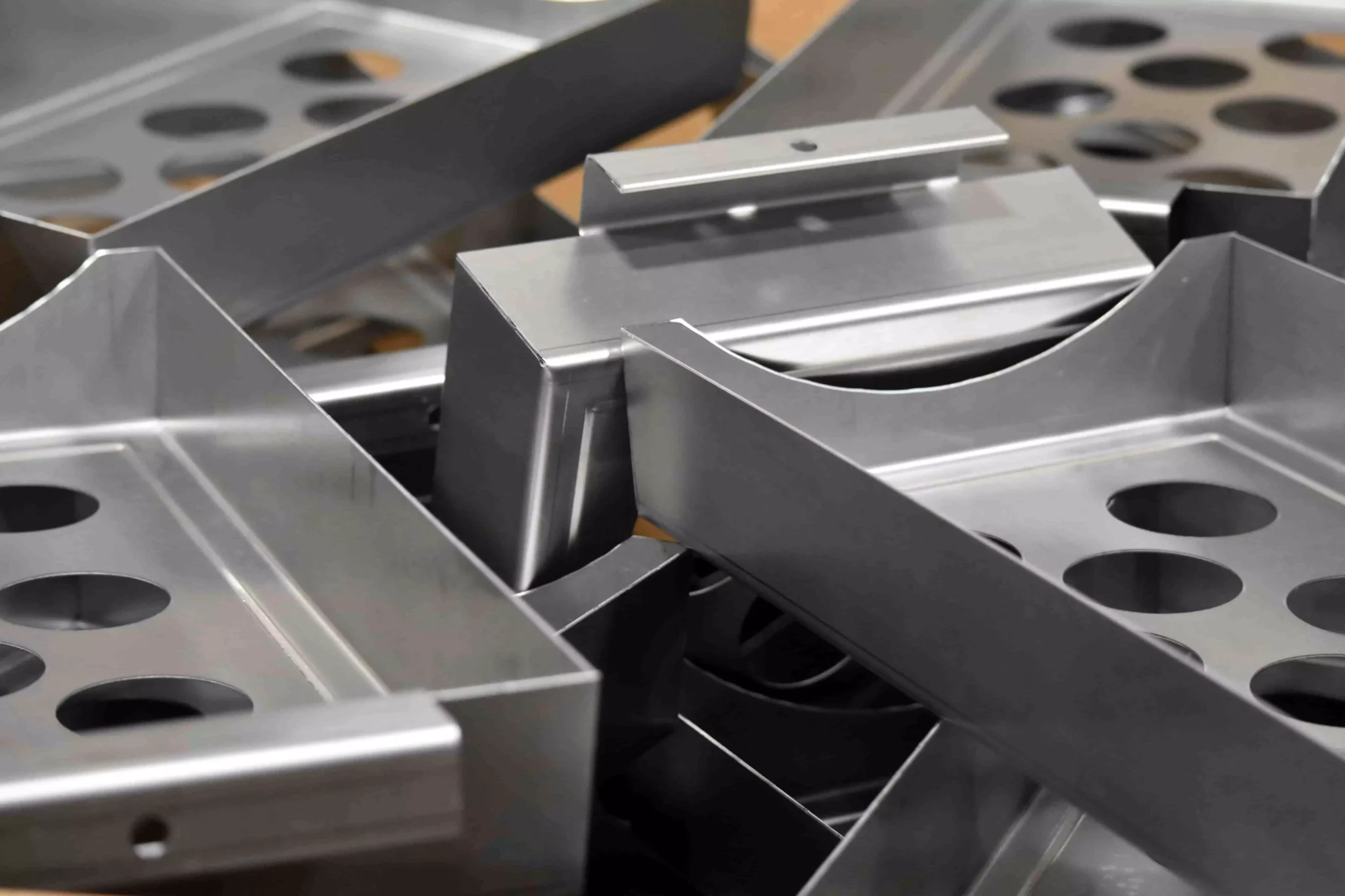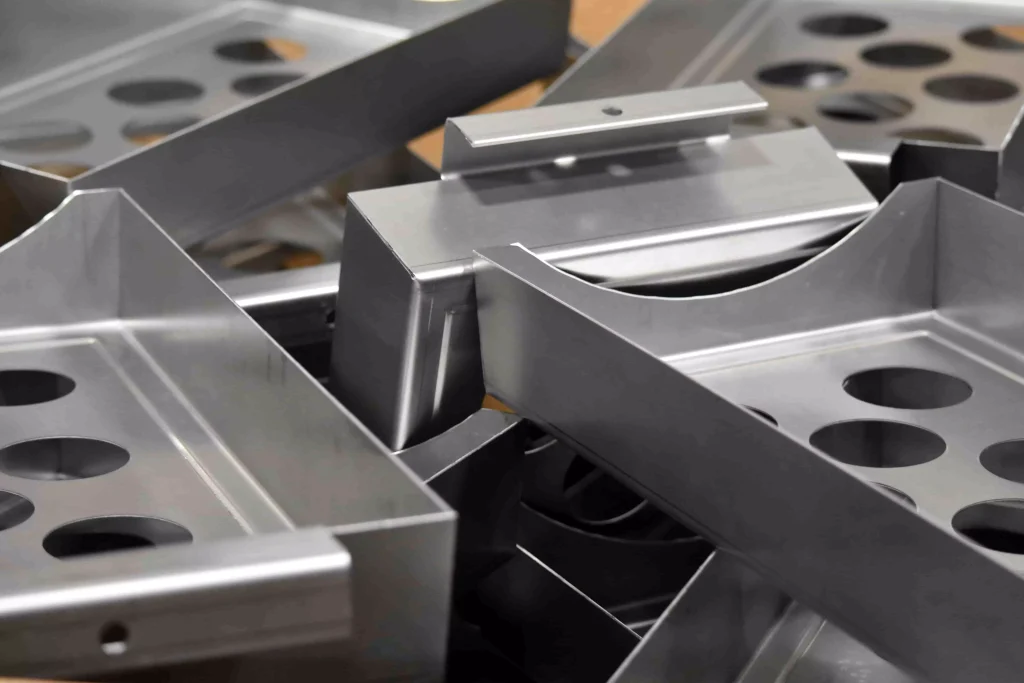 Learn More From Our Metal Stamping Experts
At Elimold, our capabilities cover large projects to small projects and simple components to complex components. With our years of experience and commitment to excellence, we possess advanced metal stamping capabilities to meet your needs.
We understand that choosing a manufacturer is a big decision, and it's important for you to find the right metal stamping company for your project. If you have any questions about precision metal stamping, your specific project, or what it's like to work with us, please contact us.