Carbon Digital Light Synthesis™ (DLS™) 3D Printing Service
We were chosen by Carbon to be one of the first 3D printing service bureaus in the world with the ability to 3D print prototypes and production parts from the Carbon DLS M2 printers. The Carbon DLS technology provides parts from amazing elastomeric and rigid materials that match or exceed injection molding properties, part finish and quality. DLS is a true digital manufacturing technology not just for prototyping, but for the production of customized parts and serial production. With Carbon DLS 3D Printing technology, we help our clients design, prototype and print functional parts for production applications in the medical, aerospace, industrial, consumer, and automotive markets.
Professional DLS 3D printing services
We serve mechanical engineers to make custom DLS 3D printed parts for application in multiple industries: space, aerospace, automotive, defense, hardware startups, industrial automation, machinery, manufacturing, medical devices, oil & gas and robotics. Use Elimold expert 3D printing services to take advantage of our network of professional 3D printing capabilities, which means our customers get both competitive prices and fast lead times. We specialise in four processes, bringing you everything you need for custom DLS 3D printing projects, from rapid prototyping to small production runs of metal 3D prints for industrial applications.
Carbon DLS™ is a resin-based polymer process that uses light and heat to create parts with isotropic properties, complex geometries, and excellent surface finishes. 
Carbon uses digital light projection, oxygen-permeable optics, and programmable liquid resins to produce products with end-use durability, resolution, and surface finish. This 3D printing technology is called Digital Light Synthesis™, or DLS for short. Another legacy term for the process is Continuous Liquid Interface Production (CLIP). 
DLS offers a wide range of production-grade materials, allowing engineers to build end-use parts right off the printer. Along with Carbon's custom liquid resins, DLS unlocks new business opportunities and product designs previously impossible, including mass customization and on-demand inventory of end-use products.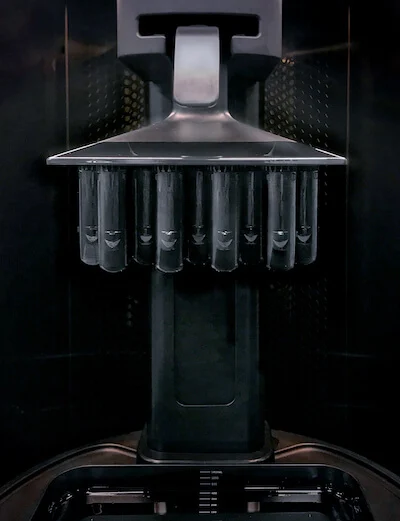 Carbon DLS™ General Tolerances
| Description | Tolerance Notes |
| --- | --- |
| | +/- 0.005" for the first inch is typical, plus +/- 0.002" for every inch thereafter. |
| | The typical build area is 7.4" x 4.6" x 12.8". Parts with dimensions exceeding 4" x 4" x 6" will require manual review. |
| | Part's below 2″ x 1″ x 3″ or smaller tend to have the best production economy of scale. |
| | 0.030″ or larger is suggested for any walls, text, or lattice features. |
| | |
This table depicts the general tolerances for Digital Light Synthesis™. Stresses during the build, support strategy, and other geometry considerations may cause deviation in tolerances and flatness. Improved tolerances may be possible with a manual quote review, after successful completion of a prototype build, and must be approved on a case-by-case basis. General tolerances apply before secondary finishing or post-processing unless otherwise specified. Please check out Elimold's Manufacturing Standards for more information on tolerances per process.
Specifications
Maximum Part Size:
7.4 x 4.6 x 12.8 inches (189 x 118 x 326 mm)
Layer Thickness:
Layerless, isotropic parts
General Accuracy:
Up to +/- 0.003 inches in + 0.001 inch per inch dimension size
(Up to +/- 0.070 mm + 0.001 mm per mm dimension size)
Production Repeatability:
Up to +/- 0.002 inch (Up to +/- 0.04 mm)
Lead Time:
Can be as low as 3 days
Materials:

Epoxy (EPX)
Rigid Polyurethane (RPU)
Flexible Polyurethane (FPU)

Elastomeric Polyurethane (EPU)
Multi-Purpose Polyurethane (MPU)
Contact us to see if the Carbon DLS™ process is the right fit for your production needs.
Digital Light Synthesis™ Materials
DLS™ Materials Available at Elimold:
| Material Name | Description | Shore Hardness | Elongation at Break (%) | Impact Strength (J/m) | Data Sheets |
| --- | --- | --- | --- | --- | --- |
| | | | | | |
| | | | | | |
| | | | | | |
| | High temp cyanate ester (HDT 230C) | | | | |
| | | | | | |
| | | | | | |
| | Elastomeric silicone-urethane | | | | |
More carbon 3D materials are available upon request! Review more information about our materials here.
Available Finishes for Carbon DLS™ Parts
| | |
| --- | --- |
| Standard | Parts built with Carbon DLS technology will typically have a matte to semi-gloss surface finish depending on feature direction. Extended protrusions will show vertical lines in the part that are parallel to the direction of growth. Supports are removed and mitigated as required. |
| Custom Color (UMA 90) | UMA 90 materials come in different colors available for custom mixing. Although the standard is black or white, other solid colors can be available for part productions. |
| Natural Finish | With natural finishing, you get varying aesthetics based on build orientation. Standing nibs are sanded flat. |
| Unfinished | With unfinished, you get varying aesthetics based on build orientation. Dots or standing nibs remain evident on the bottom of the part from the support structure remnants. |
| Custom | Don't see the finish you need? Submit an RFQ and we'll look into a finishing process for you. |
Digital light projection: UV light shapes the part
The Digital Light Synthesis process is driven by Carbon's groundbreaking Continuous Liquid Interface Production™, or CLIP™. CLIP is a photochemical process that cures liquid plastic resin into solid parts using ultraviolet light. It works by projecting light through an oxygen-permeable window into a reservoir of UV-curable resin. As a sequence of UV images is projected, the part solidifies, and the build platform rises.
Oxygen-permeable optics: fast printing via the "dead zone"
The heart of the CLIP process is the "dead zone"—a thin, liquid interface of uncured resin between the window and the printing part. Light passes through the dead zone, curing the resin above it to form a solid part without curing the part onto the window. Resin flows beneath the curing part as the print progresses, maintaining the "continuous liquid interface" that powers CLIP and avoiding the slow and forceful peeling process inherent to many other resin-based printers.
Dual-cure materials: mechanical properties set by heat
Traditional resin-based 3D printing processes produce weak, brittle parts. Carbon overcomes this by embedding a second heat-activated programmable chemistry in our materials. Once a part is printed on a Carbon printer, it's baked in an oven. Heat sets off a secondary chemical reaction that causes the materials to adapt and strengthen, taking on exceptionally strong characteristics. This produces high-resolution parts with engineering-grade mechanical properties.
Common Carbon DLS™ applications
Carbon DLS™ is often used for end-use parts because it produces high tolerances and smooth surface finishes. The speed of the Carbon DLS™ 3D printing process makes it an attractive option for rapid prototyping.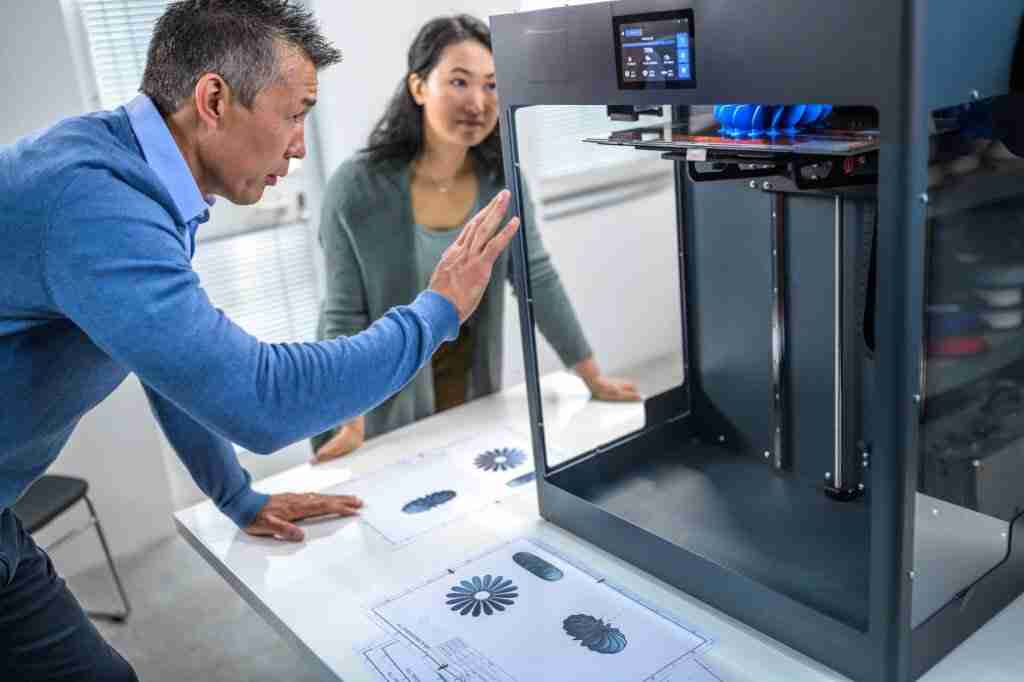 Carbon DLS has many benefits
Why the Carbon DLS™ Process?
Accelerate every step of product development
Test dozens of designs in the time it used to take to try one.
Functional and Rapid Prototyping
Don't settle for fragile prototypes. Bring your designs to life with the industry's best materials, then start testing and iterating immediately.
Seamlessly transition into production while still being able to revise your designs immediately and without retooling. Scaling has already been done by leading brands like Adidas, Specialized, and fizik.
Find the perfect design for your application, not a mold
Undercuts and Undrafted Walls
Moldability constraints don't apply here. Enjoy the freedom of designing with undercuts and perfectly straight walls without sacrificing manufacturability.
Performance-oriented Lattices
Lattices allow you to specify your required characteristics at every millimeter. Determine your product's ideal mechanical response and leverage Carbon Design Engine™ software to generate the right lattice for it.
A single printed part frequently offers better mechanical performance than an assembled one. Streamline production with reduced SKUs and less labor by consolidating assemblies.
With no tooling costs, you're free to make every unit unique. Offer personalized designs, or build entire products around individuals.
Surface Design and Textures
Enhance your parts by applying textures to complex curved surfaces like grips and enclosures with Carbon design software.
Elimold, a leading manufacturing company driven by technology, high quality data and artificial intelligence, focuses on manufacturing excellent quality of sheet metal parts, custom parts and components, a wide range of 3D printed parts and moldings. It is a single source for a wide of range of companies around the world for their need of sheet metal fabrication, CNC machining, 3D printing, and molding.
Besides its own production capacity, Elimold's ability access to a huge amount of manufacturing capacity of its top quality partners across China,Europe and the U.S allows it to provide its customers with low and high volume production, rapid prototyping and a wide range of manufacturing services from sheet metal fabrication to 3D printing.
Elimold's data-driven AI approach to manufacturing maximizes its overall product and service quality while minimizing the overall cost of its parts and services. This leads to high quality products, better inventory programs for our customers worldwide, better visibility for supply chain management.
Elimold's team of manufacturing engineers, mechnical engineers, quality engineers, supply chain engineers, industrial designers, artificial intelligence engineers, data scientists, and software application developers work in a unique and coherent way to provide your company with high quality manufacturing parts and services, driven by data and artificial intelligence.
As a single source for all your manufacturing needs, Elimold minimizes your overhead cost, diversifies your supply chain, significantly improves the quality of services and parts you outsource, minimizes suppliers' risks, improves your purchasing power, and provides the goods and services with a philosophy of just in time.
Get an instant quote on your 3D printing design.
3D printed parts are notoriously inconsistent. Because of a layer-by-layer process, conventional 3D printed materials often exhibit variable strength and mechanical properties depending on the direction in which they were printed.
The Carbon DLS™ process, on the other hand, produces parts with predictable isotropic mechanical properties. These printed parts are solid inside like injection molded parts and behave consistently in all directions. The resolution and gentleness of our process—where parts aren't harshly repositioned with every slice—make it possible to leverage a broad range of materials that meet the surface finish and detail requirements needed for end-use parts.