The team at Elimold uses state-of-the-art CNC plasma cutting to create precise, custom parts, one off designs and builds, or decorative features for you. Our machines can cut up to three inches thick material! Elimold offers cost-effective cutting solutions whether you need a single part, batch of prototypes, or a production order.Contact us today for a FREE quote.
10 Years of Experience in Plasma Cutting
Thousands of Satisfied Customers
Committed to Exceptional Customer Service
Modern, High-Quality CNC Plasma Cutting Machine
We Cut Hot-Rolled Steel and Aluminum
Cost-Effective and High Quality Production
Our precision plasma cutting capabilities allow us to produce unmatched quality components.
At Elimold, we are proud to offer expert CNC plasma cutting services to help you realize your custom metal projects. Having the capacity to provide plasma cutting in addition to welding, fabrication, machining, shearing, and forming, we've helped designers, artists, homeowners, engineers, contractors, and businesses create a wide variety of long-lasting, highly functional pieces.
Our CNC plasma cutting machine allows us to make uniform cuts out of hot-rolled steel and aluminum. With this equipment, we can quickly and cost effectively cut out intricate designs, shapes, lettering, and curves to create personalized objects, artistic pieces, prototypes, and production parts. It proves to be one of the most cost-efficient methods for cutting large sheet metal because of its ability to combine both speed and precision to give the exact dimensions for the piece you are looking for.
To get started, you can either send us a .dxf file or work with us to create one. This file is what we use to program our plasma cutter to cut your design. We provide CNC high-definition plasma cutting services using 400-amp dual-head 4-axis equipment. Our cutting table is 10 feet wide by 90 feet long and can produce various components up to three inches thick while holding some of the tightest tolerances in the industry. we can proceed with any forming, machining, or welding on site to complete the fabrication of your project.
Our typical lead times may be as short as 1-2 weeks, depending on the project's details.
| | Kinetic K5000XMC | Kinetic K5600XMC | Supporting Services |
| --- | --- | --- | --- |
| Spindle assembly | 48hp (30 kw) cat 50 spindle, 4000 rpm | 48hp (30 kw) cat 50 spindle, 4000 rpm | Forklifting up to 100,000 lb |
| Drilling | up to 4 in. | up to 4 in. | Overhead Crane up to 30 ton |
| Boring | up to 8 in. | up to 8 in. | Truck Weight Scale |
| Tapping | 1 1/4 in. | 2 in. | Trucking Delivery |
| Tool changer | 24 tools (automated) | 24 tools (automated) | |
| Machinery accuracy | + / – 0.006 in./3 ft. (0.15 mm/m) | | |
Plasma Cutting Considerations
Depending on your application you will need to consider the following factors in choosing plasma cutting. Parts that require extreme precision will benefit from laser cutting for stringent tolerances.
An oxide layer will be present on the cut surface.
For all metals, but particularly aluminum, the cut edge will be rough.
Cut edges may experience some pitting. Pitting can be as large as the thickness of the material.
Edge angles are not exactly 90%, many times the deviation can be as much as 10 – 20%
Intricate parts might experience some warping, in these cases your welding pro will find a better solution.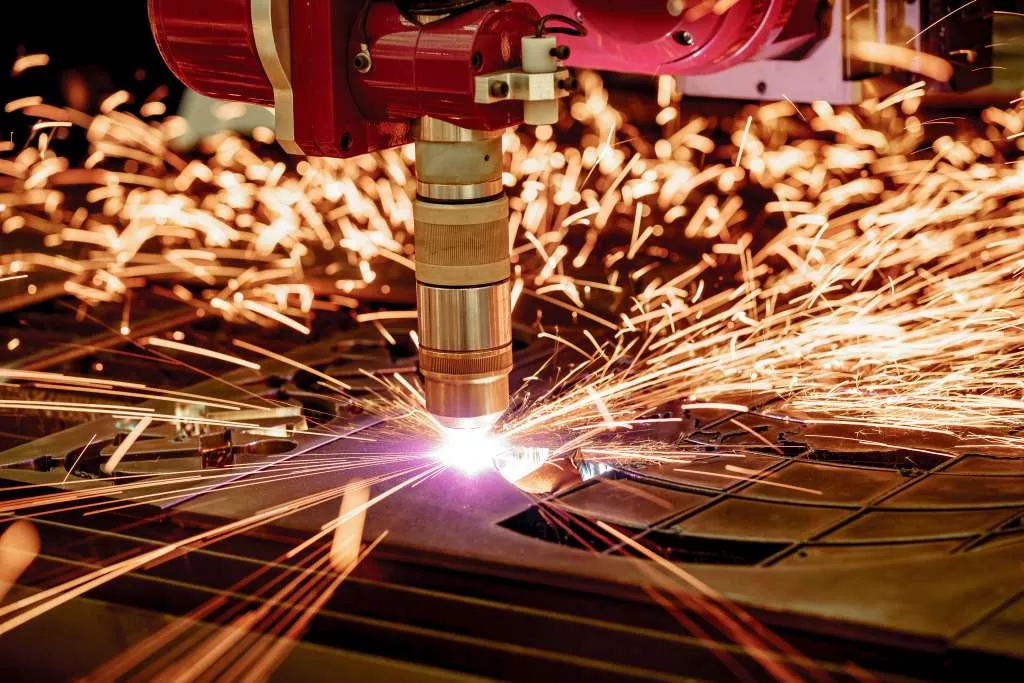 Contact Us to Learn More About High-Definition CNC Plasma Cutting and CAD Product Design Services
Elimold now offers CNC plasma cutting for precision cuts with a quicker turnaround time. Our full service fabrication shop will design, draft and custom cut to your specifications.
From detailed designs for metal art or just straight cuts for various projects on your list, let our design team handle it from start to finish. Send your drawing, ready made file, or idea over to [email protected] and one of our staff will take you step by step through the design process.
Precision plasma cutting capabilities
General Capabilities

Precision
High Definition
Rotating Bevel Heads

Cutting Action Type
CNC Controlled
Cutting Axis
5 Axis
Equipment Features

Down Draft Cutting Table
Automated Slag System
Dross-Free Cutting
Repeatable Cut-Edge Quality
Hole and Internal Shape Cuts
Duel Rotating Bevel Heads (Contour Bevels)

Cutting Thickness
Up to 2″ (Steel) Up to 1.5″ (Stainless Steel) We can accommodate most material types and sheets that range in size from thin gauge through 1″ metal plate.
Cutting Length
Up to 40′
Cutting Width
Up to 10′
Maximum Output Power
400 amps
Kerf
Narrow to Reduce Waste
Tolerance (+/-) (Length & Width)

± .015″ (Gauge to .5″)
± .030″ (.5 to 1″)
± .060″ (1 to 2″)
Better tolerances may be achieved

Lifting Capacity
5 to 10 ton
Secondary Operations

Powder Coating
Anodizing
Painting
Parts Cleaning & Degreasing

Additional Services
Clean Package Bar Coding *Free Delivery (150 mile Radius of Milwaukee or Rockford)
Production Volume
Low to High Volume
Lead time
Inquire for current lead times
Industry Focus

Mining
Quarries
Food Processing
Petrochemical
Automotive
Material Handling Equipment
Pharmaceutical
HVAC
Military
Local, State & Federal Government
Foundries
Transportation
OEM
Hospitals & Healthcare
Institutional
Prisons
Nursing Homes

Intended Application

Components
Armor Plating
Heavy Duty Vehicle
OEM Components

Industry Standards
File Formats
We accept .dxf files and other formats. We perforate and fabricate to your drawing design concept or our own.
CNC Plasma Cutting Materials Available at Elimold:
| | | |
| --- | --- | --- |
| Steel | Aluminum | Stainless Steel |
| Low Carbon Steel | Aluminum 2024 | Stainless Steel 304 |
| A36 Steel | Aluminum 5052 | |
| | Aluminum 6061 | |
Advantages of Plasma Cutting
Lower cost – One of the big benefits is the lower cost of a plasma cutting service compared to other cutting methods. The lower price for the service derives from different aspects – operational costs and speed.
High speed – Plasma cutting service's one of the main benefits is its quickness. This is especially evident with metal plates, while laser cutting is competitive when it comes to sheet cutting. The increased speed enables to produce larger quantities in a given time-frame, lessening the cost per part.
Low operational requirements – Another important factor to keep service prices down. Plasma cutters use compressed air and electricity to operate. This means that there is no expensive equipment needed to accompany a plasma cutter.
Low heat input – Plasma cutters focus the outgoing plasma jet using a nozzle. This concentrates the energy into a small dot, meaning that the energy requirements are not that great to perform a cut.
Small heat-affected zone – The material properties and microstructure change in the HAZ. It can also cause material warping. Therefore, keeping the zone small is one of plasma cutting's advantages.
Good quality – Plasma cutting provides good clean cuts, especially with small to medium size thicknesses (up to 30 mm), although its cutting kerf is larger compared to other methods.
Short preparation time – The prep time is kept to a minimum because there is no need for preheating the metal before cutting.
Versatility – This cutting method lets you cut through a stack of material or use it for bevelling, shape cutting, gouging and piercing. All these possibilities make it possible to fulfil many different needs with one operation.
Partner With a Elimold Plasma Cutting factory Today
At Elimold, our experienced plasma cutters provide superior customer service, accurate quotes, and superior craftsmanship. Plasma cutting is as much an art as it is a science, which is why we take pride in delivering incredible cutting jobs the first time, every time.
Request a free custom estimate for your project today by contact our team. Our plasma cutting specialists in China are happy to answer all your plasma-related questions and provide you with a quick quote. Contact us today!