Sheet Metal Fabrication Services
Specializing in high-quality sheet metal assemblies and weldments of carbon steel, stainless steel and aluminum Etc,Elimold can fabricate a wide variety of part sizes and configurations,Full-service contract fabrication ranges from flat sheet to fully assembled enclosures, weldments, and other custom parts. Save time and money with our fully integrated in-house capabilities from laser, form, weld, finish, paint and assembly. We understand that your product needs change over time. And we're here for you: our comprehensive sheet metal fabrication services stand ready to build a vast assortment of sheet metal assemblies to your exact specifications.
Material thickness anywhere from 20-gauge (.0359") through ½ inch (.500")
Quantities from a few to thousands of parts
Sizes from small to very large up (14 feet deep by 7- 8 feet wide and 8 – 9 feet tall)
Our 140,000 sq. ft. facility houses multiple lasers, press brakes, manual and robotic welding, finishing stations, a conveyor engineered paint system, off-line paint system, and component assembly.
Custom Precision Metal Fabricators
The Elimold Companies offer many services for sheet metal fabrication in China. We handle jobs large and small, with the same level of care and continuity. As a full-service operation, we ensure that your work is done quickly and effectively without having to bounce between various suppliers and companies. Instead, you can leave your projects in our hands knowing that they will be completed in-house with expertise, skill, and quality.
When you need sheet metal fabrication in China, look no further than the Elimold.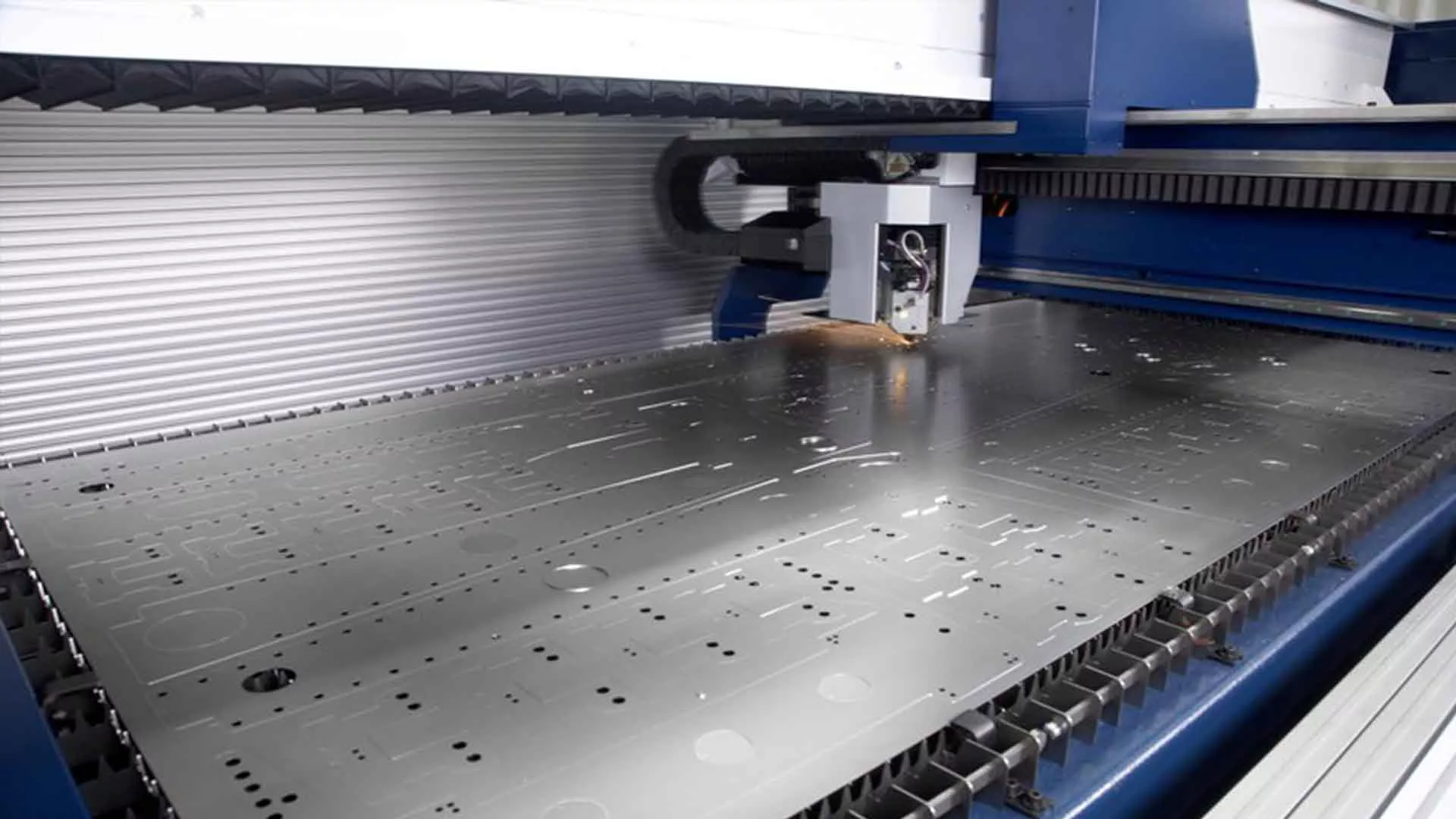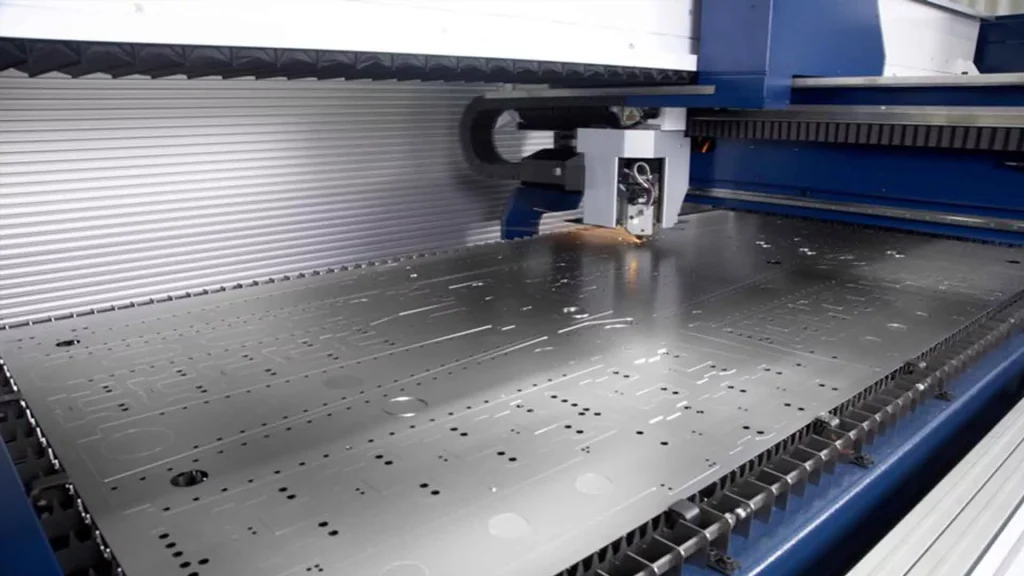 We have high speed, state of the art sheet metal fabrication equipment that is best suited for repetitive, low-to-high volume and high-mix production runs. As a complete tool and die shop, we are skilled in all areas of fabrication including fiber laser, CNC punching, CNC bending, CNC forming, welding, CNC machining, hardware insertion and assembly. Many of our processes are automated, such as the material handling on our two 5000-watt fiber lasers, allowing us to run minimally attended or even lights out. We can handle any portion of your project from laser cutting flat blanks to providing you with a full assembly ready to ship to your customer. Our on-time delivery average is 98%.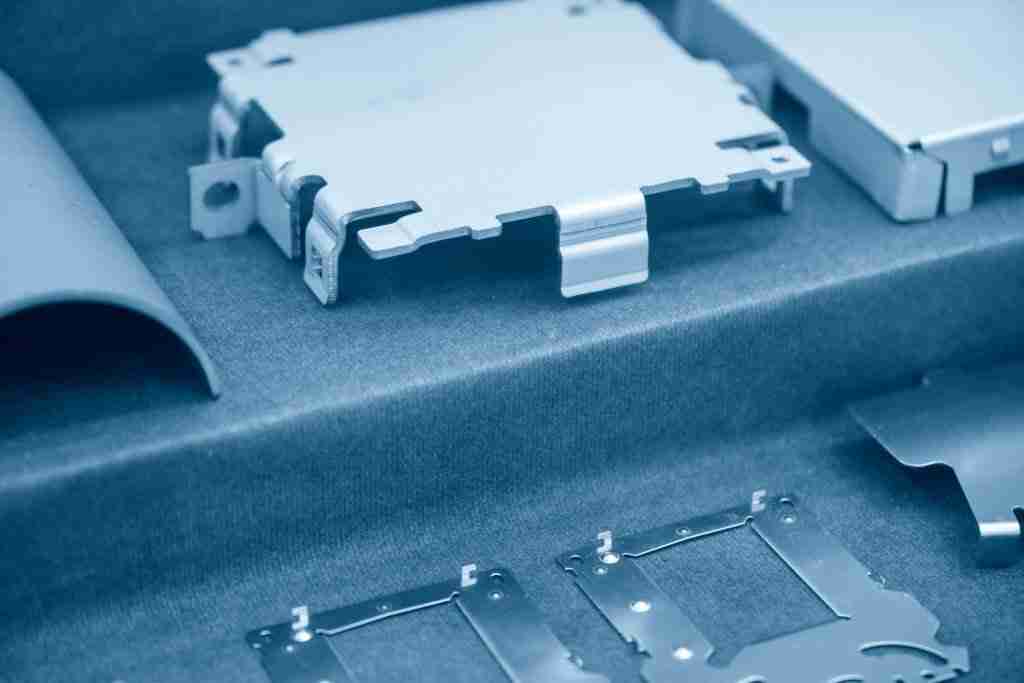 Sheet Metal Services Available at Elimold
Benefits of Custom Metal Fabrication
Unique requirements necessitate custom parts that fit and perform exactly as intended. Custom-fabricated and machined parts bring many benefits, including:
Receiving exactly the parts you need, when you need them, at a competitive price
Precisely cut, formed, welded, and machined on specialized, advanced machinery
Inspection with instrumentation calibrated on a regular basis in order to provide consistent quality
Fine craftsmanship, guided by highly qualified engineers, managers and operators
Custom metal parts made from materials that comply with your every requirement
Custom finishes to your exact specifications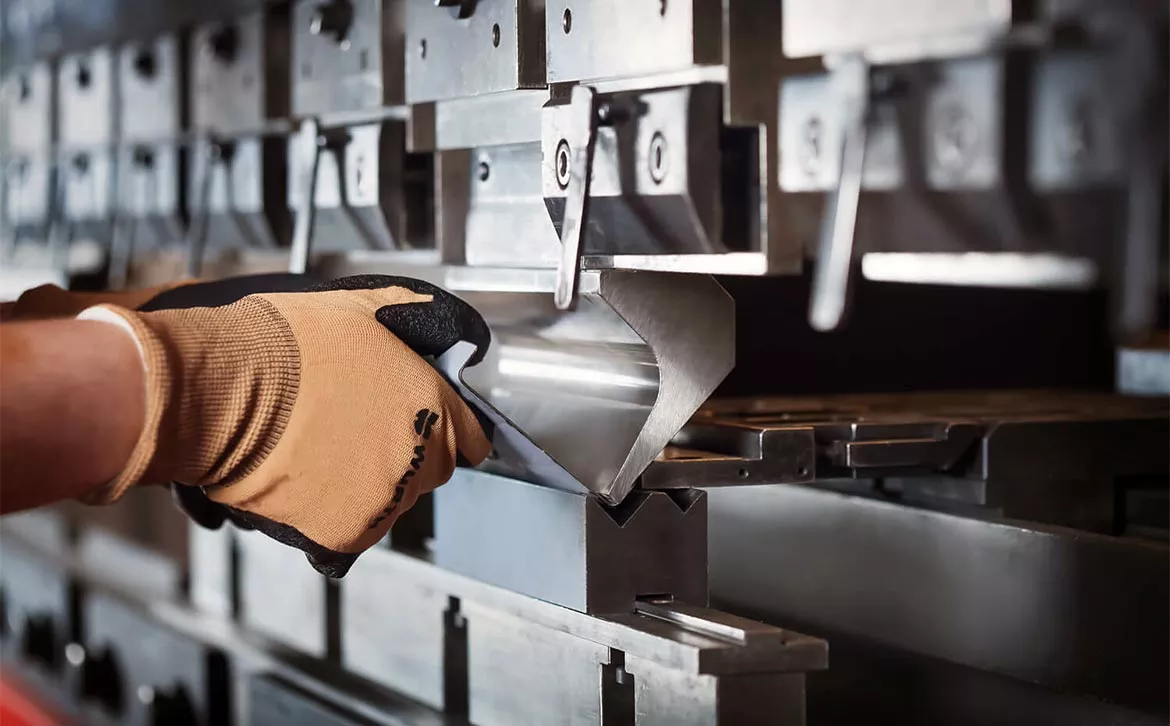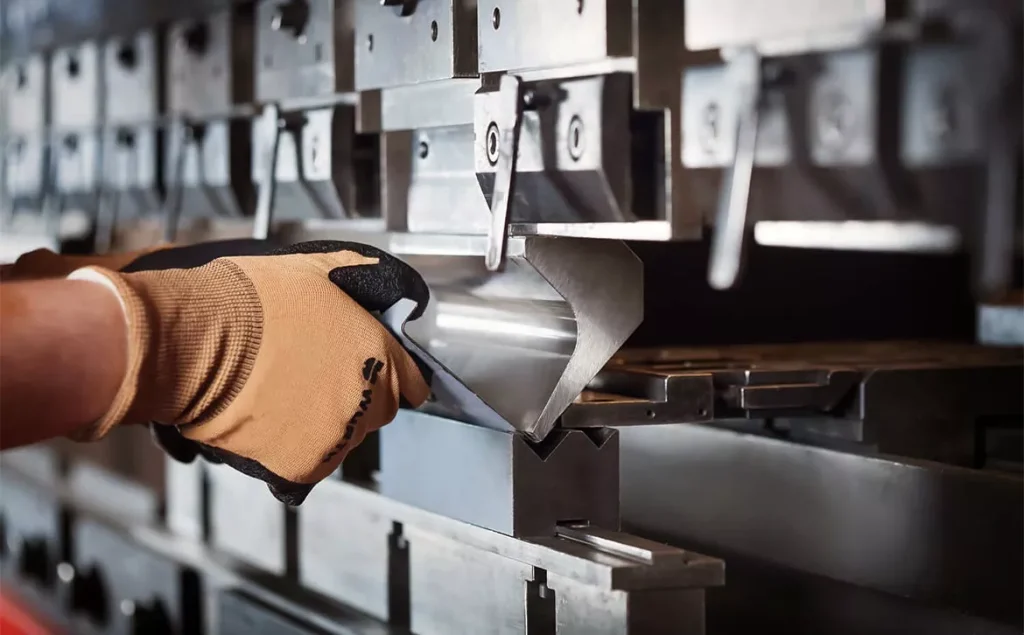 Your China Sheet Metal Fabrication Service Provider
We specialize in production parts and rapid prototyping for all your Sheet Metal Fabrication projects. Elimold is a leading provider of Sheet Metal Fabrication Services, offering the highest quality parts at competitive prices. We can customize your parts to your exact specifications with our wide selection of materials and finishes. Our instant quoting tool allows you to see pricing and lead times so that you can make decisions quickly and confidently. Use Elimold for all your Sheet Metal Fabrication Service needs in Las Vegas. Looking for 3D Printing? Visit our 3D Printing Service page to learn more.
Tolerances for sheet metal fabrication
| Feature | Tolerance |
| --- | --- |
| Cutting feature | ±.0078″(0.2mm) |
| Bend angle | ±1.0° |
| Bend to edge | +/-0.010″(0.254mm) |
Elimold is a precision sheet metal processing enterprise, a leader in China's sheet metal customization industry. We have been engaged in sheet metal customization services for many years, with rich manufacturing experience and customization technology. We provide one-stop precision sheet metal processing services to provide manufacturing solutions for global buyers.
Sheet metal fabrication capabilities
Fabrication Processes

CNC Turret Punching
Embossing
Graining
Grind/File
Forming
Hem Bending
Lancing
Laser Cutting

Louvering
Part Numbering
Precision Bending
Punching
Riveting
Saw Cutting
Shearing
Tumbling

Laser Cutting
CO2 & Fiber Optic
Up to 5' x 12'
Laser/Punch Combination Equipment
Auto Loading/Unloading
 
CNC Punching
48" x 96" Multi-Station Turret
 
CNC Water Jet Cutting
5' x 10' Capacity
 
CNC Forming
Multi-Axis Gaging
Up to 175 Ton & 10' Long
 
Welding Processes

Brazing
Dip Brazing
GMAW (MIG)
GTAW (TIG)

Micro Spot Welding
Silver Soldering
Spot Welding
Certified Welding

Equipment

2D/3D Laser (with load/unload)
Salvagini P2L-2520 Automated Panel Bender
Miller Welding Machines
RAS Panel Bender

Beyeler Press Brakes (9-Axis of control)
CNC Press Brakes
CNC Turret Punch Press
Haeger and Auto-Sert Insertion Machines

Equipment Axis
Up to 9-Axis Bending
 
Fixturing
In-House Fixturing & Tooling
 
Sheet Length
Up to 144″
 
Sheet Width
Up to 60″
 
Tolerances
±0.005″ Typical
Tighter Tolerances Held According to Specifications
 
Materials

Acrylic
Aluminum (All Alloys)
Armor Plate
Brass
Bronze
Copper
Expanded Metal
G10

Galvanized (G30 – G90)
Galvannealed (G30 – G90)
Lexan
Perforated Metal
Prepainted Material
Stainless Steel (2B, #3 & #8)
Steel (CRS, HRPO & HRS)

Testing & Inspection Equipment

CMM Equipment
Deltronic Pins
Digital Height Gages
Digital Microscope
Digital Micrometers & Calipers
Hardness Testers

Master Gauge Blocks
Optical Comparators
Pull Testers
Slipstick
Virtek (Laser Scanner)

Welding Inspection

3rd Party Weld Inspection as Needed
Certified Welders
CWI (Certified Weld Inspection)
D1.1 & D1.2 Compliant
Dye Penetrant Testing
Leak Testing

Magnetic Particle Testing
PQR's
Pressure Testing
Radiographic Examination (X-Ray)
WPS

Finishing Services

Deburring
Glass Bead Blasting
Graining (Brushed Finish)

Polishing
Sand Blasting
Vibratory Tumbling

Plating Services

Anodizing
Bright Dip
Hard Coat
Standard (Multiple Colors)
Barrel Plating
Black Chrome
Black Oxide
Bright Nickel
Brush Nickel
Cadmium
Chromate (Clear or Yellow)(Also known as Iridite or Chem Film)
Chrome
Copper
Etching

Electroless Nickel
Electropolish
Gold
Hard Chrome
Passivation (Nitric of Citric)
Phosphate (Pretreat)
Rhodium
Silver
Tin
Zinc (Clear, Yellow or Black)
Hexavalent
Trivalent (RoHs Compliant)
Zinc Cobalt
Plating Certified to AS9100, ISO, ITAR & NADCAP

Coating Services

Dielectric Paint
E-coating
Powder Coating

E-coating
Powder CoatingPTFE
Wet Paint

Additional Services

Assembly
Engraving
Heat Treating
Ink Fill

Inventory Management Services

Consignment Programs
Custom Stocking Programs
Customer Portal Management
JIT Shipping

Kanban
Min-Max
Vendor Managed Inventory

Production Volume

Blanket Orders Accepted
High Volume
Low Volume

Prototypes
Over 5,000 Parts Typical

Lead Times Available

1-2 Week Expedited Service Available
4-6 Weeks Typical
Specific Lead Time Quoted on a Job by Job Basis

 
Industry Focus

Aerospace
Automotive
Computers
Construction
Defense
Electronics
Energy
Entertainment
Environmental
Firearms
Furniture
Hospitality

Jewelry
Lighting
Marine
Medical
Military
Mining
OEM
Retail
Security
Telecommunications
Textile
Transportation

Types of Components

Covers
Brackets
Enclosures
Boxes
Housings
Chassis
Panels
Bezels
Frames
Bases
Stands
Guards

Baskets
Hoppers
Assemblies
Flanges
Pans
Carts
Racks
Trays
Supports
Spacers
Shields
Buss Bars

Industry Standards

AS9100 Revision C Certified (#12912)
Conflict Materials Compliant
DFAR Compliant
ISO 9001:2008 Certified (#12912)

ITAR Registered (M23878)
Reach Compliant
RoHs Compliant
SVHC Compliant

File Formats

Autodesk Inventor (Preferred)
Any .STP File
CADKEY
CATIA
NX (Unigraphics)

Parasolid
Pro/E
Solid Edge
SolidWorks (Preferred)
What Is Sheet Metal Fabrication?
Sheet metal fabrication is the process of forming a piece of metal into a desired shape through bending, stretching, and removal of material. At Elimold, we use press brake punches and die tooling to bend and stretch flat stock into its final geometry. The sheet metal prototyping process is most often used when form, fit, and function are all a priority. Engineers often choose sheet metal parts for their high precision and durability, especially for end-use applications like chassis, enclosures, and brackets.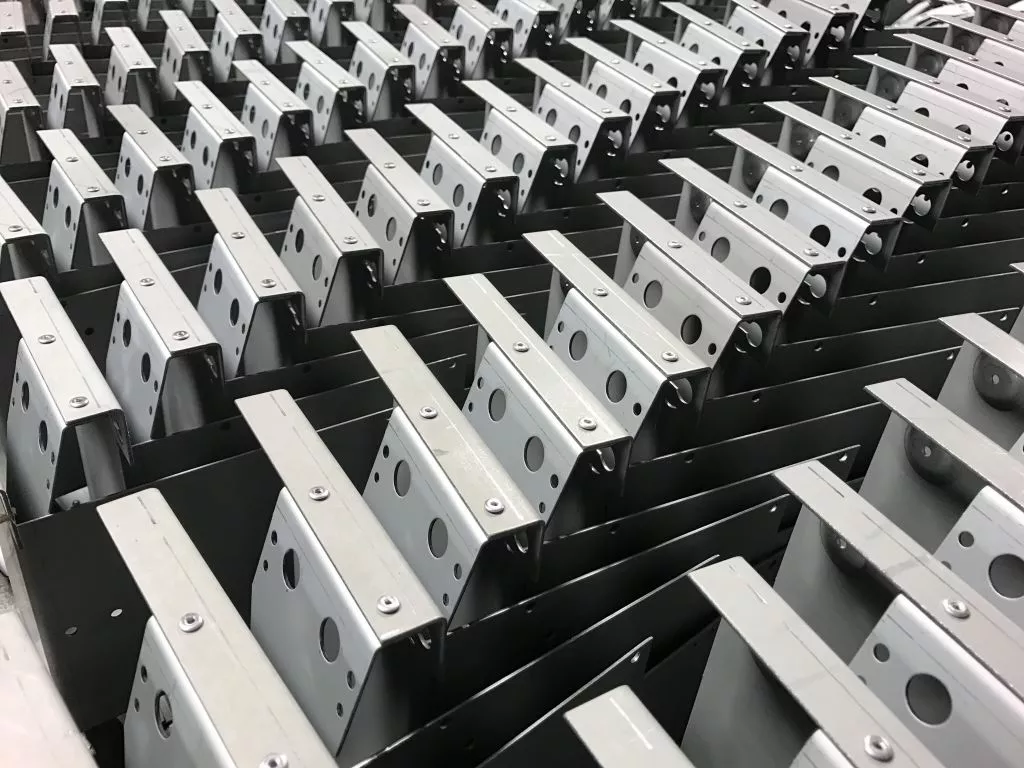 Why use sheet metal fabrication?
Sheet metal fabrication provides a solution that lasts longer than other products with similar uses. For example, you may get a similar shape and function using casting. However, a cast doesn't have the same durability and longevity you get with metal.
When you need precision, sheet metal fabrication allows you to cut, bend, and shape the metal the way you need it. Metal gives you a material that not only conforms to its new shape but holds it indefinitely.
In industries that need materials to survive impacts or harsh conditions, metal far outstrips plastics of any kind when it comes to strength. Fabricating sheet metal is also a faster and more cost-effective alternative to other methods of creating similar products.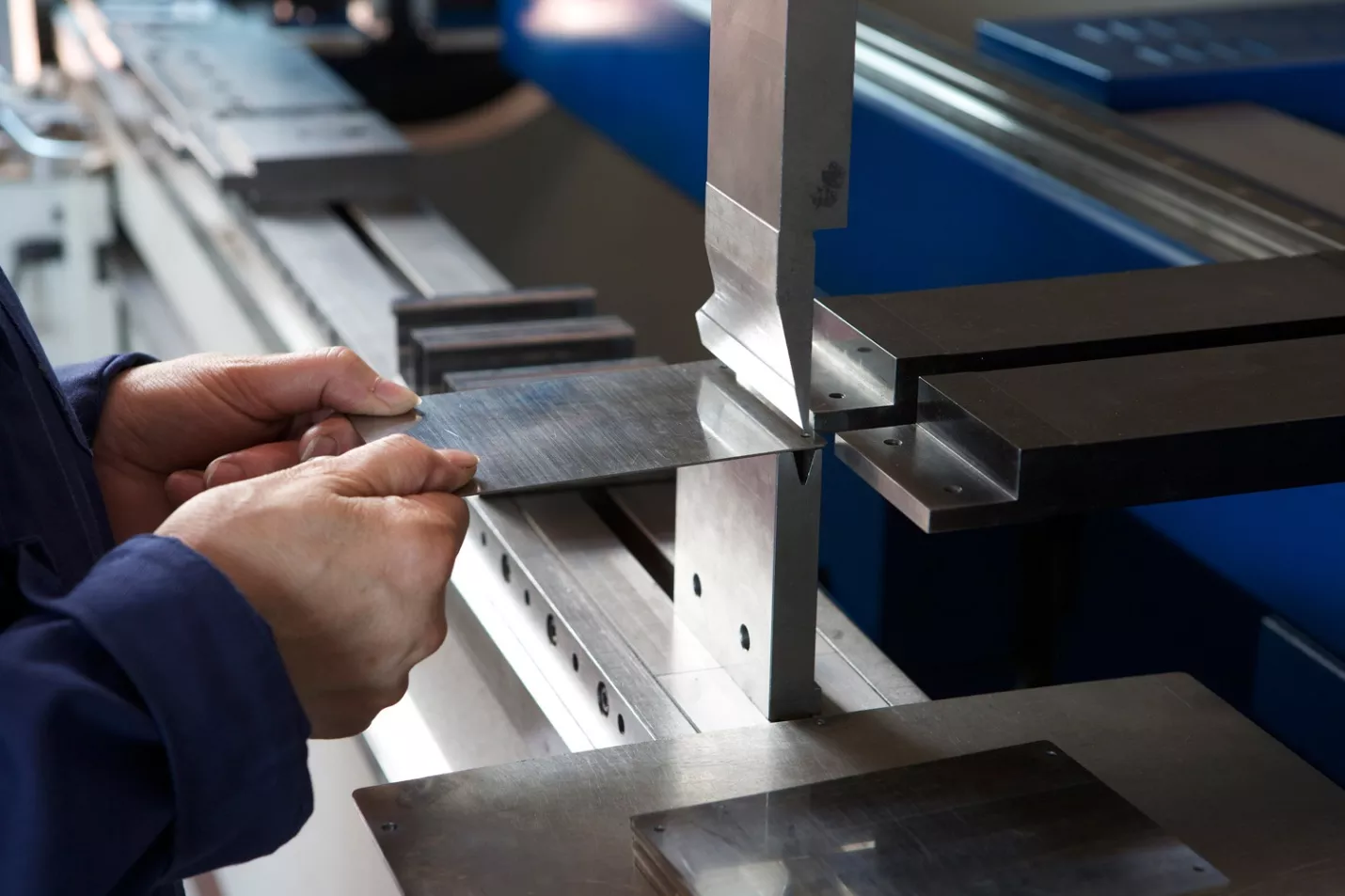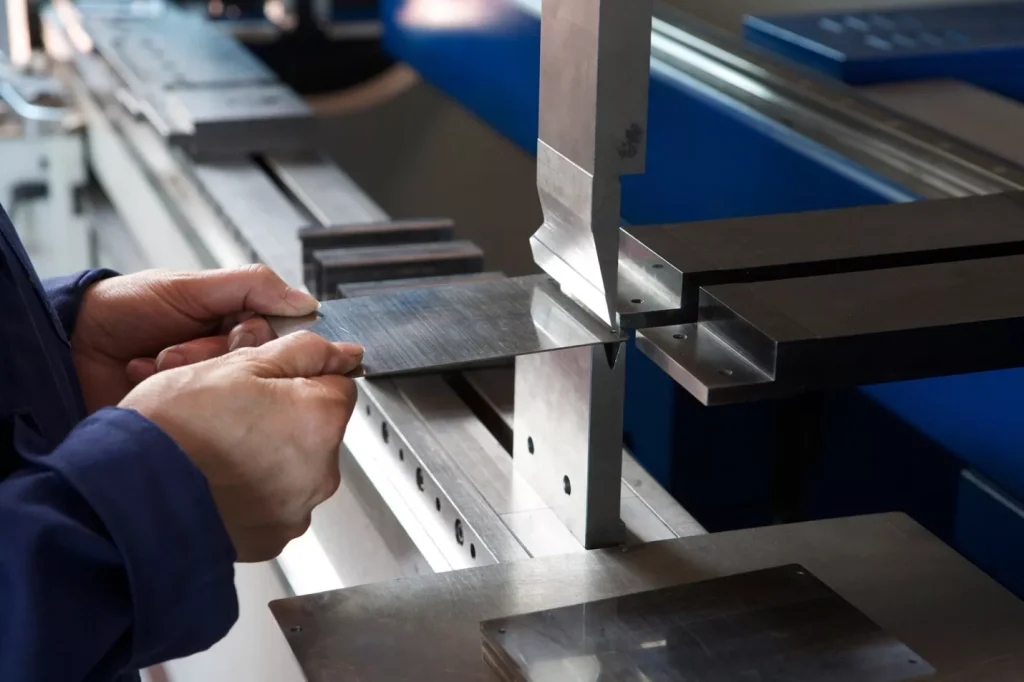 Talk to us about custom sheet metal fabrication services
We offer custom sheet metal fabrication services for applications in any industry. When you choose Elimold, you get high-quality sheet metal, and a job completed to your expectations.
Contact us today to learn more about our metal fabrication services and how we can help you with your production requirements.