Online custom laser cutting service, Get parts, Fast.for startups & enterprises.
Laser cutters produce metal parts from sheet material using a laser beam to vaporize sections of the workpiece.using 450+ metals, plastics, composites, rubbers, foams. Wide range of finishes and thicknesses available.
Elimold offers a cost-effective cutting solution whether you need a single part, batch of prototypes, or a production order.
No minimum quantities

Parts starting at < $1 ($29 minimum order)

2-4 day production on standard orders

Free design feedback & instant quotes
Precision Metal Parts – Made Simple and Easy
Elimold is a leading provider of precision laser cutting services for a wide range of industries and applications.We specialize in component part manufacturing and are the largest provider of laser cutting services in China. Our full range of Trumpf laser equipment gives us the ability to provide flat, tube and structural laser cutting for our customers. We can also handle requests for thicker material cutting thanks to our in-house waterjet is available.
With our lasers, we can perform precision cutting work on a variety of materials – not just metals. We can create custom-cut products from acrylics, Formica, rubber and polyurethane as well. Whatever you need, our team of laser cutting experts can help make it reality with the help of our powerful cutting equipment.
In addition to our cutting services, we also offer a range of value-added services, such as powder coating and assemblage. Our goal is to provide our clients with everything they need to succeed, and our team is ready to assist you at every step of the way.
Our company's reputation for excellence has been built in our ability to provide our valued customers with the most effective manufacturing solutions to meet their most demanding applications. Elimold is committed to consistently providing high-quality precision laser cut gaskets and sealing products to meet all of your blueprint and tolerance specifications.Contact us today to learn more about our metal laser cutting services.
Our laser cutting capabilities
To ensure that we can provide laser-cut parts to the highest degree of quality, we provide different laser-cutting technologies, including CO2 and fiber, and each technology is specially matched to different materials to provide consistent results.
Regardless of the material, quantity, or size, all parts have a dimensional accuracy of ±0.13mm, a minimum feature size of 1x1mm, and a minimum laser kerf of 0mm. The maximum material thickness that our laser cutting stations can handle is 25.4mm (before the laser kerf becomes too large), the maximum dimension for parts made from any sheet material is 3000mm x 1500mm.
Our CO2 laser cutting capabilities
| | | | |
| --- | --- | --- | --- |
| Min lead time Same day | Max laser power 120W | Dimensional accuracy ±0.13mm | Laser kerf 0 – 0.2mm |
| Material thickness 0.1 – 19.1mm | Max part size 3000 x 1500 x 12.7mm | Min part size 6 x 6 x 0.1mm | Min feature size 1 x 1mm |
| Part quantity 1 – 100,000 | Guaranteed tolerances Get custom quote | | |
Our fiber laser cutting capabilities
| | | | |
| --- | --- | --- | --- |
| Min lead time Same day | Max laser power 3kW | Dimensional accuracy ±0.13mm | Laser kerf 0 – 0.1mm |
| Material thickness 0.4 – 25.4mm | Max part size 3000 x 1500 x 25.4mm | Min part size 15 x 15 x 0.4mm | Min feature size 1x material thickness (min 1mm) |
| Part quantity 1 – 100,000 | Guaranteed tolerances Get custom quote | Sheet metal fabrication service See our capabilities here | |
On-demand Laser Cutting Service
Are you looking for manufacturers using a laser cutting process? Elimold provides you the best online Laser Cutting Service for your project. Upload your vector file, choose the material, instantly receive a quote, and let us handle the manufacturing in our ISO 9001 certified factory.Start using Laser Cutting today by uploading a vector file.
Laser Type
CO2 gas & Fiber Laser
Laser Configuration
Flying Optics
Cutting Axis
3, 5 Axis
Maximum Cutting Thickness
Aluminum: 1/2″ max Stainless Steel: 3/4″ max Mild Steel: 1″ max
Maximum Cutting Length
10 ft
Maximum Cutting Width
5 ft
Minimum Kerf
0.008″
Maximum Output Power
5000W
Tolerance
0.005″
Volume
Large or small quantities Prototyping available
Delivery/Lead Time
Quick Turn around and short lead times
Equipment List

Trumpf 3030 – 4000 watt CO2 Laser
Trumpf 3030 – 5000 watt CO2 Laser
Trumpf 2030 – 4000 watt Fiber Laser
Other Brand Machine

Automation

Automatic Pallet
Changer Fully programmable focus
Vacuum lift

Drawing Types Accepted

.dxf files preferred (all CAD accepted)
SolidWorks Files
Drawings
Blueprints
Sample pieces

Finishing

Forming
Powder Coating
Etching

Secondary Services

Swaging / Flaring
Coping
Beading
Drilling
Flattening
Flaring
Machining
Milling
Notching
Piercing
Punching
Slotting
Swaging
Threading
PEM, Rivnut and Weldnut attachments
Flow Drilling and tapping

Production Focus

Contract Manufacturing
Fabrication
OEM Private Label products

Industry Focus
At Elimold, we take on all jobs that fit our capabilities, for any industry. Below are examples of industries we have served in the past. We have created true turnkey components, weldments and assemblies for, but not limited to the following industries: Agricultural, Alternative Energy, Appliance, Architectural, Automotive, Computers, Construction, Defense, Distribution, Electronic, Entertainment, Fabrication, Furniture, Hardware, Health and Fitness, Heating and AC, Heavy Equipment, Lawn and Garden, Material Handling, nuclear, Petroleum and Mining, Race Car & Stock Car, Refrigeration, Retail & Display, Solar Energy, Wind Energy
Quality Process and Certifications

ISO 9001:2015
AWS D1.1, D1.2 & D1.3 Welding
CWI (Certified Welding Inspector)
Statistical Process Control (SPC)
Just In Time (JIT) Compliant Delivery
Member AWS, AME, SAE, FMA
Tighter tolerances available upon request
| | | |
| --- | --- | --- |
| Material Thickness | Cut Tolerance | Minimum Hole Size |
| 0.001″ – 0.105″ | +/- 0.003″ | 0.025″ – 0.060″ |
| 0.120″ – 0.134″ | +/- 0.003″ | 0.060″ |
| 0.179″ – 0.250″ | +/- 0.005″ | 0.100″ – 0.150″ |
| 0.312″ – 0375″ | +/- 0.005″ | 0.250″ – 0.280″ |
| 0.500″ | +/- 0.010″ | 0.400″ |
| 0.750″ | +/- 0.015″ | 0.600″ |
| 1.000″ | +/- 0.020″ | 0.750″ |
Metal
Plastics
 Composites
2024 T3 Aluminum One of the strongest materials we carry.
5052 H32 Aluminum Inexpensive, lightweight, & versatile material.
Grade 5 Titanium Ultra-high strength-to-weight ratio.
ABS The perfect material for prototypes & instrument panels.
ACM Panel Lightweight material for panels & simple parts.
7075 T6 Aluminum Extra strong. Perfect for aerospace panels..
AR400 Abrasion resistant & incredibly durable.
6061 T6 Aluminum Perfect for aerospace & automotive applications.
HDPE Easily moldable material used in medical & nautical applications.
Carbon Fiber Lightweight, incredibly strong. Double-sided matte finish.
1075 Blue Temper Spring Steel The choice for springs & clamps.
Brass Attractive metal for use in decorative projects.
AR500 Harder and more impact-resistant than AR400.
Acrylic Great for a wide variety of projects. Inexpensive & versatile.
G10/FR-4 The go-to material for your electronic parts & marine applications.
Copper Perfect for electric components & architectural elements.
G30 Galvanized Steel Perfect choice for long-term protection & durability.
4130 Chromoly A perfect choice for applications that demand high strength.
Polycarbonate An incredibly versatile clear material used in robotics projects.
LE Phenolic Use this for countertops, terminal bases, & propeller blades.
304 Stainless Steel Our favorite metal for durable and decorative parts.
316 Stainless Steel Greater resistance to the elements than 304 stainless
Mild Steel One of our most popular & inexpensive materials.
Delrin Abrasion-resistant plastic for gears & robotics projects.
Cork (Gasket Grade) A 10/20 sheet cork made for gasket & seal uses.
Grade 2 Titanium Super strong with added corrosion resistance.
UHMW Abrasion, impact, & chemical resistant.
What are the Benefits of Laser Cutting?
Laser sheet metal cutting is the first step in the sheet metal fabrication process that involves high-powered CNC laser cutting a variety of materials for many different types of applications in several industries.
Laser cutting is more precise and less energy-consuming than plasma cutting, but it has an upper threshold on the thickness of the material being cut.
Laser cutting is one of the most precise forms of sheet metal processing, easily being able to create complex shapes of any size and shape.
Laser cutting can eliminate the need for machining, enabling clients to save money.
Lasers do not require contact with the metals they are manipulating, which helps to minimize wear and tear on the parts.
Laser cutting is used in combination with sheet metal bending and forming. in the metal fabrication process.
At Elimold, we provide high-quality CNC laser cutting services on a wide range of material for most industries.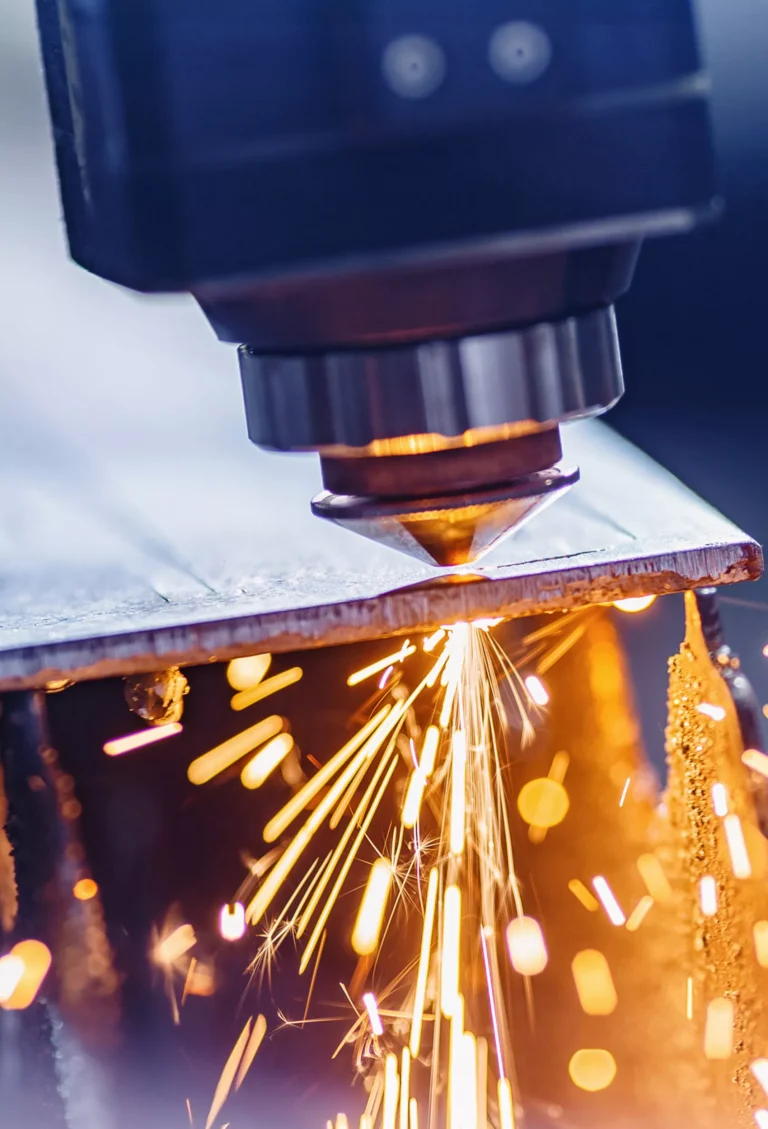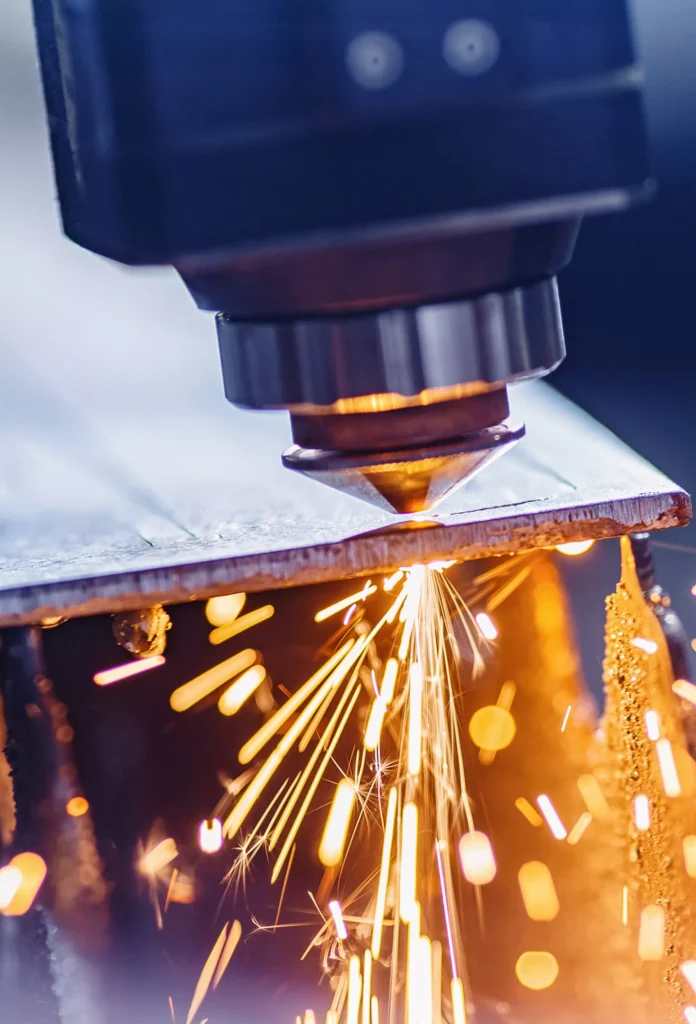 Elimold Laser Cutting Services Type
At elimold, we create the highest quality signage with our custom-cutting services; you can quickly create intricate designs that are too complex to create by hand. You can cut smooth curves and even engrave text or logos onto your Designs.
Precision Cutting Services
Laser cutting is particularly effective in many areas where rapid production is essential. It's easy to cut accurately in many materials where traditional manufacturing methods are inefficient. Limits and constraints imposed by traditional manufacturing processes are removed through Laser Cutting, which allows freedom of design and quantities.
Expedited Cutting Services
Eimold has invested in an on-demand Cutting Service capable of cutting perfect cuts or engraves for your design! Let elimold be your source for Laser Cutting solutions, no matter your project. Our team is here for your project needs. We will update you throughout the process, offering highly sought-after solutions for every one of our clients.
Tube laser cutting allows your laser cutting design to be machined from one continuous tube. With our proprietary tube laser cutting service, whatever cut your product needs can be made directly from any pipe or tubing. This simplifies the cutting process and saves you time and materials, ultimately reducing overall cost.
Sheet Metal Laser Cutting
Although a sheet metal laser cutting machine is typically unable to cut through metals of great thickness, they are more precise and energy-efficient when compared to plasma cutting. Our specially developed sheet metal laser cutting service is available for cutting brass, aluminum, stainless steel, and copper.
If your laser cutting design requires extra precision, you may use a CNC laser cutting machine to fabricate the product you envision. CNC laser cutting machines are computer-controlled, ensuring your cuts have the highest quality and focus.
Laser-Cut Steel and Laser-Cut Aluminum
Let Elimold turn your 3D model designs into a finished product of laser-cut aluminum, laser-cut steel, or fabrication from any other materials. With a high-powered laser cutting machine, we will add a new level of professionalism to your products with custom cuts.
The construction industry has begun moving toward laser cutting technology over more traditional processes, as these machines can increase productivity. A switch to laser cutting can also save effort and lower costs during your prototyping phase by giving you a cleaner, more efficiently fabricated part.
Many parts in the automotive industry are manufactured using sheet metal laser cutting techniques. Bumpers, hoods, roofs, fenders, doors, seating frames, and many other modern vehicles rely on laser cutting services.
Putting vehicles through their paces during pre-production testing has never been easier than with cost-effective laser-cut parts. Any modifications to design can quickly be dialed in on the laser cutting machine. This ability to make accurate off-the-cuff changes helps when creating batches of a specific part with multiple trim variations.
Aircraft, much like automobiles, require a high degree of precision when fabricating parts for their industrial use. Intricate and complex components of aircraft are easily created with laser cutting equipment. The powerful lasers are equipped to perfectly cut strong metals and alloys used in flight equipment.
Laser Cutting in the Energy Industry
Sheet metal and tubular components for solar, wind, oil, and gas applications can be laser cut for use in the energy industry. Laser cutting services make parts for the energy industry equipment repair quick and simple. Fast repairs might mean all the difference in efficiencies within such a vital field.
Other Industrial Uses of Laser Cutting Technology
Parts crafted by laser cutting machines can be found in a variety of sectors all over the world. In addition to the automotive, aerospace, and energy industries, products fabricated by laser cutting methods can also be found in the agricultural, fitness, industrial, and appliance industries.
Farm, forestry, and lawn care equipment rely on laser-cut fabrications.
These manufactured parts can also be found in treadmills, stationary bikes, and other exercise equipment. Along with these functional and practical uses, laser-cut materials are also used in architecture and décor.
Looking for custom cut metal, plastic, or foam parts for your project?
Elimold provides services to customers in both the prototype and production phase. Although our average order ranges from 50 to 1,000 parts, we're also capable of mass manufacturing an order without setting limitations on part quantities. By consistently meeting and exceeding our customer's expectations in terms of value, quality, turnaround and service, Elimold maximizes customer profits and overall success. Having satisfied our customers' needs, we are confident that we can satisfy yours too. Let our experienced and skilled team of individuals work with you to find a better, higher quality, lower cost solution to your pre-production and specialty laser cutting production needs.