Machining the Impossible - Wire EDM Services
Working with Elimold can help you overcome production set backs by providing support, quality, and timely delivery of CNC machined parts. Our dependable performance and quality are top notch. We have a 99.7% on time delivery record to prove it. Avoid the pricey commission fees from middlemen and hire us for all your precision CNC machining & parts needs.
As an industry leader in machining, turning, and milling services, our team knows what our clients require for long-term and sustainable success. We can choose the best machining service to meet your production targets on time and within budget.
EDM Machining tolerances held to .0002"
EDM hole drilling as small as .010"
Superior ultra fine surface finishes
EDM High Speed Drilling (EDM Hole Popping)
30º Tapers Up to 15" inch thick
EDM Cuts up to 24" inch thick
EDM Capacities to 24" thick and 2000 lbs
Providing Outstanding Wire EDM Discharge Machining & Services for Over 10 Years
At Elimold we started using wire EDM technology in the early 2010 to make the tooling and dies for our other manufacturing processes. Several years later, we expanded our EDM department to include full production capabilities for customer projects.
Today, we utilize a fleet of state-of-the-art Mitsubishi wire EDM machines to produce tooling and dies and custom two-dimensional metal parts and components for our customers. We continuously upgrade our wire EDM technology to ensure that we have the most advanced capabilities available.
Most of our EDM systems are used for customer part production, with a small number dedicated to tool and die making. However, we can scale our production capabilities as needed, and transition some or all our tool and die EDM processes to part production to deliver high-volume part orders as quickly and efficiently as possible. This flexibility is advantageous for us and for our customers.
We specialize in cutting microkeratome Lasik blades for medical use in very high quantities. Each of the Lasik blades goes through an on-site, 100% optical inspection using our OGP Smartscope, as well as an ultrasonic cleaning process. Elimold's EDM services have been applied in medical, aerospace, defense, laser technology, electronics, jewelry, athletic industry applications, and many more. Whether your project utilizes wire EDM or sinker EDM machines, we can guarantee tight tolerances for the smallest to the largest of parts, in any quantity from one to the millions. No industry or application is out of our range, and no project is too big or too small. As a full-service EDM job shop, Elimold can do it all!
There are three types of EDM cutting processes. These include:
Die sinking EDM – The die sinking EDM process is the conventional electric discharge machining process. Die sinking EDM uses a die to create complex features. Die sinking EDM involves the use of a die, which is an electrode made out of copper or graphite and is used to shape the metal. An electric current is passed through the die to erode the metal away in a controlled manner. The die is then gradually moved in order to create the desired shape while the material excess is flushed away in the dielectric fluid. This process is particularly useful for machining complex shapes that are difficult to create using conventional machining techniques and other EDM methods.
Wire cut EDM – Something like a wire cutting through cheese, the wire EDM machining process relies on a thin wire that cuts through metal via spark erosion. Wire EDM works by using a thin wire to create sparks between the wire and the material being cut. The sparks erode the material and create a precise cut. This process can be used to cut complex shapes and intricate patterns. In many cases wire EDM is faster and more accurate than traditional machining methods, making it cost-effective for certain shapes. When two axis of motion are involved it results in parts with vertical edges and two-dimensional shapes. EDM wire cutting machines are capable of creating complex shapes with incredibly tight tolerances. Materials that can be cut by wire EDM include all conductive metals such as titanium, steel, aluminum, and brass.
Hole drilling EDM – Hole drilling EDM is a machining process that uses electrical discharges to create holes in metals. The process is similar to conventional drilling, but instead of using a drill bit, an electrode is used to create sparks between the workpiece and electrode. The spark discharges melt or vaporize tiny amounts of the workpiece, which can then be further machined to the required size and shape. Hole drilling EDM is an extremely accurate and precise method of machining and can be used to create holes in very hard materials. Hole drilling EDM can create small and deep cavities in materials.
Compared to other precision metal cutting processes, wire EDM has many advantages:
No custom tooling required – delivery times are short
No cutting forces present – virtually no burrs generated
Workpiece material hardness does not affect cutting speed
Improved surface finishes – no additional finishing or polishing needed
Tools & metal parts are machined after heat treatment – dimensional accuracy is maintained
Highly repeatable with no deformation
Ability to stack, string & nest multiple parts
Ideal for delicate & complex parts
Tight tolerances & precise fits
Small corners & radii
Narrow slots & thin walls
Wire EDM cutting is ideal when the workpiece material doesn't lend itself to conventional CNC machining, for example hardened tool steels and exotic materials.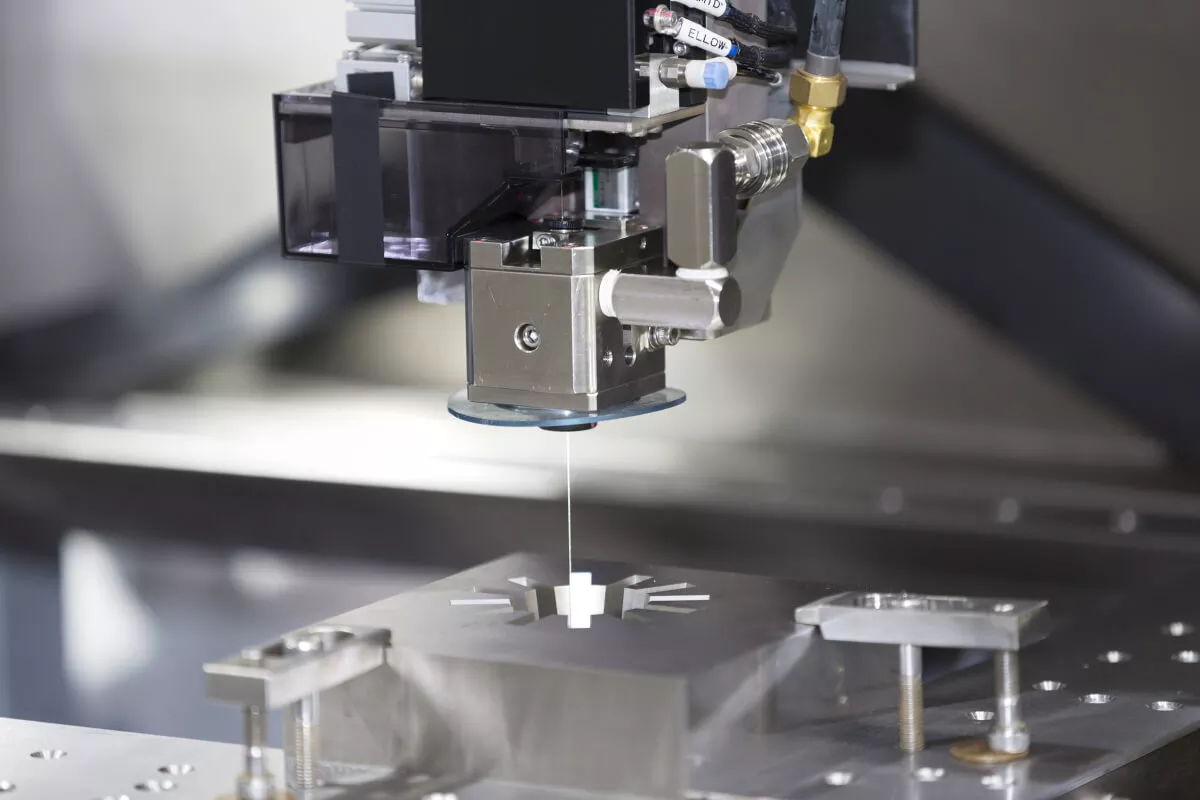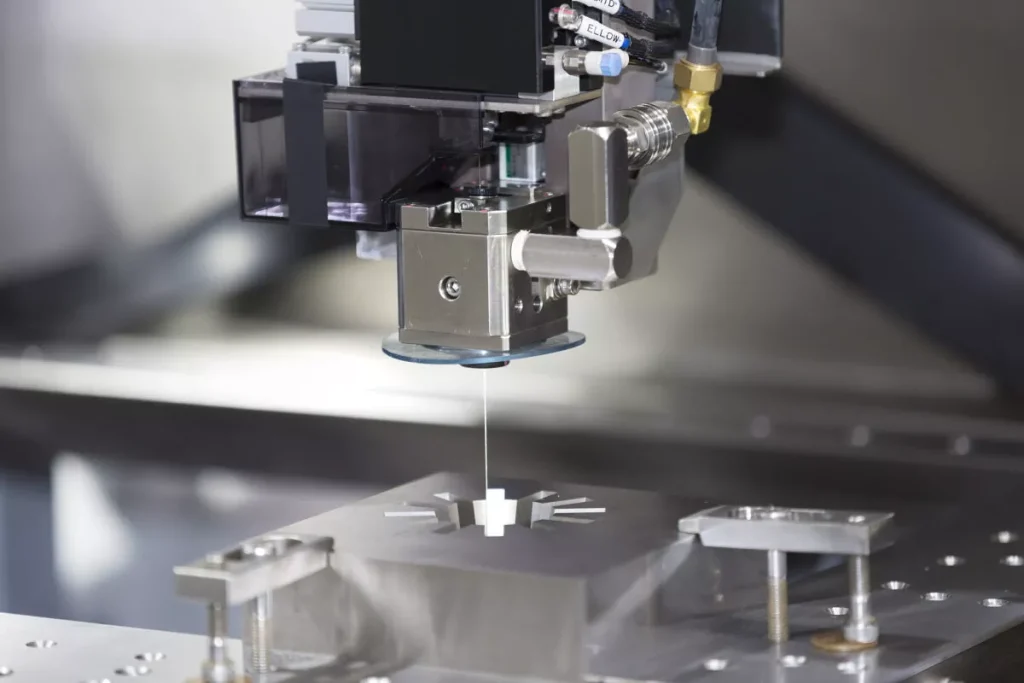 Elimold Possesses broad edm machining capabilities
Elimold has been providing reliable and affordable machining and milling solutions since 2010. As one of the top wire EDM machining companies in the China, we have the in-house capabilities to execute a wide range of EDM machining projects. We are an ISO- and AS-certified small business that is a full-service machining solutions provider. We can produce a customized precision EDM part that will exceed your quality and performance expectations.
Our ongoing investment in technology, manpower and equipment enables us to remain at the forefront of machining innovation and continue to deliver exceptional value to every customer, whether it's a large company with hundreds of employees or a ten-person shop that needs a cost-effective solution for smaller machining jobs. We are able to provide specialized machining services that are beyond the scope of many of our competitors, enabling our customers to remain viable in today's challenging global marketplace.
Contact Us to Learn More About Our EDM Machining Services
Discover why so many companies in aerospace, electronics, telecommunications and general manufacturing turn to Elimold for all their machining needs. Contact us to for more information about our wire EDM machining services and to receive a no-obligation project quote today.
Electrical Discharge Machining Processe
 
Cutting Axis
4 Axis
 
Fixturing
In-House Fixturing & Tooling
 
Part Length
Up to 13.5″
 
Part Width
Up to 19.5″
 
Part Height
Up to 10.5″
 
Hole Diameter (Hole Popper)
0.003″ to 0.12″
 
EDM Wire Diameter
0.008″ to 0.0012″
 
Maximum Taper
17° for 4″ Thick Material
 
Tolerances
±0.0002″
 
Materials

Aluminum (All Alloys)
Beryllium Copper
Brass
Bronze
Copper Nickel
Copper
Nickel Alloys

Nickel Silver
Phosphorous Bronze
Spring Steel
Stainless Steel (2B, #3 & #8)
Steel (CRS, HRPO & HRS)
Titanium
Tool Steel

Testing & Inspection Equipment

CMM Equipment
Hardness Testers
Laser Scanners

Master Gauge Blocks
Optical Comparators
Pull Testers

Finishing Services

Deburring
Glass Bead Blasting
Graining (Brushed Finish)

Polishing
Sand Blasting
Vibratory Tumbling

Plating Services

Anodizing
Bright Dip
Standard (Multiple Colors)
Hard Coat
Barrel Plating
Black Chrome
Black Oxide
Bright Nickel
Brush Nickel
Cadmium
Chromate (Clear or Yellow)(Also known as Iridite or Chem Film)
Chrome
Copper
Etching

Electroless Nickel
Electropolish
Gold
Hard Chrome
Passivation (Nitric of Citric)
Phosphate Pretreat)
Rhodium
Silver
Tin
Zinc (Clear, Yellow or Black)
Hexavalent
Trivalent (RoHs Compliant)
Zinc Cobalt
Plating Certified to AS9100, ISO, ITAR & NADCAP

Coating Services

Dielectric Paint
E-coating
Powder Coating

Additional Services

Assembly
Centerless Grinding
Engraving
Heat Treating
Ink Fill

Kitting
OD Grinding
Silk Screening

Inventory Management Services

Consignment Programs
Custom Stocking Programs
Customer Portal Management
JIT Shipping

Kanban
Min-Max
Vendor Managed Inventory

Production Volume

Blanket Orders Accepted
High Volume
Low Volume

Prototypes
Small Quantities Typical

Lead Times Available

1-2 Week Expedited Service Available
2-4 Weeks Typical

Specific Lead Time Quoted on a Job by Job Basis
Industry Focus

Aerospace
Automotive
Computers
Construction
Defense
Electronics
Energy
Entertainment
Environmental
Firearms
Furniture
Hospitality
Jewelry

Lighting
Marine
Medical
Military
Mining
OEM
Other
Retail
Security
Telecommunications
Textile
Transportation

Industry Standards

AS9100 Revision C Certified (#12912)
Conflict Materials Compliant
DFAR Compliant
ISO 9001:2008 Certified (#12912)

ITAR Registered (M23878)
Reach Compliant
RoHs Compliant
SVHC Compliant

File Formats

Autodesk Inventor (Preferred)
Any .STP File
CADKEY
CATIA
NX (Unigraphics)

Parasolid
Pro/E
Solid Edge
SolidWorks (Preferred)
Medical EDM Parts Manufacturing
Medical technology is advancing by leaps and bounds, requiring the CNC industry to advance right alongside it. Manufacturers producing medical devices, implants, and surgical components of micron sizes or with intricate details choose wire EDM to get the job done right. Capable of cutting a multitude of materials – including titanium, stainless steel, copper, aluminum, Inconel, Kovar, carbide and more – wire EDM is preferred over other machining techniques for its ability to quickly produce medical components with repeatable accuracy and measurable results. If you're looking for a machine shop offering wire EDM, before wasting money and time, make sure they can actually meet your needs. The proper equipment is important but qualified, experienced CNC programmers and engineers are a must when working on delicate medical products.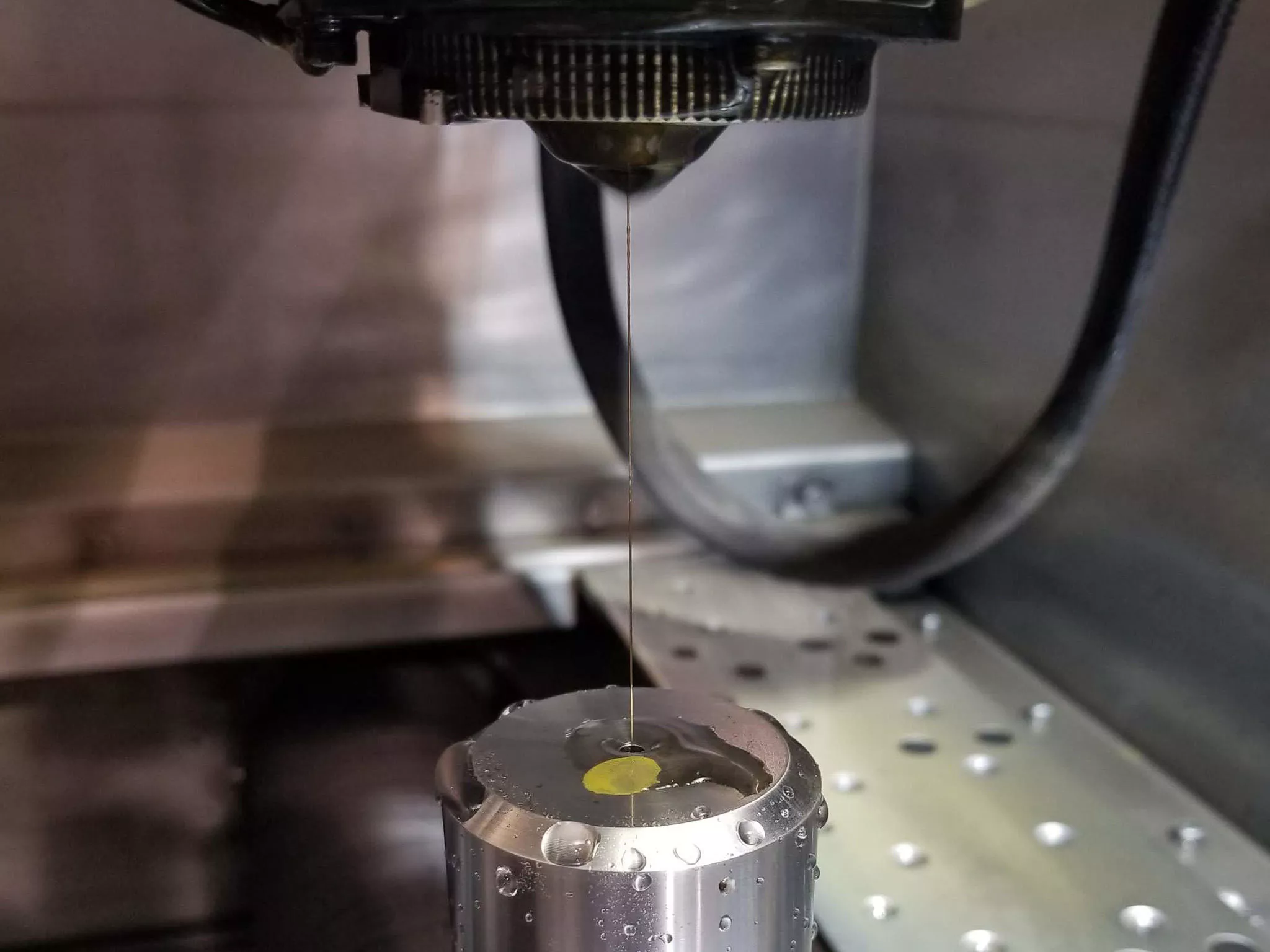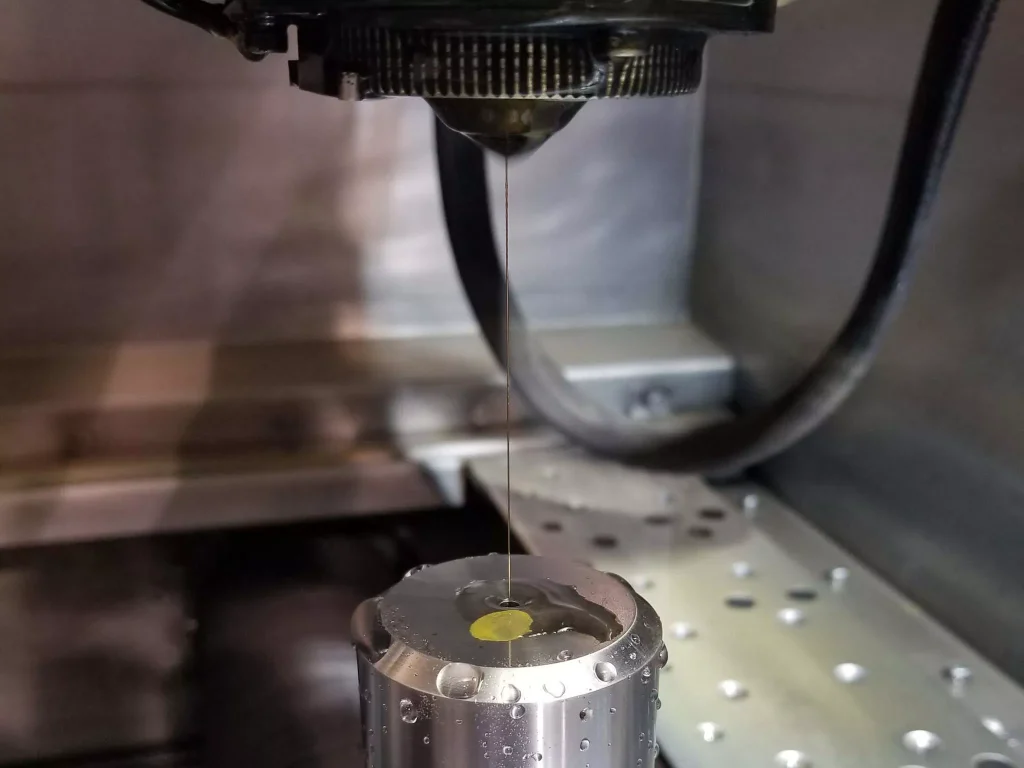 Components We've Built Using Wire EDM
| | | | | |
| --- | --- | --- | --- | --- |
| Part | Application | Industry | Material | Specific Feature |
| Spray Nozzle | Urethane Application | Automotive | AISI 316 Stainless Steel | Locating Spray Slot within 0.0005″ |
| Inner Diaphragm | Hydraulic Flow | Energy Research | 6Al-4v Grade 5 Titanium | 4″ Diameter Cylinder with 0.008″ Thick Wall |
| Actuator, Arm | Night Vision Goggles | Military | 17-4PH Stainless Steel Cond A | 20 Tooth Ratchet Profile |
| Torsion Spring Pin Retainer | Retention Cap | Oil & Gas | 13CR-L80 NACE MR0175 | EDM Wire Curved Profile |
| Hex Stop | Shaft Control Component | Oil & Gas | 4330 V MOD Steel | Matched Sets of Hexagon Rings |
| Aperture Plate | Laser Alignment | Energy | Tungsten Nickel Alloy | 250 Micron Thru Holes |
| Flexure | Electronic Control | Research and Development | AISI 303 Stainless Steel | EDM Wire 0.015″ Wide Slot |
| Spreader Tweaker | Pick and Place Device | Circuit Board Manufacturing | M2 Tool Steel | Fine Wire EDM Cut |
| Plenum Base | Fuel Flow | Military | 6LA-4v Titanium per AMS 4928 | Machine 0.010″ Thick Tube Wall |
| Bottom Clamp | Microwave Reader | Research and Development | Glidcop AL-15 | 000-120 Threaded Holes |
Our Wire EDM Services as a Perfect Solution for Your Challenging Parts
What makes DEK the leading wire EDM services provider is the quality control, top-grade material selection, and precision machining to achieve tighter tolerances of your parts to maintain exceptional quality and performance. Our primary focus is to surpass your expectations and give you exactly what you desire. DEK's wire EDM services are cost-efficient and feature prices that are unbeatable in the whole market.
Contact us to learn more about wire-cut EDM services and request a quote today at the best price.