Waterjet Cutting Services
Our custom water-cutting service offers a cost-effective, on-demand solution for your manufacturing needs. Elimold's sheet-cutting and metal-cutting services range from low-volume prototypes to high-volume production runs. Elimold also offers a laser cutting service and a plasma cutting service.
Superior Waterjet Cutting Quality
Waterjet cutting is one of the Elimold CNC cutting processes. CNC waterjet cutting uses extremely high-pressure water, with sand or a cutting medium, to cut through varying thicknesses of materials for prototypes, one-offs, and industrial applications with a computer-controlled gantry system. Waterjet cutting is more precise when compared to CNC plasma cutting and does not have a heat-affected zone (HAZ) near the cutting edge, like plasma or laser cutting.
elimold offers waterjet cutting services that can cut materials such as low-carbon steel, stainless steel, aluminum, brass, UHMW, Polycarbonate, and ABS. Please see our CNC laser cutting services for orders with large quantities of production runs.
Get instant waterjet cutting quotes from verified local and global manufacturing partners by securely sending your CAD, DXF, or DWG files to our Get Quote.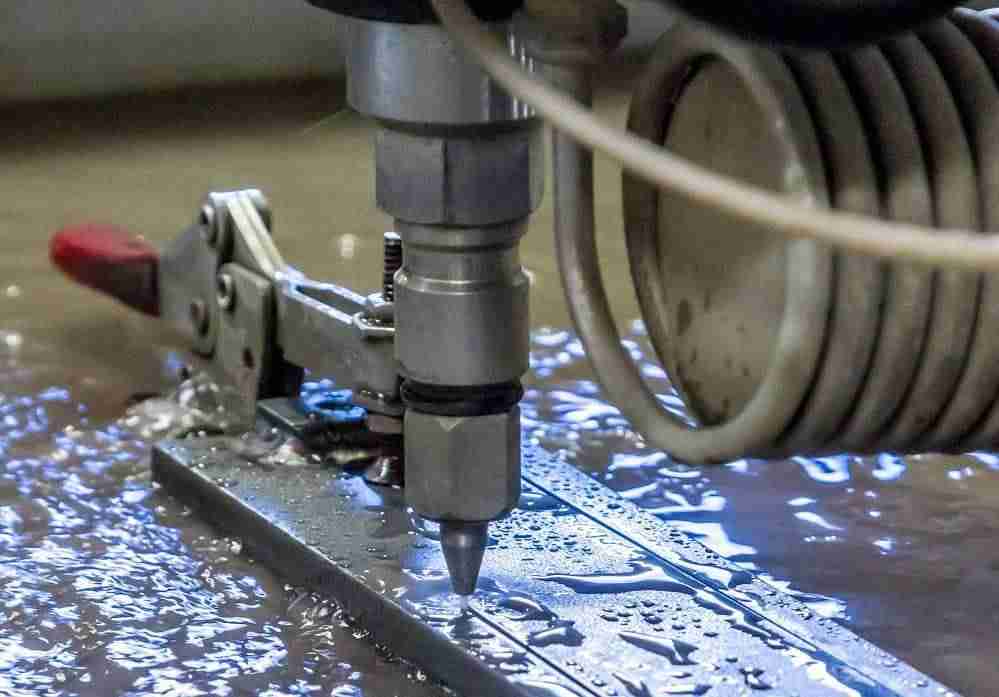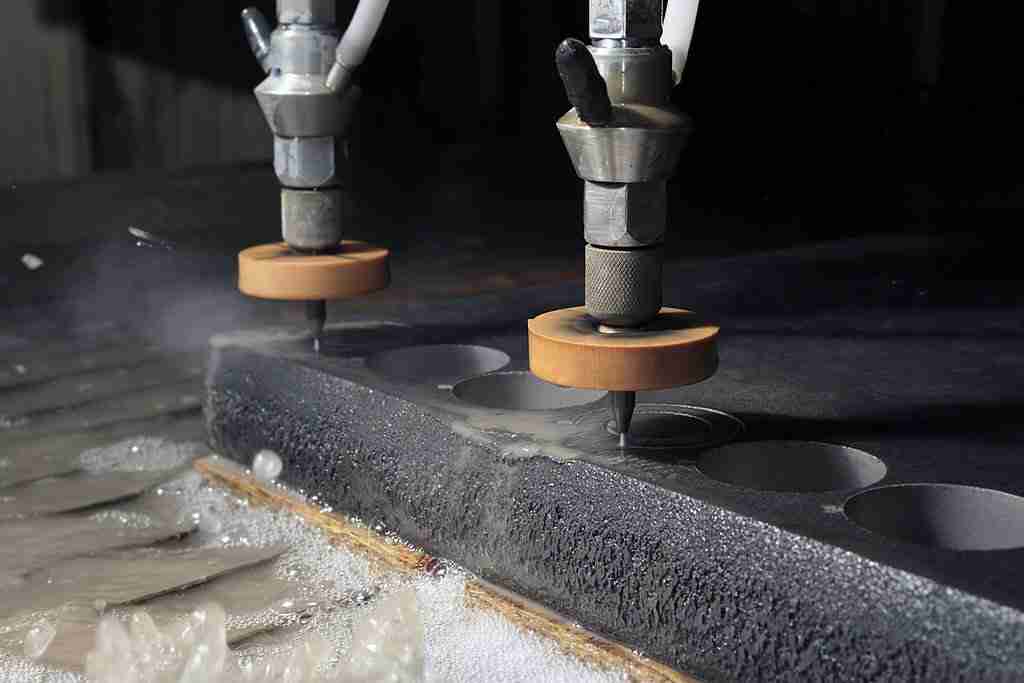 OUR WATERJET IS ABLE TO CUT 6" THICK STEEL
OUR ROUTER HAS A 16" CUT HEIGHT
Waterjet Cutting Service
Waterjets quickly cut metal and plastic parts from sheet materials using a high-pressure stream of water and abrasive.
elimold offers a cost-effective waterjet cutting solution whether you need a single part, a batch of prototypes, or a production order.
50+ Materials.
100% Quality Guaranteed.
Get Free Quote
Waterjet machines use high-pressure streams of water to erode a thin line in a material used as stock for a custom-cut part.
To cut a wider range of materials, an abrasive (usually garnet) is added to the stream to increase cutting power. Because the abrasive is added to the nozzle, switching between water-only and abrasive waterjet cutting is easy. Also, because waterjets are computer-controlled, manufacturing teams can transition quickly from cutting foam to metal to a highly engineered material and back with minimal setup. This flexibility greatly enhances the versatility of a waterjet machine as a material conversion tool.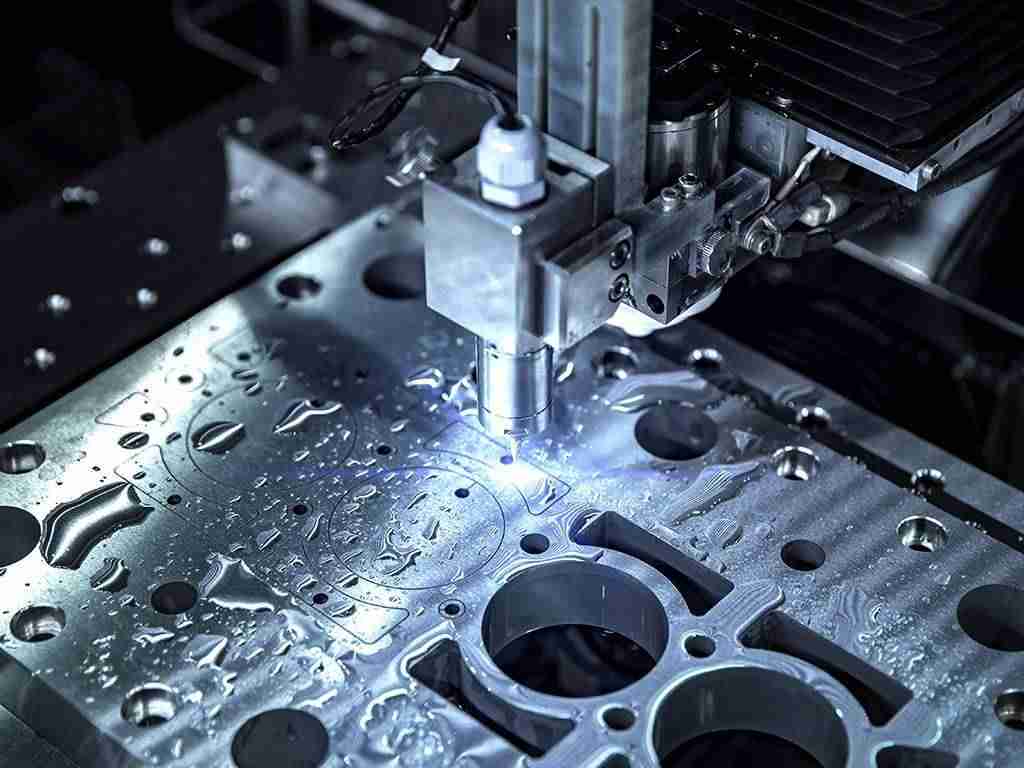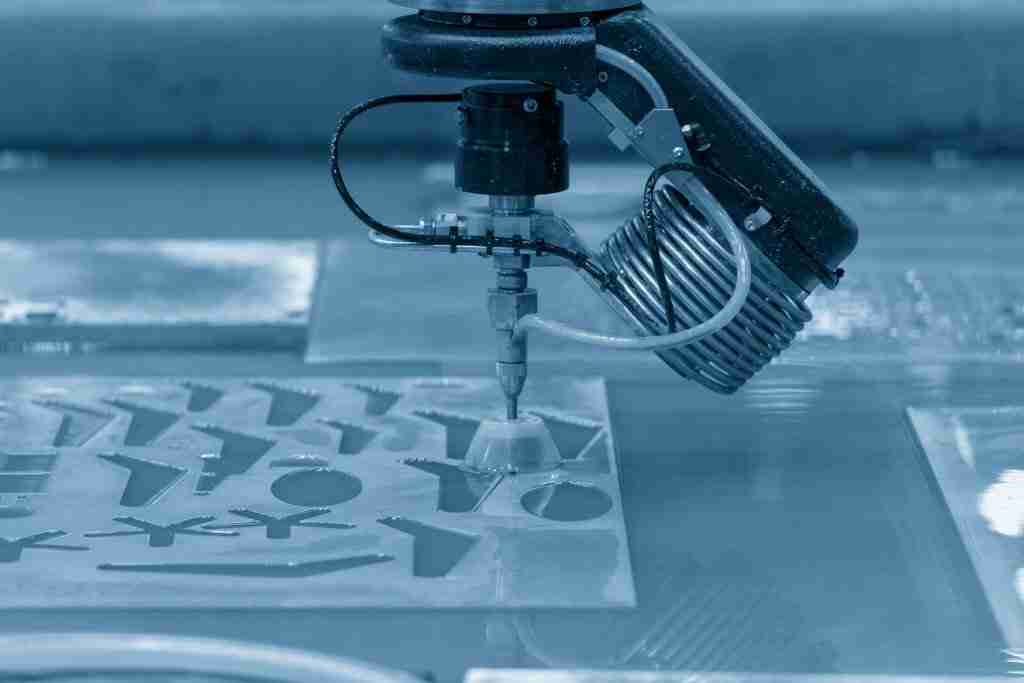 Elimold offers CNC waterjet cutting services in two forms: Standard (water-only) and Abrasive.
An advantage of waterjets is that they can cut almost any material in myriad complex shapes while maintaining high precision (up to +/- .005), minimizing material waste, and achieving superior edge quality that doesn't require secondary finishing. Another advantage of this process versus other cutting methods (such as laser or die-cutting) is that there is no material distortion or degradation (burning, crushing, chipping, and fracturing). Those things considered, it's no wonder that the demand for waterjet cutting services tends to be higher than alternative cutting services.
Virtually any material can be used for waterjet cutting
Steel Hard Rolled
Steel Mild
Steel Tool
Tantalum
Tin
Titanium
Tungsten
Wrought Iron
Zinc
Armor Plate
Hastalloy
Hardened Steel
Hot Rolled Steel
Inconel
Magnesium
Mild Steel
Nickel Alloys
Stainless Steel
Steel Alloy
Steel Hardened
Alloy Steel
Aluminum
Armor Plate
Brass
Boron
Bronze
Cast Iron
Cobalt
Copper
Exotic Alloys
Ready to Get Your Project Started?