Waterjet Cutting Services
Waterjets quickly cut metal and plastic parts from sheet materials using a high-pressure stream of water and abrasive. This is accomplished with the help of a high pressure pump.Elimold offers a cost-effective waterjet cutting solution whether you need a single part, batch of prototypes, or a production order. Elimold cuts materials of different shape, size, and thickness, while saving time and providing excellent finish.
Our mission is to help companies and individual inventors in improving process times, saving materials, and bringing new and improved products to market. This will be achieved by utilizing the latest cutting technology to maximize machine efficiency.
These cost savings will justify our cutting technology in prototyping, as well as small to medium-sized production runs.
Some materials are more efficiently cut with waterjet than any other processes that use conventional methods. Likewise some material are cut much faster with a laser. Let us help you find the most economical process for your parts. Our values and work ethics combined will produce quality products on time and at a fair price.
High-Velocity Abrasive Waterjet Cutting
Our state-of-the-art CNC machining and programming software, mixed with our cutting edge waterjet technology, promises the accuracy and quality your project needs.
Using a high-velocity coherent stream of abrasive mixed with water, abrasive waterjet cutting can process almost any material. For example, water passes through a sapphire, ruby or diamond orifice at 40,000 to 60,000 psi, creating momentum to pierce or drill holes as small as .030" in diameter.
Our waterjet cutting services are available to industries requiring high-quality components with a quick turnaround. We have delivered many projects ranging from detailed art and architecture to ballistic material for defense and beyond.
From manufacturing your prototype to full-scale production, we handle it all at Elimold.
Custom Metal Fabrication with Waterjet Cutting at Elimold
While waterjet cutting may be the best method for your component, Elimold recognizes that your project's needs are specific. That's why our team is happy to review your project's design and determine the best method — whether it's waterjet cutting or laser cutting, or another metal forming service that we offer.
We offer a variety of testing and inspection procedures (e.g., surface and dimensional, ultrasonic testing, visual inspection, etc.) to ensure the quality and integrity of your metal component. We also offer value-added services, such as bending, boring, centerless grinding, double disc, grinding, drilling, forming, heat treating, rolling, stamping, and trepanning, to help you produce a fully finished part.
To find out how our waterjet cutting or laser cutting services can help with your next project, contact us today, or request a quote online.
Virtually any material can be used for waterjet cutting
Steel Hard Rolled
Steel Mild
Steel Tool
Tantalum
Tin
Titanium
Tungsten
Wrought Iron
Zinc
Armor Plate
Hastalloy
Hardened Steel
Hot Rolled Steel
Inconel
Magnesium
Mild Steel
Nickel Alloys
Stainless Steel
Steel Alloy
Steel Hardened
Alloy Steel
Aluminum
Armor Plate
Brass
Boron
Bronze
Cast Iron
Cobalt
Copper
Exotic Alloys
Waterjet Cutting - Specifications
General Capabilities
 
Production Volume

1 unit to 5000 units per month
Prototype to Mid Volume

 
Lead Times Available

2 weeks to 8 weeks
Quoted on job by job basis, material dependant
Rush Services Available

 
Cutting Thickness

Stainless Steel:

0.036 in to 0.375 in
0.914 mm to 9.525 mm

Mild Steel:

0.036 in to 0.8 in
0.914 mm to 20.3 mm

Cutting Width
 
Cutting Length
 
Cutting Height
 
Kerf1
0.006 in to 0.012 in
 
Accuracy
0.005 in
 
Industry Focus

Aerospace
Agricultural
Forestry
Architectural
Transportation
Food
Medical
Military/Defense
Nuclear

Energy
– Oil
– Gas
Packaging/Converting
Pulp
Industrial Valve & Controls
– Marine
– Petrochemical
– Chemical Processing
Off-road vehicles and Heavy Truck

Intended Applications

Architectural Ornaments
Complex Geometries
Control Arms
Engraving/Marking
HVAC
Railings

Signs
Structural Steel
Tubing
Valves

Industry Standards

ANSI – American National Standards Institute
AS – Aerospace Industry Standard
ASME – American Society of Mechanical Engineers
ASTM – American Society for Testing and Materials
CGP (Certified) – Controlled Goods Program
CSA – Canadian Standards Association

CWB – Canadian Welding Bureau (Division 3 Certification)
DOT – Department of Transportation
FDA – Food And Drug Administration
ISO – International Organization for Standardization – 9001:2008
Mil-Spec – Military Specifications
RoHS – Restriction Of Hazardous Substances (Compliant)

Software Used

CADKey
Epicor Vantage Shop Control System
Epicor Vista

MasterCam
MasterCamX2
SolidWorks

1 Kerf is the width of the cut or groove.
WaterJet
Flow MACH 4-4020B: 6.5′ x 13′ Table, 3 Axis, Cuts 24″, 2012
Finishing Equipment

1 – TOS Cylindrical Grinder
8″ Swing x 36″ Centers
16″ Wheel Diameter
1 – Cincinnati Centerless Grinder
Diameter: 1/2″ to 3 1/2″
20″ Wheel Diameter
1 – Cogsdill Burnisher
Diameter: 1.00″

1 – TOS Engine Lathe
19″ Swing x 80″ Centers
1 – Hyd-Mech H12 Automatic Bandsaw, 2005
Diameter: 12.00″

Quality Control Equipment

CMM Mitutoyo Crysta-Apex 910, 2003 using Cosmos 2.3R5 11th Edition, with enhanced gear measuring capabilities.
Hardness Tester
Mitutoyo PH-A14 Optical Comparator with QM-Data 200
Mitutoyo SJ-201 Surface Testers
Height Gauges up to 24.0000″
Dial and Digital Calipers up to 8.0000″
Dial Indicators
Outside Micrometers 0-1″, 1-2″, 2-3″, 3-4″
Thread Micrometers
Blade Micrometers
Bowers Bore Gauges

Fluke Meters
Pin Gauges
Gauge Blocks
Go / No Go Ring Gauges
Go / No Go Thread Plug Gauges
Trigabore Gauges
Snap Gauges
Precision Levels
Measurements completed on surface plates
V-blocks
Magnetic Particle Wet Bench in Dark Booth, 2010
Application Advantages of Waterjet Cutting
Waterjet Cutting is cheaper than other processes.
Make all sorts of shapes with only one tool.
Cut wide range of thickness' to reasonable tolerance up to 3" (76mm) thick
Up to 6" (152mm) or thicker where tolerance not important, or in soft materials.
No Heat Generated / No heat affected zones – this is cold cutting!
No mechanical stresses
Cut virtually any shape
Fast Setup means fast turnaround of your finished product!
Only one tool to qualify / No tool changes required.
Fast turn-around on the machine. Make a part, then 2 minutes later be making a completely different part from a completely different material.
Leaves a satin smooth finish, thus reducing secondary operations.
Clean cutting process without gasses or oils.
Makes its own start holes.
Narrow kerf removes only a small amount of material.
Your "scrap" metal is easier to recycle or re-use (no oily chips!)
You can trade off tolerance vs. speed from feature to feature on your part.
Are very safe. (No, they don't explode, thanks to the nearly incompressible property of water.)
Draw the part / cut the part. It is that easy!
No "scaley" edges, which makes it easier to make a high quality weld
Machine composite materials, or materials where dissimilar materials are glued together
Machine stacks of thin parts all at once.
Cutting Techniques Summary and How Water Jet Cutting Compares
| | Material Thickness | Tolerance | Kerf | Part Volume | Set Up Cost | Lead Time  ** | Notes |
| --- | --- | --- | --- | --- | --- | --- | --- |
| OMAX WATERJET | Up to 6″ | 0.005″- 0.015″ | .020″/.040″ | 1 to 5000 | Low | 6-8 days | Metal, glass, plastic, stone, rubber, kevlar, carbon fiber, ceramics, etc. Taper up to 59 ° |
| MICROCUT™ | .0005″ – 0.5″ | 0.0005″ -0.005″ | 0.009″, 0.011″,  0.0196″ | 1 to 5000 | Low | 6-8 days | Metal, glass, plastic, stone, rubber, kevlar, laminates, carbon fiber, ceramics, etc. |
| FIBER LASER | AL: 0.250″ SS: 0.375″ CRS: 0.500″ COP: 0.250″ Brass: 0.125″ | 0.002″ – 0.005″ | .008″ | 1 to High-Volume | Low | 6-8 days | Metals – Fast |
| WIRE EDM | 0.001″ – 6″ | 0.0005″ | 0.005″ | 1-200 Is Best | Low | 6-8 days | Conductive Metals, Carbon |
| * CHEM ETCH | 0.005″ – 0.060″ | Is +/- 10% of material thickness, .002″ min. | Equal to metal thickness | 1- Infinity | $350 Min. | 6-8 days | Metal Only. No Burrs. Beveled Edges. Half Etch and Holes. |
* Inner radius should be 100% of material thickness.  Outer Radius should be 75% of material thickness.
**Dependent on geometry, volume and material:  Elimold options available.
For all of its advantages, a waterjet service also comes with some disadvantages that should be considered when deciding if it is the best operation for a part. Depending on the thickness of the material, it may be more cost effective to have the parts produced on a laser or plasma cutter. When lead time is important other potential operations, such as laser cutting fabrication, may result in faster production times. For thick parts, the kerf will widen as the jet slows down as it travels through the part. This causes less accurate feature tolerances when cutting thick material. Other operations such as CNC milling or EDM machining can hold very tight tolerances and maintain perpendicularity on vertical surfaces of a part.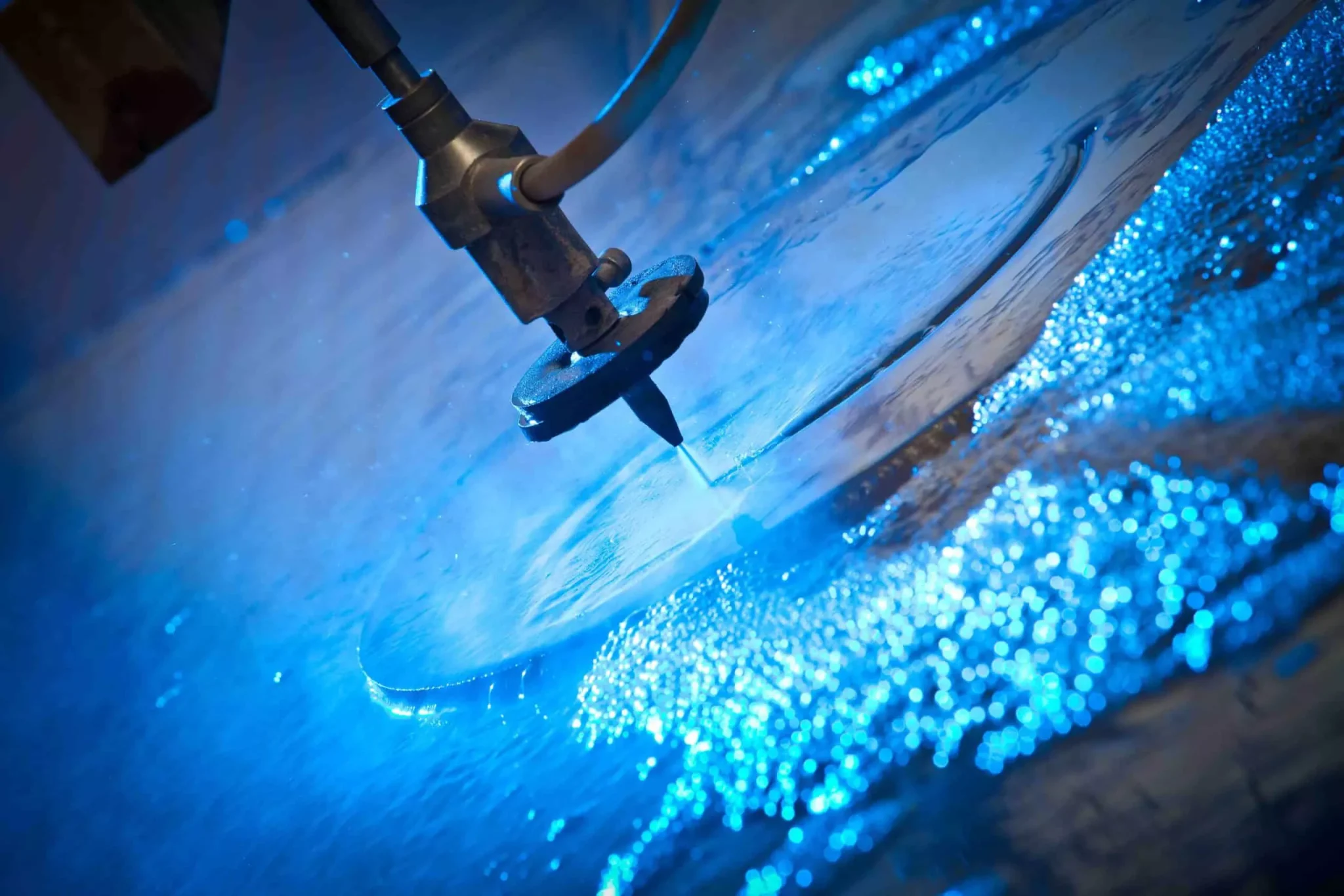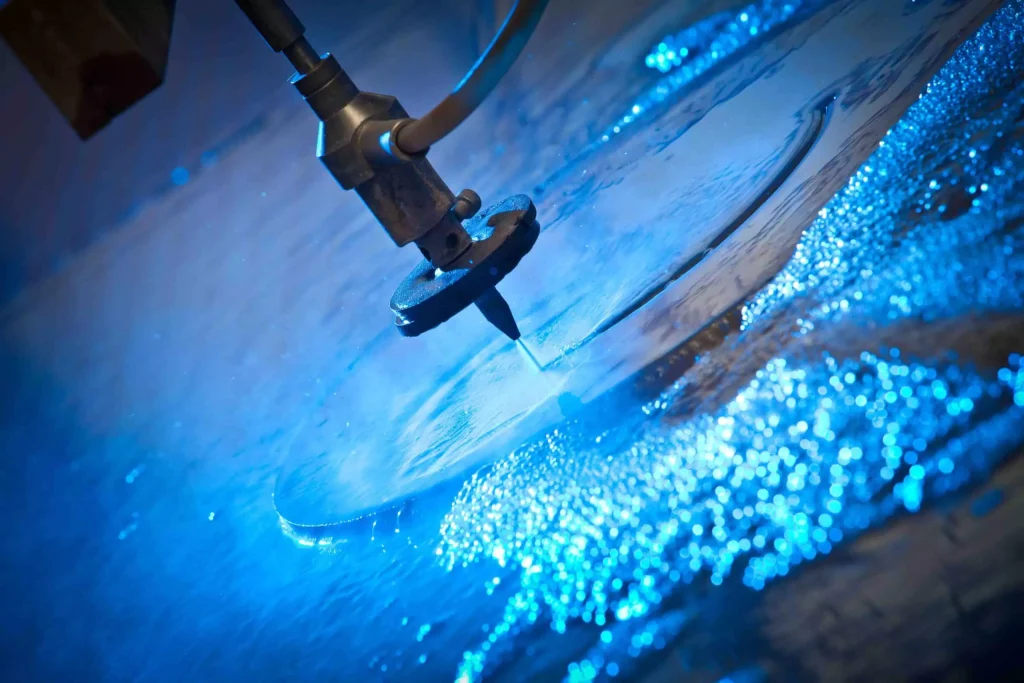 Waterjet Cutting Services for Any Material
Whether you need to cut a material that doesn't adhere to traditional machining methods or looking for reliably accurate cutting for your product prototype design, Elimold can help! All you need to do is provide us with your CAD file, or our CAD expert can draw it up if you have a design. With our precise waterjet cutting, we can manufacture your unique product with a quick turnaround.
Contact our qualified team today for cost-effective waterjet-cutting services!