Liquid Silicone Rubber Injection Molding 
Our facility is state-of-the-art and features lights-out capable, fully-automated liquid injection molding (LIM) cells with inline vision technology, value-added operations stations, and finely tuned quality systems – all of which ensure we deliver high-quality, high-volume LSR parts to our customers.
Custom Molded LSR Solutions For Your Business
In Elimold, we work with your timeline and budgets. We dedicated its focus exclusively to molded silicone rubber component manufacturing. We have mastered the production of both high-quality LSR products and LSR 2-Shot products. Elimold provides LSR molding Solutions, taking "custom" to a new level. Our advanced capabilities encompass all aspects of the design and production processes. We can help you choose the right grade of LSR for your part, offer part design support to optimize manufacturability (DFM) and part performance, provide premium-quality tooling, and high-volume parts production and packaging solutions that keep your overhead costs low.
We produce custom-designed and manufactured, high-quality LSR products and LSR 2-Shot parts for our customers in the automotive, medical, life sciences, industrial and consumer markets. Contact us today for a quote.
Our cost-effective rapid prototypes can be populated in small production runs that align with your schedule. We work closely for achieving high-quality custom LSR molded silicone products for your company. Get in touch to learn more and order your custom silicone rubber products.
All our services can be requested for high-volume or low-volume production runs. We produce millions of custom-formed LSR parts annually, welcome the smallest orders and provide the same quality service for high and low-volume production. Customers benefit from the high-volume production of Elimold finished parts and a shortened supply chain's time and cost advantages.
For high-volume, long-term projects requiring LSR components, you can rely on elimold. We provide solutions for all stages of production, from design and prototyping to production support. Our decades of combined experience, advanced process technology, and strong quality systems have elevated us to the industry's top.
Our LSR's dedicated capabilities in the US and China allow us to deliver many services more efficiently than any competitor, and we deliver these services to a higher quality standard.
Designing and Creating LSR Prototypes with Manufacturing in Mind
Some customers call us after they discover the prototype they contracted to build was delivered with a minor flaw: unfortunately it couldn't be manufactured. You'd be surprised how often that happens; in the haste to build a quick prototype, designers/engineers with limited elastomer experience end up with a seemingly perfect design, yet it's impossible to manufacture at scale.
We collaborate with you early in the project to focus on quality and better understand the design input and output  requirements of your custom parts. Allowing us to better understand the design intent of the product, will lead to a smoother product launch, greatly reducing future risk.  Examples of questions we will help you answer include: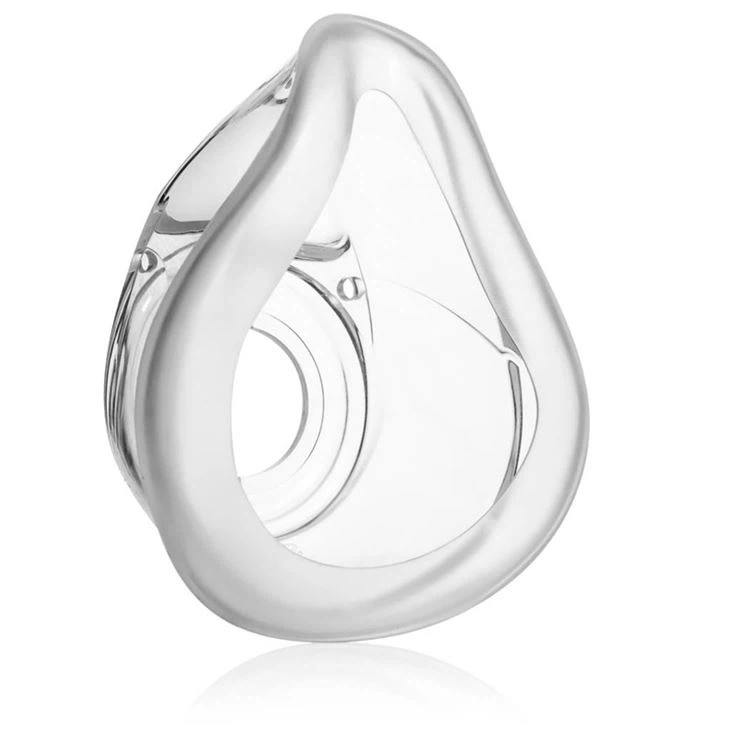 Liquid Silicone Rubber Molding
Liquid Silicone Rubber (LSR) molding is the process used to create robust, pliable, high-precision, high-quality parts in large numbers.
Liquid Silicone injection molding produces parts that are highly water repellent and resistant. As such, coupled with the precise nature of their sizing, they're ideal for use as seals, membranes, electrical connectors, and a variety of other medical, commercial and domestic applications.
The process itself requires a large range of tooling knowledge and execution, unique equipment and mechanical components, all of which Elimold factory has onsite. This capacity to provide LSR design, tooling, molding and full assembly services in one location makes us the ideal LSR injection molding manufacturing partner.
Leading high turnkey solutions for lsr(liquid silicone rubber) injection moliding worldwide
Components below 10 milligrams in weight
Flashless production possible with needlepoint injection technology and fully automated parts handling
0.10mm (0.004 inch) or less
Ideal for thin membranes
Perfect consistency in thickness and quality
No pin holes
Formed reliably every time
Flashless production possible with special tool construction and automation
No need for secondary deflashing
High dimensional stability directly from mold
Flashless, wasteless design principles
Highest efficiency
Through holes perfectly formed every time
Long tube sections reliably formed
Made possible with special tool construction
Surfaces from high polish to textured
Consistent manufacturing over millions of parts
Common feature in e.g. bellows
Made possible with LSR and special tool construction for molding and de-molding
Liquid Injection Molding Specifications
Mold Process Type
Liquid Injection Molding (LIM) The process that involves an integrated system for proportioning, mixing, and dispensing two component liquid resin formulations and directly injecting the resultant mix into a mold which is clamped under pressure.
Material

Silicone (Both two-part liquid silicone &
high consistency silicone compounds)
Supplier provided materials

Press Sizes
(3) 50-ton & (2) 100 Ton molding presses
Clamping Force
Max 50 tons & 100 tons
Tool Size (Between Tie Bars)
From 14 in. to 18.5 in.
Shrinkage Allowance The dimensional allowance which must be made in molds to compensate for shrinkage of the material on cooling or during the debinding operation.
Varies in parts and materials
Number of Cavities The number of cavities in the mold used to produce multiple products in one molding cycle.
Single Multiple
Additional Services
Cold Deck Systems Automation
Lead Time (Cavity & Core Plates)
4 to 10 weeks
Lead Time (Complex Tool – Full Mold)
8 to 15 weeks
Production Volume
Minimum of 10,000 to 20,000 parts, no maximum.
Industry Standards

ASTM – American Society for Testing and Materials
ISO 9001:2015 – International Organization for Standardization
ISO Class 8 Clean rooms

Efficiency
Lights Out Manufacturing
3D Electronic Part File Formats

IGES – Initial Graphics Exchange Specification, ANSI file format.
STEP – Standard for the Exchange of Product Model Data
Why Use Elimold for Molding & Manufacturing?
Elimold has been in the manufacturing & engineering business for over 10 years, which gives us tremendous depth, experience & knowledge about molding. In our time helping clients with creating products and parts we've seen and done it all. Experience & expertise is important when it comes to manufacturing products – Elimold can offer you deep insights into the best way to utilize the liquid injection molding process for your product to save you time, money and achieve success.
New Technologies & Capabilities: Elimold is constantly updating and evolving our manufacturing processes, developing new techniques for thermoplastic injection molding, medical injection molding, rotational molding, silicone liquid injection molding that save you time and money bringing your product to market.
Made in China: Elimold is proud to do all our injection molding manufacturing in China, no outsourcing. Every point of our process is done right here in the China, at our product manufacturing facility in shenzhen. We work with clients all over the United States and can ship products nationally and globally.
Experienced Engineers & Project Managers: Our injection molding engineers have vast experience in manufacturing and helping customers bring their idea or product to fruition. We work hand in hand with you and ask all the right questions to give you the tools your product needs to succeed and do the job you designed it for in targeted environments.
Benefits Of Liquid Silicone Rubber Molding
The LSR molding is suitable for the production of silicone components with complex shapes, high precision, micro overmolding, and strict hygienic requirements. The tolerance of the product can meet ± 0.02mm, have no vulcanization residue, and have better control of the flash. It is widely used in electronics, medical and baby products.
Our high-precision liquid silicone injection machine can precisely control the injection volume, which can minimize the waste of raw materials. Flashing is also better controlled, reducing additional trimming work after forming.
Meeting a variety of processing needs
LSR injection molding can achieve single-shot molding, micro molding and overmolding. Molded products are bonded more strongly and have better control over flashing through LSR molding.
Suitable for high-precision products processing
Our high-precision liquid silicone injection machine can precisely control the injection volume, which can minimize the waste of raw materials. Flashing is also better controlled, reducing additional trimming work after forming.
ISO Class 8 cleanroom and automated processing
The process directly injects the required raw materials into the pre-made molds. LSR molding can be produced automatically without contact with the external environment. Therefore, it minimizes waste during production. We have ISO Class 8 cleanrooms. Provide a strict hygienic production environment for medical products, high-precision electronic parts, etc.
Compare Our Silicone Molding Manufacturing Services
| | | | | | |
| --- | --- | --- | --- | --- | --- |
|   | Silicone Rubber compression molding | Liquid Silicone Rubber (LSR) Injection Molding | Silicone Dripping Injection Dispensing(co-injection) Molding | Silicone Over-Molding | Silicone Extrusion Molding |
| Material | Solid Silicone Rubber | Liquid Silicone Rubber | LSR and SSR | Silicone Rubber, Plastic, Metal | Solid Silicone Rubber |
| Mold | Compression mold | Injection mold | Dripping Injection Dispensing mold | Compression mold and Injection mold | Extrusion Mold |
| Molding process | Compression | Injection | Dispensing and compound | Overmolded | Extrusion |
| Mold Cavities | Single and multi-cavity | Single and multi-cavity | Single and multi-cavity | Single and multi-cavity | Single |
| Mold Life | Around 50000 | unlimited | unlimited | unlimited | Around 50000 |
| Colors | Single color | Single color | Multi-color | Colored or Single Color | Single color |
How Does Liquid Silicone Rubber Injection Molding Work?
First, a liquid silicone rubber molding tool is created using CNC machining. This tool must be a high-temperature tool in order to withstand the LSR injection molding process. The tool may then be polished to allow for different finish options.
Next, the finished tool is loaded into an LSR-specific injection molding press that is precision geared for accurate control of shot size to produce the most consistent LSR parts. Materials used include standard silicones and specific grades to fit different part applications. Because LSR is a thermosetting polymer, its molded state is permanent. Unlike thermoplastics, they can't be melted again. Once the LSR injection mold parts are ready, they are removed from the mold and then put to use as prototypes or production parts.
Injection molded silicone rubber is a great solution for a variety of industries including medical, lighting, and automotive.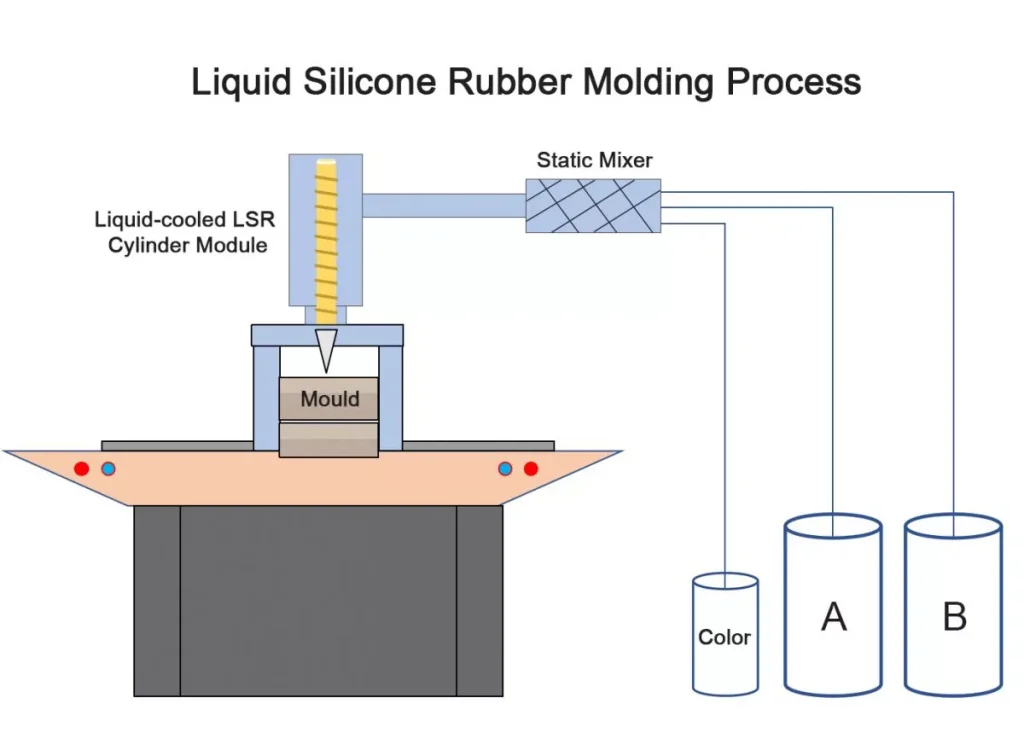 LSR Injection Molding Design Guidelines
| Feature | Tip |
| --- | --- |
| | Reduce undercuts, which will increase the complexity and cost of the tool ejection mechanisms, by adding in pass-thru coring. |
| | Prevent wall sink and voids by maintaining an even wall thickness. Thinner walls reduce cycle time and reduce costs. |
| | Ensure liquid injection molding parts are designed with a minimum draft angle of 0.5°, or up to 5°, for faces with medium textures. |
| | Ribs should be 40-60% the thickness of outer walls and should still maintain draft. |
| | Bosses should be designed at a depth of 30% the wall thickness and with a 30% edge groove. Attach them to side walls or ribs for structural integrity. |
To see these design-for-manufacturing recommendations in detail, view our Injection Molding Design Guide.
Elimold offers a wide range of options for LSR part production. We carefully evaluate each project to determine the best LSR injection molding technology for producing components: LSR, LSR two-shot, LSR multiple-shot, or LSR overmolding.
We have state-of-the-art facilities, and our production areas are clean with minimal human contact as our LSR, LSR 2k, multi-shot, and overmolding manufacturing cells are fully automated.
Many medical products have stringent cleanliness requirements that require specific ISO-certified hygienic production requirements. To meet these requirements, elimold is equipped with single and secondary LSR lines.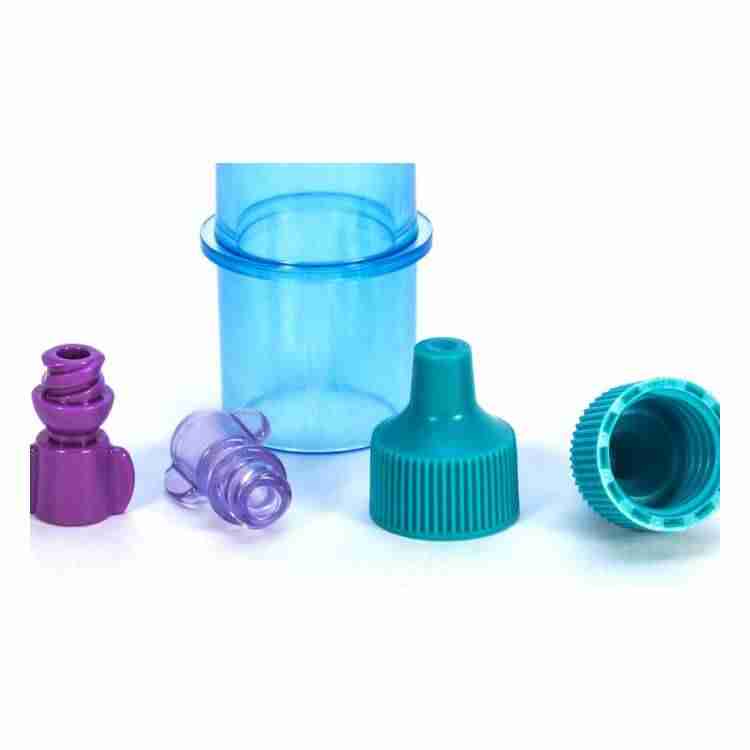 Trust Elimold for Injection Molding Made in China
Elimold is a production manufacturing company that is focused 100% on your success. It doesn't matter if you are a Fortune 500 company that needs to mass produce a part for your new medical device or an entrepreneur looking for help with producing & developing your prototype product, Elimold can help you achieve success. One of Elimold's core tenants is hiring the best people in our industry, right here in America. We hire people who truly love what they do, listen to the customer and are passionate about creating the best product possible.
Engineers at Elimold understand the complexities of beginning a new LIM project and want to help you to bring your project to fruition. You can trust the experts at Elimold to take your product from concept to completion.
For more information on Elimold liquid injection molding and if it would be the right method for your part run, contact one of our manufacturing & engineering experts now.