MJF is ideal for designs with complex geometries, including parts with internal cavities. This cost-effective method of 3D printing is perfect for quantities greater than 30 pieces.
HP Multi Jet Fusion Services
Multi Jet Fusion (MJF) is an additive manufacturing technology that produces functional nylon prototypes. It allows the manufacture of high-volume end-use plastic parts in as little as 1 day at a low cost per part. The final part exhibits a high-quality surface finish, fine feature resolution, and more consistent mechanical properties than processes such as selective laser sintering.
Elimold HP Multi Jet Fusion 3D Printing Service has a recommended build envelope of 15" x 11" x 15".
Send your 3D CAD files to Elimold for instant pricing with lead time options. You can easily select a different process or material to get updated quotes in real time.
Benefits of the HP Multi Jet Fusion 3D printing process
While HP Multi Jet Fusion has many benefits, some stand out. For starters, the standard build parameters are optimized for optimal density. The result is that Multi Jet Fusion parts are waterproof.
Multi Jet Fusion is the way to go if you love SLS but want to run higher volumes for low-volume production. The ability to print multiple parts simultaneously throughout the build volume means you can print parts up to 10 times faster than SLS or other 3D printing processes. Multi Jet Fusion offers more balanced mechanical performance in the X, Y, and Z axes than SLS.
If you're interested in injection molding for your project, getting a 3D-printed "test" part is always a good idea before investing in a metal mold. While SLA is an excellent 3D printing process for extremely detailed and high-resolution printing, UV-curable resins are not as tough as traditional thermoplastics. Prints begin to degrade when exposed to UV light and moisture. On the other hand, Multi Jet Fusion can produce extremely accurate prints while maintaining traditional thermoplastics' structural durability, especially when using glass-filled nylon. This makes it a great process to test fit and functionality before injection molding your project.
How Does Multi Jet Fusion Work?
Multi Jet Fusion uses an inkjet array to selectively apply to fuse and detailing agents across a bed of nylon powder, which are then fused by heating elements into a solid layer. After each layer, the powder is distributed on top of the bed, and the process repeats until the part is complete.
When the build finishes, the entire powder bed with the encapsulated parts is moved to a processing station where an integrated vacuum removes most loose powder. Parts are then bead blasted to remove any remaining residual powder before ultimately reaching the finishing department, where they are dyed black to improve cosmetic appearance.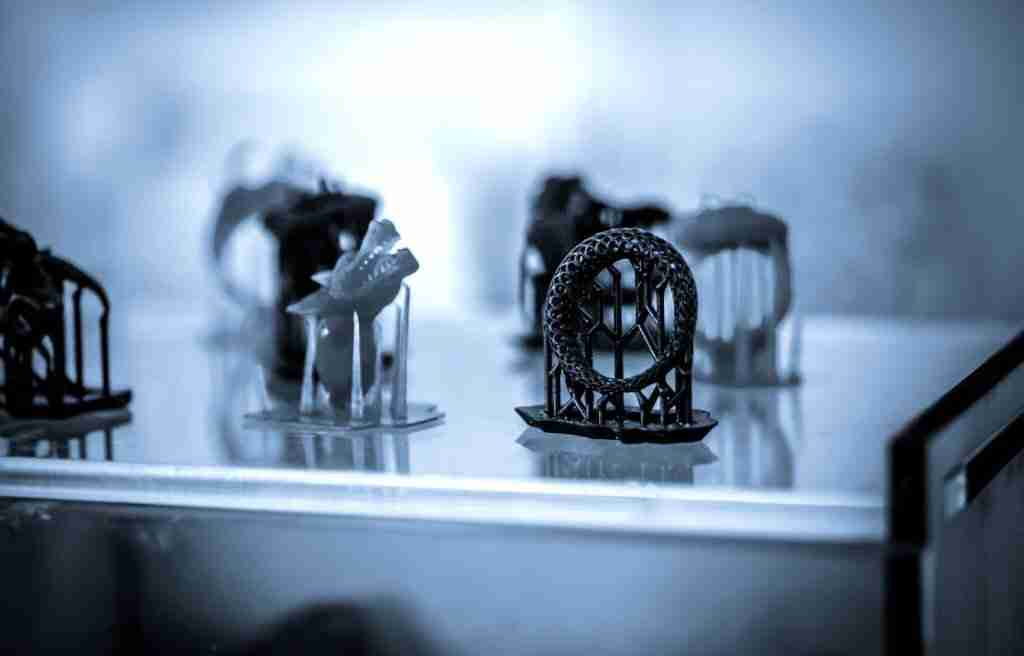 Multi Jet Fusion Surface Finish
| | |
| --- | --- |
| Standard | Custom |
|  A bead blast removes all powder and leaves a consistent overall texture. Parts are then dyed a standard black color. | Secondary options include a primer that can be applied and taps and inserts.  |
Steam Smoothing HP Multi Jet Fusion Parts
Elimold evaporates smooth 3D-printed parts for an excellent surface finish. Vapor smoothing performed by AMT PostPro3D technology is a batch-based automatic smoothing process that achieves high-quality surfaces. Combined with the low cost of HP MJF technology, this surface finish allows parts to rival injection molding in both form and function. Steam smoothing creates a uniform sealing surface with a semi-gloss appearance. The enhanced surface also improves the overall properties of the 3D printed part, including ultimate tensile strength, flexural yield, and elongation at break. Vapor smoothing can be applied to HP Multi Jet Fusion, Selective Laser Sintering, and Fused Deposition Modeling parts for rigid plastics and elastomers.
On-demand Multi Jet Fusion 3D Printing Service
Elimold offers the best online 3D printing service for your plastic parts. Thanks to our expertise in Multi Jet Fusion technology, you can choose between multiple options, receive a quote immediately, and let us handle manufacturing at our ISO 9001-certified facility.
Contact us today to get started with Multi Jet Fusion.
Why choose Multi Jet Fusion technology?
The Multi Jet Fusion process is the fastest plastic 3D printing technology, perfect for prototyping or manufacturing. Multi Jet Fusion is great for both beginners and experienced professionals because of its high precision and low cost.
Which applications are best suited to Jet Fusion 3D Printing?
The multi Jet Fusion manufacturing technique is particularly useful for creating unique plastic parts with a good surface finish. With such technology, you can create very complex shapes in a very short amount of time.
Thanks to this technology, you can reduce costs and improve performance. The Multi Jet Fusion 3D printing technology can be used for mechanical (e.g., prototypes, articulated objects, geared systems), electrical, medical, ornamental, automotive, to even educational purposes.
PA 12 Black
PA 12 Black is a high-tensile strength nylon. The final parts are dyed black and exhibit quality surface finishes and slightly more isotropic mechanical properties when compared to SLS. When more detail is required, PA 12 can achieve a smaller minimum feature resolution (0.02 in) compared to SLS materials (0.03 in). PA 12 Black is the best material option for designs incorporating living hinges.
Primary Benefits​
Near isotropic mechanical properties

Economical material choice
PA 12 40% Glass-Filled Black
PA 12 40% Glass-Filled Black is a 40% glass-filled nylon. The final parts are dyed black. The biggest advantage offered by this material is heat deflection at 347°F (measured at 66 psi), ranking 2nd best after PA 12 Mineral-Filled.
Primary Benefits​
Economical material choice

Heat deflection 
Ready to Get Your Project Started?